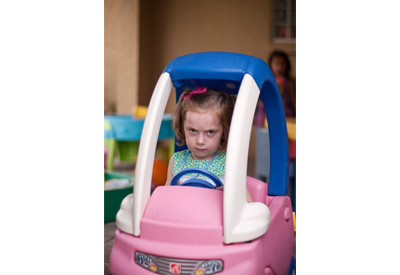 No matter how long you have been a driver on our roadways, you know that there are some drivers that drive you insane. These are the drivers that just make you want to hulk-grip your steering wheel and steamroll them. Below are the most heinous driving habits that are committed daily. Please, don't be THAT person.
Parking in TWO Spots
So I've been circling the same parking lot for the past 5 minutes and I finally come across an open spot. I'm hit with the awful realization that I can't park here -- the car next to it is about halfway in MY spot. Really, parking straight is not all that difficult. If you pull into a spot and realize you're crooked, fixing this takes about 10 seconds. Unless you've got some sort of medical emergency that would make you overlook this inconvenience, there is absolutely no reason that you cannot spare that miniscule amount of time to re-park. If you don't, don't be so surprised if you get a not-so-friendly note strapped under your wiper blades. You know who you are.
Cutting In Front of EVERYONE When Lanes Merge
There was a sign about a half mile back that clearly instructs you that the right lane will merge with ongoing traffic, and at peak traffic hours, I just wait my turn. There's always that ONE car (probably an expensive one at that) that decides that he's too privileged to wait the additional 2 minutes, and zooms onto the shoulder only to cut into the line of traffic at the last second. That makes me LOSE IT. In no way is this person's destination any more important than everyone else waiting in the line.  I'm sure everyone else is thinking the same thing. Congratulations, you've saved yourself about 5 cars of traffic.
Waiting All Day to Make a Right Turn and then NOT Taking Your Opportunity
Sometimes turning right when there's oncoming traffic is a little scary, sure. I understand. But if you expect that out of the blue there's going to be an opening big enough to fit a skyscraper, you're delusional. Just take the turn! Figure out the light pattern and take the opportunity when it opens up to you. I'm sure plenty of you have come across this driver. They have plenty of safe opportunities to take the turn, but they wait and wait… and wait. Of course, this always happens when I have to be somewhere and am in a time crunch. At some point I just want to honk to inform them that the time is NOW. I've noticed that a lot of drivers in Priuses (I'm sorrry, Prii) do this.
Weaving In and Out of Traffic
Everyone is cruising at the same speed, there's no stop-and-go traffic, and yet there is always that one person that determined that the speed we're maintaining is just far too slow. You can probably see him coming in your rearview changing in and out lanes, cutting people off as he rampages. This is probably the same offender who cut you off during that lane merge, and now he's blazing a warpath, leaving people just annoyed and angry.
Not Showing Gratitude
This is probably the worst. I decide that I want to be a good citizen and allow someone to go before me since they're a tight spot. All I look for is that little hand wave through their rear windshield that says, "Hey, thanks for that!" Then I get nothing. Nada. Gratitude is one of the few things that validate the good driving people do every day. Takes absolutely no energy, and yet can reinforce the goodness of humanity and shows common decency.
What other driving habits are aggravating to you?