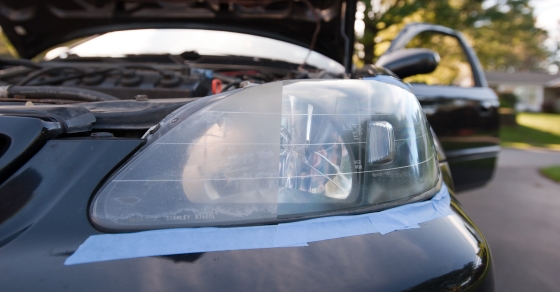 If you've ever dealt with foggy headlights you know how much of an eye sore it is. Not only is it bad to look at but it reduces the brightness of your headlight. Of course it's best that you clean your headlights and get them back to their original clarity so we've come up with a list of the funniest advice we've ever heard about how to clean headlights. We'll start with some of the least effective and end on proven ways to get your headlights back to looking crystal clear and new.
Firstly there are many reasons why your headlights start to look faded or foggy, the biggest being caused by oxidation. The sun and elements start to deteriorate the UV protective coating that new headlight lenses come with. With the dust, dirt and bugs hitting the front of your car, the headlights take a majority of that abuse. Over time, the protective coating will wear down and be exposed to those elements causing your headlights to be clouded. Instead of a smooth surface, the headlights are bumpy and rough to the touch. This list will go over some interesting ways people have tried to get the clear headlight lenses they desire.
Window Cleaner and Pantyhose
A basic way to clean headlights but this lacks a way to smoothen the surface of the headlight. If you have dirty headlights, odds are you've already tried washing your car. This is just one step above that by using a little solution and a little elbow grease. You're better off not wasting your time or your wife's pantyhose.
 Results: 1 of 5
Hair Conditioner
We weren't surprised when this didn't work, but it did leave our headlights smelling nice! The theory behind this is that the conditioner will fill in the rough surfaces and protect the headlights with the waxes found in most conditioners. Unfortunately, our headlights aren't as shiny and smooth as our hair is now.
 Results: 1 out of 5
Bug Spray
This was one of the funniest ways we've come across on how to clean headlights. Supposedly the chemicals in the bug spray remove dirt and UV damaged plastic from your headlights. Although this did improve clarity a little, there was a lot left to be desired. Not only did we waste bug spray, but it didn't even protect our headlights from bugs while driving!
Results: 1.5 of 5
Toothpaste
It seems like people just go through their bathrooms looking for anything they can throw on their headlights. Surprisingly, the toothpaste worked well, more specifically toothpaste with baking soda in it. The coarse texture of toothpaste combined with the cleaning agents really helped to increase clarity in our headlights. After buffing the headlights with the toothpaste for 10 minutes on each side, there was a noticeable difference. This was one of the most legitimate ways on how to clean headlights and produced real results.
 Results: 3 of 5
Lens Restoration Kit
No surprise here, this was the best solution we came across on how to clean headlights. Lens restoration kits can be found at most auto parts stores, but make sure the kit is a multistep process. There should be a cleaning solution, sandpaper and a protective coating to put on at the end. These kits actually get down to the root problem of your cloudy headlights. By roughening up the surface of the headlights you are removing the oxidation and smoothing out the surface of the headlight lenses. After the damaged plastic has been sanded away, you'll have to use the finer grit sandpaper to polish the headlights back to its original clarity. For better results use a buffer as it can get tiring doing it manually. The last step after your headlights are crystal clear is to add UV protective coating. This will ensure all of the hard work you put in won't be wasted. The UV protectant will help shield the harmful rays constantly beaming down on your headlights and from the rest of the elements.
Results: 5 of 5
Conclusion
The next time you're looking for a way on how to clean headlights, use this as a guide to what works and what doesn't. It'll save you time, money, and toiletries. Leave the products to do what they were intended to do and go straight for a headlight lens restoration kit. It was specifically designed for that purpose and will give you the best results.
Written By Dara Greaney