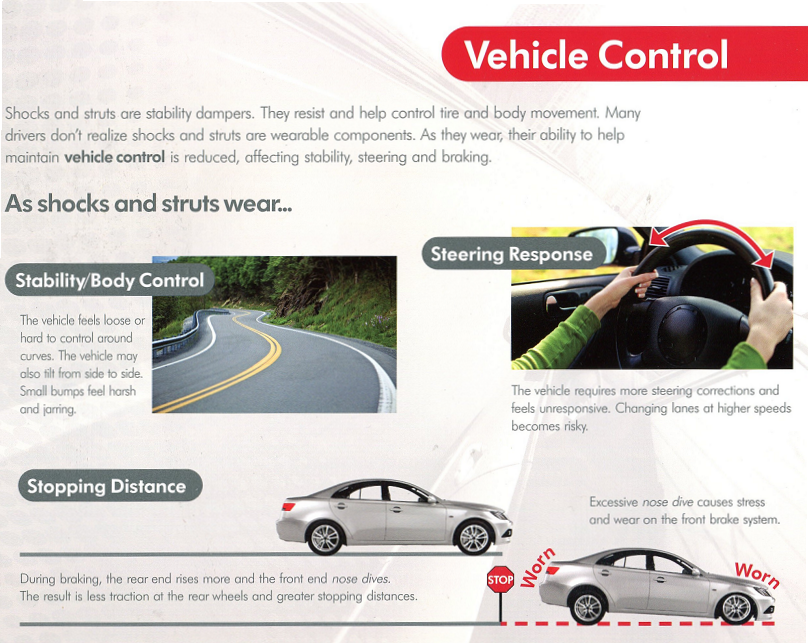 While shocks and struts are two very different types of suspension systems, both types of dampers serve the same primary purpose: to counteract the motion of the spring. While the spring is there to take the initial force of a bump in the road, the shock or strut dampens that motion in order to keep the vehicle in control.
But, as with any part of the automobile, the shocks and struts tend to wear out over time. And so it's important to pay attention to your vehicle to know when it's time to service your shocks or struts. If you ignore the following signs, your vehicle may ride worse, your tires could wear unevenly or at a faster rate, and your vehicle simply will not be as safe.
Stability and Control:
Worn out shocks or struts will feel loose and the vehicle will become hard to control. The vehicle may also start to tilt to one side when you round a turn. When driving over bumps, or road conditions which are less than perfect, the ride will be harsh and uncomfortable if the shocks are worn down.
Steering Response:
Another sign that your shocks are worn down is if you find yourself constantly having to make steering adjustments to keep your vehicle moving in a straight line. This will cause your steering responses to be less timely, and more risky.
Stopping Distance:
One of the important symptoms of worn out shocks is an increased stopping distance. The rear end of the vehicle will rise up and the front of the car will lower while braking. This means there is excessive play in your shocks and they can no longer keeper the tires on the road as they should. When the tires are not fully on the road, stopping distance increases. This also puts a lot of pressure on your brakes.
Vehicle Bouncing:
When shocks or struts lose their dampening effect, they will fail to absorb the vehicle's vibrations, resulting in an excessive bouncing of the automobile. The bouncing will become more aggressive while driving over bumps or rough road conditions.
Visual Leaks:
Shocks and struts are basically operated by the hydraulic fluid and hence the over time, worn out seals can cause the fluid to leak through them. In such cases, you can find oil deposited around the shock or strut body. Hydraulic fluid loss will result in the failure of the dampening process of the shock and strut assembly.
Noises:
Shocks and struts are cushioned by rubber bushings which, over time, will wear out. This will cause a rattling and banging noise when the vehicle rides over bumps and rough road conditions. A scraping or grating noise is caused by a broken shock.
Tire Wear:
One of the common indicators of a defective shock is abnormal tire wear. The wear pattern will be similar to cups or scalloping where the tread will appear wavy around the circumference. This specific pattern is usually caused by a worn-out shock.
Find Shocks and Struts with an Industry-Leading Warranty at Buy Auto Parts!
Buy Auto Parts is the best place online to get shock absorbers and struts at unbeatable prices. We stock a wide range of OEM replacement and aftermarket parts for every make and model. To find the part for your car, simply tell us your car's year, make and model. Your order will be shipped from the warehouse closest to your location. We offer free shipping for purchases over $99 in the continental United States. Our products have been throughly-tested to meet or exceed industry standards. You can reach us on our support line at or leave us an email at [email protected], if you need help in choosing your part. Please feel free to leave us an online review. We value your feedback!