Introduction:
The distributor is the component that transfers the voltage from the ignition coil to the spark plugs. The primary components of the distributor include the rotor and the cap, in which the former spins inside the latter. The cap has the output contacts. The distributor is driven by the engine's camshaft.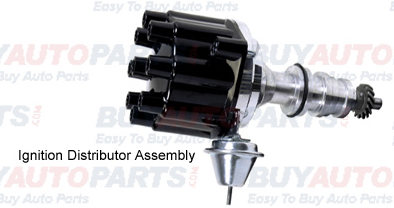 How does a distributor work?
The metal part of the rotor is connected to the high-voltage cable from the ignition coil by a spring-loaded carbon brush. As the rotor spins, it passes close to the output contacts which are connected to the spark plugs via high-tension cables. This way the voltage from the ignition coil is delivered to the right spark plug. Since the voltage from the ignition coil is high, the voltage manages to pass thorough the gap between the rotor and the contacts.
Don't miss out on our exclusive offers
Get instant savings, exclusive deals, and limited-time promos.
Symptoms of a defective distributor:
One of the symptoms of a faulty distributor includes the shaking of the vehicle while driving. This is often due to the rotor that does not rotate properly. A defective distributor also causes difficulty while starting the automobile. The caps on the distributor are more prone to wearing out. A bad distributor cap will emit a high-pitched squealing noise when the vehicle is started.
Modern ignition systems:
Newer ignition systems do not have distributors. They have multiple ignition coils, each dedicated to a spark plug or one ignition coil for two spark plugs. The Engine Control Unit (ECU) controls the ignition system.
Find Ignition Distributors with an Industry-Leading Warranty at Buy Auto Parts!
Buy Auto Parts is the best place online to get ignition distributors at unbeatable prices. We stock a wide range of OEM replacement and aftermarket parts for every make and model. To find the distributor for your car, simply tell us your car's year, make and model. Your order will be shipped from the warehouse closest to your location. We offer free shipping for purchases over $99 in the continental United States. Our products have been throughly-tested to meet or exceed industry standards. You can reach us on our support line at or leave us an email at [email protected], if you need help in choosing your part. Please feel free to leave us an online review. We value your feedback!