Introduction:
The supercharger is a kind of forced induction system that pushes more air into the engine, thereby generating more engine power. It is similar to the turbocharger, except that it is driven mechanically by a belt-pulley mechanism powered by the engine, while the turbo is powered by the exhaust gases.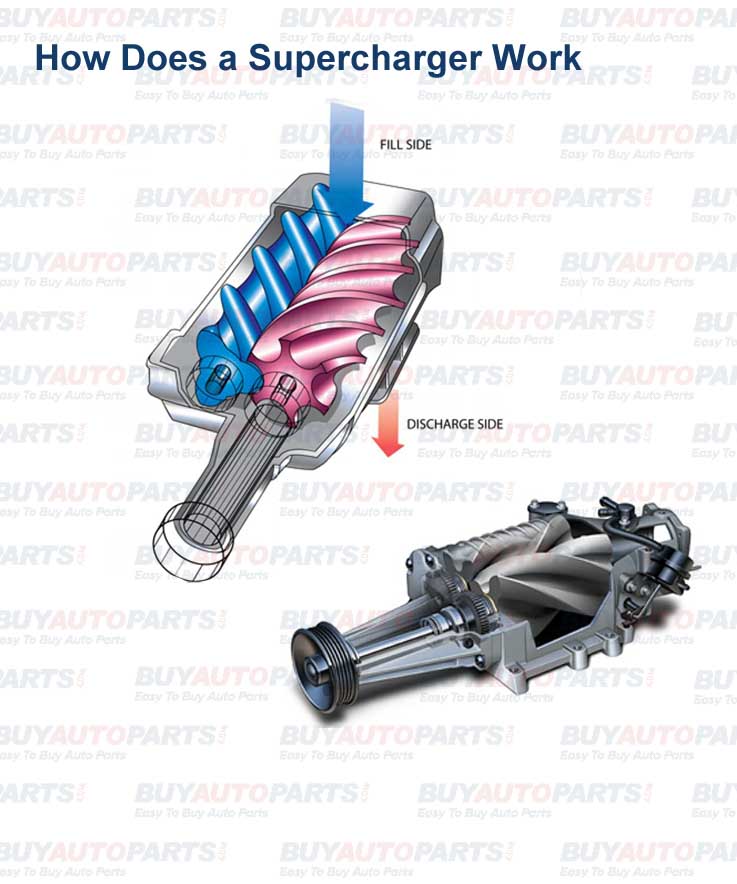 What are the types of superchargers?
The superchargers are available in two variations: positive displacement and dynamic. The positive displacement superchargers blow air into the engine at a constant rate while the dynamic superchargers use velocity to control the pressure in the air. Positive displacement superchargers include root type and twin-screw type superchargers and dynamic superchargers include centrifugal superchargers.
How does it work?
A root-type supercharger works similar to that of an air pump. It pumps air into the intake of the engine. Within the engine cylinder, the compression of the air-fuel mixture takes place. A centrifugal supercharger, works like a turbo, compresses the air in it and then delivers it to the engine.
Note: Supercharged engines require a lower compression ratio than naturally aspirated engines. Hence, before including a supercharger in a naturally aspirated engine, it is necessary to make appropriate changes to the engine; otherwise, it will result in engine damage.
Advantages of a supercharger:
The supercharger starts operating as soon as the vehicle is started, since it is driven by the engine. On the contrary, the turbocharger has to wait till the end of the exhaust cycle before it can start operating. Therefore, superchargers do not suffer from a lag, and are efficient in increasing the gas mileage in vehicles with small engines.
Don't miss out on our exclusive offers
Get instant savings, exclusive deals, and limited-time promos.
Symptoms of a bad supercharger:
A bad supercharger will not supply the required amount of air when the vehicle accelerates, resulting in a difficulty while accelerating. The supercharger oil may also leak, leading it to malfunction. The symptoms of a faulty supercharger include a decreased engine efficiency and power output, and the lighting up of the Check Engine light.
Purchase high-quality Superchargers at Buy Auto Parts
If you are looking to buy a genuine supercharger, Buy Auto Parts is the right place. We will get you the supercharger once you select your automobile's right year, make and model. Coming with an industry-leading warranty at unbeatable prices, our superchargers are meticulously tested to meet or exceed industry standards. We also offer free shipping for purchases over $99. Your order will reach you on time, as it will be shipped from one of our warehouses close to your location. If you have trouble in locating your part, our support team is at hand to help you: call us at or leave us an email at [email protected]. You can browse through our extensive line of throughly-tested OEM replacement and aftermarket parts for every make and model.