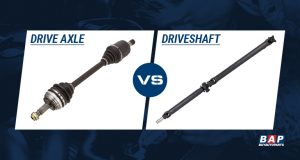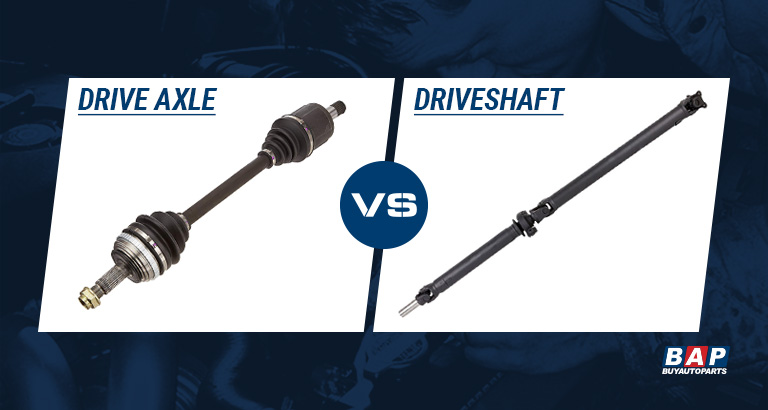 While a driveshaft used to be a very simple item connecting the transmission to the rear axle, vehicle developments such as front-wheel drive and independent suspension have created some more options, which leaves room for confusion when it's time to fix your car. This quick guide should explain the multiple options available for replacement driveshafts, and how to pick the right one for your car or truck.
There are essentially two types of driveshaft. A traditional one connects the transmission to the front or rear differential and runs along the length of the car. A more modern development (relatively modern at least; it's been around for at least 50 years) is the constant-velocity (CV) axle that connects the wheel hub to the differential or transaxle, and this type of drive axle runs perpendicular to the length of the car. It's also not an either/or situation; for example, a rear-wheel drive car with independent rear suspension would have a traditional driveshaft connecting the transmission to the rear diff, then a pair of CV axles connecting the rear diff to the wheels. An SUV with front-biased all-wheel drive would have a CV axle at each wheel, plus a driveshaft that connects the transmission or transfer case up front to the rear diff.
Constant velocity axles are used for vehicles with independent suspensions, instead of a solid axle. A CV axle connects the wheel hub of a driven wheel to either a differential, or to a transaxle assembly that combines the transmission and differential into one unit. A CV axle also has a CV joint at each end, so it can keep transferring power while the front wheels are turning, or while the suspension moves up and down.
The most common reason to replace a CV axle would be because the rubber boots protecting the joints have dried and cracked, causing the grease to leak out, possibly leaving a stain under your parked car. If you catch this issue soon enough, you can replace just the boots on your original axle and re-grease the CV joints. But much like the driveshaft example above, the cost of new boots and labor to install them is pretty close to the cost of just replacing the entire axle with a quality aftermarket part. Furthermore, if the CV boots leak out grease long enough, this can cause damage to the CV joints, meaning the axle would just have to be replaced anyway. A telltale sign of CV joints in need of replacement would be a popping or clicking noise from your front end, most commonly while making low-speed turns. While you can replace CV axles one at a time, they tend to wear at a similar rate, so you can save time and money and ensure better long-term reliability by replacing them in pairs. You should also consider replacing the axle seals along with the axles; they're a relatively inexpensive part that's very easy to replace as preventative maintenance while you have the axles out.
A driveshaft is a simpler part, pretty much a metal beam with a joint at each end, and possibly a joint in the middle as well on longer vehicles. The most common reason to replace a driveshaft is because one of those universal joints (or U-Joint) is worn out. You would notice a clunking when you go on and off the throttle or when you shift gears, or possibly feel a vibration and hear an accompanying sound from under your vehicle while driving at speed. While your mechanic may be able to replace the U-Joint on its own, it often requires a shop press to do so, and then the driveshaft will need to be professionally balanced after that, to prevent vibration when it spins at a high RPM. We offer complete brand new or fully remanufactured driveshaft assemblies that already have new U-joints professionally pressed-in and arrive at your door fully balanced and ready for installation. This option is helpful for do-it-yourself types, and also reduces labor cost if you have your mechanic install the part.
If your vehicle was available with 4WD, it may have two driveshafts; one that connects to the rear differential, and a second, much shorter one that connects the transfer case to the front differential on 4WD models. We have seen customers order the incorrect driveshaft due to this confusion before, so it's something to keep in mind when ordering a replacement part.
Do you have a pickup truck? Because of the multiple cab and bed length options available, not to mention different powertrains, pickup trucks usually have way more options for replacement driveshafts. For a rear driveshaft that connects the transmission or transfer case to the rear diff, it's very helpful to have your truck's wheelbase measurement handy. You may find this info on your truck's window sticker if you have it, or possibly on the vehicle information label located in the driver's door jam. Failing that, you can always measure it yourself; the wheelbase is the distance between the centers of the front and rear wheel hubs. Like any other part, we can also try looking up any OEM part numbers off your original item to see if they match up to anything we have available.
Still unsure? Feel free to contact BuyAutoParts for knowledgeable assistance in getting high-quality replacement driveline parts for any vehicle. We have a catalog full of CV axles, driveshafts, wheel hubs and any number of transmission and differential components and from known brands like Cardone, Sur-Trak, EMPI, Yukon Gear and more. All parts are backed by a warranty of at least one year, with free shipping and US-based customer service!