BuyAutoParts.com's automotive experts have written this section on headlights to provide you that little bit of extra knowledge to get your DIY project up and running. You can click on the articles below to find more relevant information about headlights. We hope you find them informative.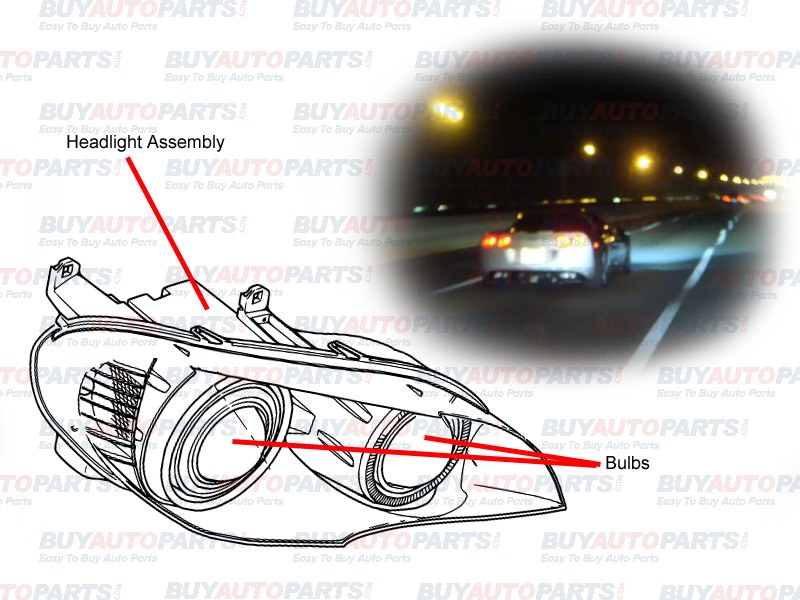 The headlight, found on the front of the vehicle, is used to illuminate the road ahead of the vehicle during night time, foggy climate and other low-visibility conditions. This feature of the vehicle is what prevents any hazardous collisions between vehicles in the aforementioned conditions. The history of headlights dates back to the late 1880s. Since then, the headlights have come a long way. Acetylene lamps were the first type of lamps used in cars, which were later replaced by xenon lamps. In present times, halogen lamps and LED lights are commonly used in automobiles. Headlights are specific to the type of vehicle. For instance, a headlight which is dedicated for use in city driving will not prove to be efficient when used in off-road automobiles. Depending on their usage, the headlights are manufactured in different configurations, provided that they serve their main purpose, which is to provide a better visibility for the driver.
The headlight is a combination of a lens and a bulb that work together to project an intense beam on the road. It should be properly mounted at the appropriate angle and height. It is powered by the vehicle's alternator or battery. Headlights can be turned on manually through a switch powered by the vehicle battery. Some automobiles are fitted with automatic headlights that turn on when a photo-electric sensor senses low-visibility conditions. Such headlights usually turn off 5 minutes after the engine stops.
Headlights can be switched between high and low beams. Low beams are used when there is heavy traffic while high beams can be used in sparse traffic. Turning on the high beam light while driving in heavy traffic is not advisable as it could hinder the visibility of oncoming drivers on the road.
As with any part of the vehicle, the headlights can also malfunction due to a defective bulb or faulty electric connections. It can also go bad due to age. If there is any problem in the headlight wiring or if the headlight does not receive enough voltage from the alternator/battery, it will provide a light with weak intensity. It is relatively easy to diagnose bad headlights than other auto parts, as they emit a visibly dim light.
Often, a protective layer is installed above the headlight glass to prolong its lifetime. This protects the light from debris and sunlight. Sometimes, a simple replacement of this layer will restore the original intensity of your lights. Headlights are often the most susceptible to damage when the automobile hits other vehicles or objects. It is a good practice to replace headlights in pairs.
If you are in need of headlights for your vehicle, do you feel confused as to what headlight will work best with your car? If so, check out our buyer's guide on headlights to clear your doubts. As the headlight is a part that can be replaced easily, you can get the right replacement and install them on your own. Please make sure that you adjust the headlights to factory specifications after installing them. BuyAutoParts.com stocks a broad range of headlight replacements.
If the information you are looking for is not included in this article or in the other related articles, do not hesitate to contact us with your questions. We will lend a hand to help you with your request.