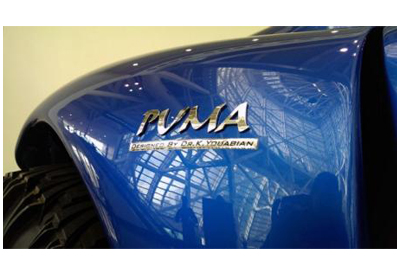 With SEMA out of the way, the next show we look forward to is the Los Angeles Auto Show (Read more about our fun at SEMA: BuyAutoParts.com Attends SEMA!). The LA Auto Show is an annual week-long event that's open to the public and showcases all of the new and upcoming cars and car technology. Automakers roll out their latest concept cars and new model year designs for everyone to see and critique. This year, before the show has even opened up to the public, pictures leaked from the Preview Night have revealed the worst car of the year, actually EVER.
Meet the Youabian Puma.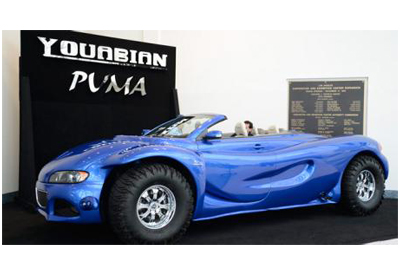 http://ow.ly/r3Ju8
The monster truck tires alone are 44 inches tall, 21 inches wide. The car itself is longer than a Hummer H1 by 184.5 inches, coming in at 242 inches long. It's a beast of a convertible, and actually has an uncanny resemblance to an endangered species known as the blue whale (the best part is that it's called a PUMA!).
The sheer size of this car isn't what nails the award for the car. Reportedly, the car's fuel efficiency is 14 miles per gallon city and 22 mpg highway. With a 7.0 liter V8 engine and 505 horsepower, you can accelerate from 0 to 60 in 5.9 seconds. The body work is gaudy and seems absentminded. If you take a look at the fog lights, it seemed like an afterthought.  And you can have it all for a cool $1.1 million dollars. Good luck getting a test drive in the vehicle for fun; according to Youabian's website, only "serious" appointments are considered, after you've proven your financial worth. You must submit a $250 non-refundable application fee to check your financial qualifications. Good luck with that!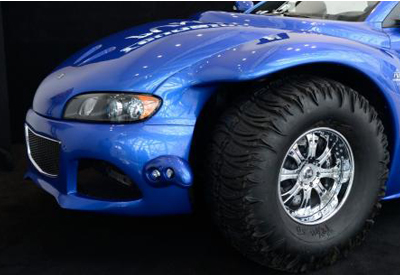 http://ow.ly/r3JB7
The designer's goal while styling this car was, "to stand out and be unique". Congratulations, your car has stood out to be the worst thing the automotive industry has ever seen. But please, no more designs.