How Much Does a Fuel Pump Cost?
The fuel pump is a crucial part of your vehicle. It draws the fuel from the tank to the engine. A faulty fuel pump will reduce the performance of your engine, since it isn't properly being supplied the fuel it needs. A defective fuel pump is usually easy to diagnose. If you discover your fuel pump has indeed gone bad, you should replace it as quickly as possible, otherwise you could find yourself brokedown on the side of the road. Fuel pump costs will vary depening on where you choose to purchase the fuel pump.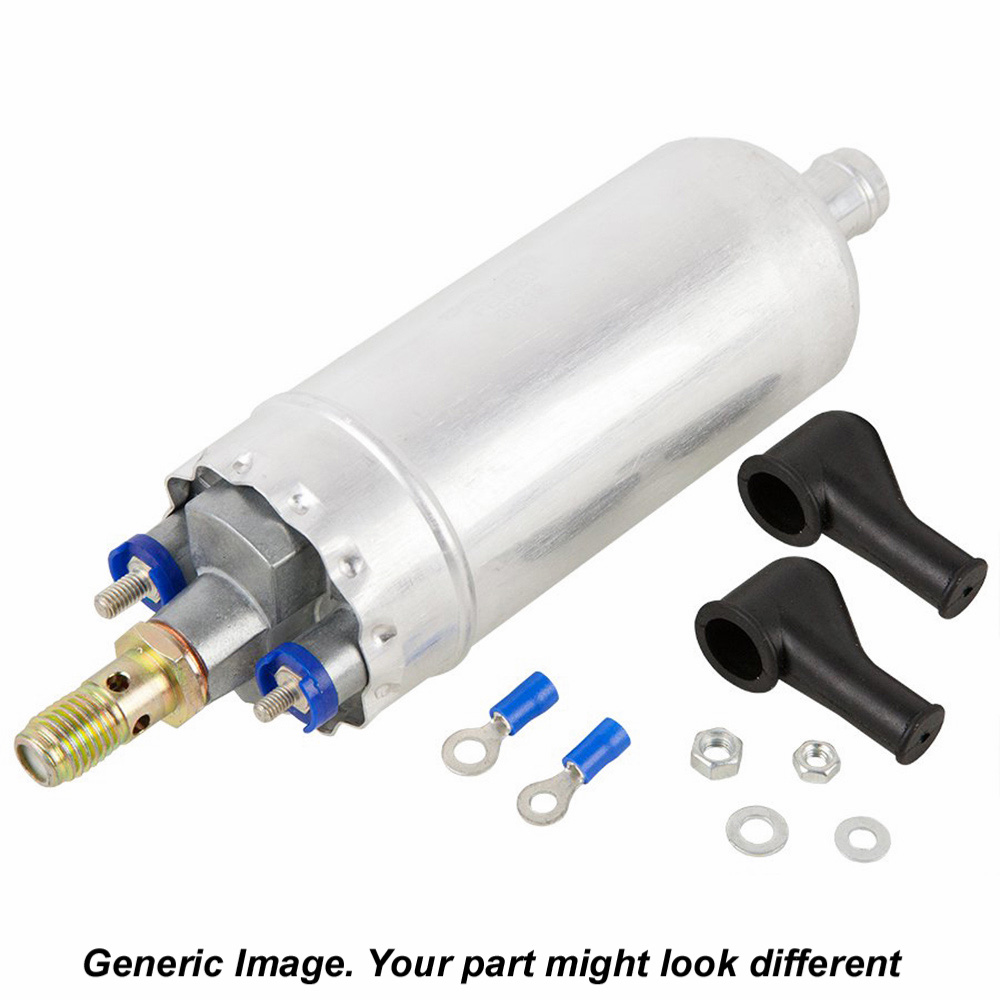 Fuel Pump Labor and Part Costs
Fuel pump costa can range anywhere from less than $50 to well over $200. To get an accurate estimate, check the make, model and year of your vehicle using the Shop By Vehicle drop down menu on the top left of this page. Installing a new fuel pump should only take a few hours. The final labor cost will depend on the hourly rate of the mechanic.
Vehicle
Dealership Repair Cost
DIY With BAP
Year, Make & Model
List Price
Labor Cost ($130/HR)
Total Cost
Our Price
Savings
Vehicle
OEM (Original Equipment Manufacturer) Number
List Price
Our Price
Labor Time (hrs)
Independent Shops Estimate National Avg Labor Cost ($100/HR)
Dealerships Estimate National Avg Labor Cost ($130/HR)
2004 Cheverolet Silverado
19121626
$414.16
3
$300.00
$390.00 (3 hrs)
$804.16
$99.00
$705.16
2000 Chevrolet Cavalier
22683260
$291.00
1.8
$180.00
$234.00 (1.8 hrs)
$525.00
$123.75
$401.25
2004 Range Rover
702550270
$914.31
1.6
$160.00
$208.00 (1.6 hrs)
$1122.31
$311.85
$810.46
2005 Nissan Pathfinder
17040EA000
$452.16
2.9
$290.00
$377.00 (2.9 hrs)
$829.16
$168.30
$660.86
2003 Ford Expedition
2L1Z9H307BG
$657.35
2.4
$240.00
$312.00 (2.4 hrs)
$969.35
$133.65
$835.70
Don't miss out on our exclusive offers
Get instant savings, exclusive deals, and limited-time promos.
How Much Does Labor Cost For a Fuel Pump Repair?
Before we get to the answer this question you have to think about your car first. Odds are your car has just one fuel pump, some cars and trucks have two. Most of the cars with one have their fuel pumps inside the gas tank. If you're lucky yours will be accessible from the trunk. If you're not so lucky your fuel pump repair will consist of fully removing the fuel tank before accessing and replacing the fuel pump. In addition, fuel pump replacement costs will vary depending on where you get your car worked on.

Fuel pump costs for labor will vary depending on your vehicle and how easily accessible your fuel pump is. Some cars that have an opening to get to it from the trunk or back seat will take much less time than from a car that needs take off parts to get to the fuel tank and then remove it to get to the fuel pump.
Where you take your car to get serviced will also change the fuel pump repair cost, even between the exact same cars. Take it to a dealership and it will more than likely cost you more than taking it to a specialist or an independent repair shop.Before buying a new fuel pump read or our Know the Signs: Symptoms of a bad Fuel Pump.
This guide will give you a basic idea of what different cars require and how different labor times can be. Having a ballpark figure will allow you to give you an idea whether it will cost you $250 or $1000.
Vehicle Classification
Model 1
Model 2
Model 3
Hatchbacks
2007 VW Golf ~ 1.2 Labor hrs
2007 Chevrolet Malibu ~ 2.8 Labor hrs
2007 Toyota Matrix ~ 2.4 labor hrs
Sedans
2007 Honda Civic ~ 1 labor hrs
2007 Dodge Charger ~ 4.6 labor hrs
2007 Mercedes Benz E320 ~ 2 labor hrs
Wagons
2007 Audi A6 ~ 1.6 labor hrs
2007 Volvo XC70 ~ 4.4 labor hrs
2007 Mazda 6 ~ 4 labor hrs
Sport Cars
2007 Nissan 350Z ~ 6.1 labor hrs
2007 Audi S4 ~ 1.6 labor hrs
2007 Chevrolet Corvette ~ 8.4 labor hrs
SUVs/Crossovers
2007 Pontiac Torrent ~ 2.4 labor hrs
2007 BMW X3 ~ 1.3 labor hrs
2007 Mercedes Benz R320 ~ 3 labor hours
Pickup Trucks
2007 Chevrolet Silverado ~ 3.1 labor hrs
2007 Dodge Ram 1500 ~ 2 labor hrs
2007 Toyota Tundra ~ 2.1 labor hrs
Range = 1.2 labor hrs to 8.4 labor hrs
Why do labor times vary so much?
Labor times vary because not all cars are created equally. Some have easy access to the fuel pump and some don't. Some cars are built with reparability in mind and some aren't. But the best way to know how long it will take to for your fuel pump repair, is to bring your car to your mechanic and get a quote. Once you have that number in mind, we recommend going to a few other mechanics to see if the prices are comparable.

If you've ever talked to more than one person about how much it cost for their car to get a similar part replaced you would inevitably see that prices vary. Unless you're talking to people with the same year, make, and model you will see fuel pump replacement costs vary person to person.
Luckily this guide will give you better information that you can go to your mechanic with. You'll be armed and ready to know if your mechanic is giving you a fair price on your fuel pump repair. BuyAutoParts mission is to make it easy to buy auto parts, but we also want to make it easy for you to get those parts installed.
How to Save Money on a Fuel Pump
Have you considered how much you can save by purchasing fuel pumps online? First check with a certified auto mechanic for the exact components needed and ask for the part number and price. Thank them for the help, but don't buy the components just yet. Enter the part numbers online and you will in most cases find much better prices.
To save even more money, you could do it yourself and save on labor costs. The difficulty of replacing the fuel pump depends on its exact location. In some cars it is easily accessible, but in others many components have to be removed to gain access.
Find Your Fuel Pump
To find the correct fuel pump that is guaranteed to fit your car at an unbeatable price, use the Year, Make, and Model search at the top left of this page.  If you find the fuel pump cheaper somewhere else, give one of our US based auto specialists a call and we will match that price, 1-888-907-7225. All fuel pump orders over $99 come with Free Shipping and an industry leading warranty.
More Vehicle Specific Estimates & Costs
Fuel pumps in your vehicle ensure that the fuel reaches the engine at the requisite pressure. The fuel that is highly pressurized is the key to efficient combustion in internal combustion engines. A fault in any part associated with the engine will affect its performance and in most cases, will result in a decreased fuel economy. If the fuel pump malfunctions, the pressure it exerts in the fuel will be lower than required. This can result in improper combustion of the air-fuel mixture. Common problems that can occur due to a faulty fuel pump include stalling and sputtering at high speeds. Sometimes, it is necessary to replace a faulty fuel pump with a new one to restore the original performance of the pump and of course, the engine. To make the cost of the fuel pump replacement reasonable, you will need to focus on two things. First is finding a reliable source from where you can get the right part at a reasonable price, which also meets the standards you expect. Second is finding the right repair shop which charges a fair cost for the installation.
Searching for the right part online is pretty easy. At BuyAutoParts.com, if you know your vehicle's year, make and model, you can easily locate the part that is compatible with your vehicle. Our inventory stocks a line of fuel pumps that are designed to be compatible with most makes and models. Some of the best-selling ranges of fuel pump assemblies in our site and their approximate price ranges are listed below:
Compatible Vehicle
Type of Fuel Pump
Price Range
Link
OEM Numbers
2003-2005 Land Rover Range Rover 4.4L V8 Engine
OEM New
$677.25 - $612.75
Replacement Fuel Pump (Part Number: 36-01420)
7.02550.27.0,

702550270,

E8876M,

LR0 14301,

LR014301,

WFX 500010,

WFX000150,

WFX500010

BAP New
$661.50 - $598.50
1999-2004 Chevrolet Pick-up Truck 4.3L Engine - 2 Electrical Connectors

1999-2004 Chevrolet Silverado 4.3L Engine - 2 Electrical Connectors

1999-2003 Chevrolet Pick-up Truck 4.8L 5.3L 6.0L and 8.1L Engine - 2 Electrical Connectors

1999-2003 Chevrolet Silverado 4.8L 5.3L 6.0L and 8.1L Engine - 2 Electrical Connectors

1999-2004 GMC Sierra 4.3L Engine - 2 Electrical Connectors

2004-2004 GMC Pick-up Truck 4.3L Engine - 2 Electrical Connectors

1999-2003 GMC Sierra 4.8L 5.3L 6.0L and 8.1L Engine - 2 Electrical Connectors

1999-2003 GMC Pick-up Truck Gas Engine - Fuel Pump with 2 Electrical Connectors

OEM New
$257.25 - $232.75
Replacement Fuel Pump (Part Number: 36-00014)
19121626,

19153711,

19177272,

25176865,

25345026,

E3500M,

MU1613

BAP New
$147.22 - $133.20
2003-2004 Lincoln Navigator All Models
OEM New
$322.23 - $291.57
Replacement Fuel Pump (Part Number: 36-00418)
2L7Z9H307AF,

E2362M

BAP New
$131.25 - $118.75
2003-2004 Ford Expedition 5.4L Engine - All Models
OEM New
$320.17 - $289.67
Replacement Fuel Pump (Part Number: 36-01391)
2L1Z 9H307-BG,

2L1Z9H307BG,

E2360M

BAP New
$126.00 - $114.00
2004-2006 Infiniti QX56 All Models

2004-2004 Nissan Pathfinder 5.6L Models

2004-2004 Nissan Titan All Models

2005-2006 Nissan Titan Gas Models

2007-2007 Nissan Titan Gas Models with Production Date To 08.06.2006

2006-2006 Nissan Armada Models with Prodiction Date To 07.31.2006

2005-2005 Nissan Armada Models with Production Date From 10.01.2004

OEM New
$516.52 - $467.32
Replacement Fuel Pump (Part Number: 36-01592)
17040-7S000,

17040-7S00A,

17040-7S20A,

17040-ZQ60A,

170407S000,

170407S00A,

170407S20A,

17040ZQ60A,

E8595M.

BAP New
$147.00 - $133.00
If you know the average cost that you will have to spend on replacing the fuel pump, you can plan ahead in your budget for the month. For your convenience, we have included the approximate replacement costs for replacing the fuel pump in some of the renowned vehicles below.

| Vehicle | Approximate Replacement Costs |
| --- | --- |
| 2003 Land Rover Range Rover | $854.00 - $1110.00 |
| 1999 Chevrolet Silverado 2500 | $574.00 - $783.00 |
| 2002 GMC Sierra 2500 | $574.00 - $783.00 |
| 2004 Lincoln Navigator | $545.00 - $642.00 |
| 2003 Ford Expedition | $495.00 - $773.00 |
| 2007 Nissan Titan | $590.00 - $765.00 |
| 2005 Nissan Armada | $541.00 - $736.00 |