With three exceptions (Jeep Wrangler, Dodge Ram 2500/3500 and Ford Super Duty), every vehicle you can buy new today has independent front suspension. It can respond to terrain much faster than a solid axle can and provides much better ride and handling. It's realistically much better for everything that 99% of vehicles are actually used for, including "professional grade" full-size pickups or dedicated off-roaders like the Toyota 4Runner.
The only people who might disagree with you are people who do serious off-roading, which is why the Wrangler still uses a solid front axle to provide better articulation in extreme rock-crawling scenarios. There is also an argument to be made that a solid front axle can be more durable, which is why heavy-duty Ford and Dodge trucks still use it, though GM's pickups have used independent front suspension since the 1980's without issue. A solid front axle is also cheaper and easier to lift, and if your off-roader is making way more power and running tires much bigger (and therefore heavier) than stock, you can replace the entire assembly with something a little more heavy-duty if need be.
Trucks with independent front suspension (IFS) get power from the front differential to the wheels using constant velocity (CV) axles, one for each side. CV axles have a joint at each end; one that connects to the differential, and one that connects to the wheel hub. This allows the front axle to keep turning while the wheels move up and down (along with suspension movement) and left and right (for steering).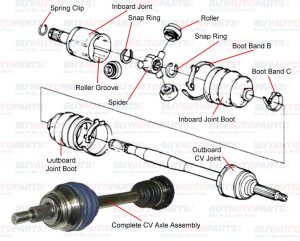 However, those joints are designed for the range of motion provided by the stock suspension. When you lift the suspension, those joints will be spinning at a steeper angle than they were originally designed for, which will cause them to wear out much faster, even if your lifted truck never actually sees off-road use. For some vehicles, you may be able to find a kit that drops your front differential to straighten the axles back out, but that reduces your ground clearance between the front wheels and makes the front diff more vulnerable to damage from rocks and anything else you may try to drive over or interfere with fitting a skid plate to protect everything else under the car.
To address this issue, we have rolled out a line of CV axles with heavy-duty, high-articulation CV joints (and boots) that won't wear out as fast when you install them on a truck with a lifted or long-travel suspension. They will otherwise fit just like OEM and are backed by the same lifetime warranty as all of our Guaranteed Exact Fit CV axles. They can be ordered individually, but we recommend replacing them in pairs for better long-term reliability; since your original axles wear at about the same rate, when one needs to be replaced, the other can't be very far behind. We have started with the popular applications listed below:
In addition to these new axles, we also have a full line of stock replacement CV axles and driveshafts for pretty much every mainstream application. They all arrive at your door fully assembled and balanced, ready to bolt right in, with no specialized tools required. For more details or knowledgeable assistance getting the correct driveline parts for any vehicle, contact us and we can find it for you!