They're not always glamorous or what we really want, but your first car represents freedom and fun, and because of that, we always have a little attachment to them. A couple of us here at BuyAutoParts took a little break from the doom and gloom everywhere else in the world to enjoy a little nostalgia and take a drive down memory lane
Joey W. – B2B Sales
1994 Volvo 940 Turbo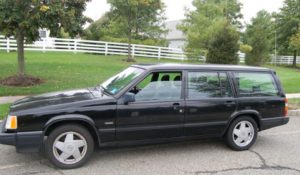 Brother, sister and myself used this through our high school days
Best turning radius of any car I've ever driven
For a wagon this thing was quick – Parking lot drifting and late night off-roading
Really useful to pack in all my buddies for trips – seats 7 people
As reliable as any car I've ever owned. Original turbo went well over 200K along with many other components
Josh C. – Warranty Sales
1978 Toyota Corolla
My 1st car was a 1978 Toyota Corolla. Remember the scene in Dazed and Confused where they throw a bowling ball into a car's back window? Yep, that was a Corolla. I purchased it from my sister in 1996. She wanted $1200 but my parents made her sell it to me for $800.
Right off the bat I got a flat tire in the front. When I lifted the car to change it the strut assembly, it fell right out of the car; absolutely nothing was left of the strut mount. Apron further inspection, every item in the steering and suspension that was plastic or rubber was basically junk.  This is where I learned how to get dirty and met my dear friend Moog suspension. There was no Google or forums. It was me in a driveway way longer than I should have been, cussing up a storm and having friends come over that have never done anything like this to give me advice. $800 in parts later, a crushed hand and a lot of blood stains on my parents' driveway I was on the road. A week later, the radiator and water pump went bad.  The water pump housing bolt literally fused to the block. This is where I learned how important it is to drill into a bolt straight and where I came up with a group of new cuss words that I'm sure are still used today.
Daniel F. – Marketing
1993 Buick Century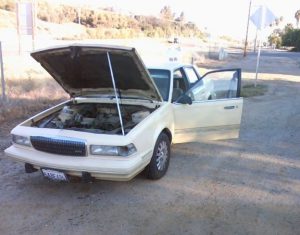 This is the only picture I have of my first car; a 1993 Buick Century I got from my grandpa for my 17th birthday, which is how most people probably end up with used Buicks. I was NOT kind to this car. I removed the lock pin from the foot-actuated parking brake, thinking that would turn it into an instant drift pedal, but that didn't really work in practice. I also found my favorite "rally stage" up behind the Wild Animal Park outside Escondido, which ended up being a pretty inconvenient place to change my first flat tire. A few months after my 18th birthday, the engine overheated (no temp gauge on the dash!) and seized, which is the scene of this photo. I sold it to a scrapyard for $80, and it was replaced with the 4Runner that I still have today.
Vannessa P. – Accounting
1992 Buick Regal
My First Car I purchased was in 2004 a 1992 Buick Regal. I was 21 Years old had my first son.
I was living in Oakland, California when Buicks were called "SCRAPPERS". This was one of my favorite cars not because of how it looked but because the way it drove. I would be laughing driving on Highway 580, and if anyone has driven on that freeway they know it's real wavy, meaning when I drove my car felt like a boat. I also Installed a whistle in place of the exhaust pipe so when I drove my car whistled; it was a thing at the time. I love my Buicks because they all have the same engine, which makes it real easy to know where everything is at. Last year I bought a 2016 Buick Verano so Buicks are my thing when it comes to cars.
Dawn G. – HR
1980 Datsun 210
My first car was given to me by my mom. She bought herself a new truck and was handed down this ugly 1980, baby blue with baby blue interior, Datsun 210. The first car that I bought myself was a used red 1985 Honda CRX. I loved this car; it whipped in and out of the smallest parking spaces and it was perfect as I basically lived at the beach and it was always a pain to find parking.
Renee Thomas Jacobs – CEO
1967 VW Beetle
My first car was a beige 1967 VW Beetle. It is always good to own a car from one's birth year. It did have reverse lights, but not much else. I paid $600 for it from an old high school friend and bought so I could drive from Berkeley to my nightshift job at Fedex on the Oakland Airport ramp, sorting overnight packages and loading airplanes (loved that job and it informed my business-sense tremendously). I actually worked on it quite a bit myself: I changed the oil regularly, replaced the brake shoes, the rear window (after I unadvisedly put my mountain bike in the back seat) and the front fender. Also unadvised, I once white-knuckle drove it over Highway 17 from Santa Cruz to Berkeley during a nighttime snowfall.
Nick C.  – Senior Director of Products
1979 BMW 320i
My first car was a 1979 BMW 320i. I learned to drive a manual transmission in this car! Some best and worst memories of Billy:
4 speed manual transmission w/ no overdrive. That little 2.0L M10 engine was happy and buzzing along at 4000 rpm on the freeway.
I learned to double clutch and heel-toe downshift in this car, and for some reason also figured out how to shift without the clutch by rev-matching. Bored kid I guess!
Squishy suspension and tall sidewall tires- it handled decently enough but could get a little hairy if the body roll went too far! I remember a few heart racing moments of understeer and snap oversteer driving around the backroads in SLO.
Classic hood hinged at the front, making it look cooler but way harder to work on.
The time I thought I could change a sway bar bushing in the driveway by myself only to find out it's pressed into the lower control arm and not really a good amateur job! Thanks for fixing that one, Dad.
I still think they're great looking little cars- euro bumper and a 5 speed? I'd take it!
Anthony P. – Customer Service
1968 Mercedes 250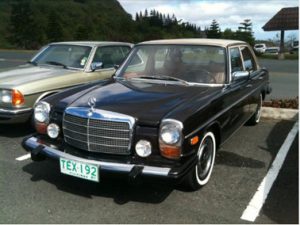 My first car that was given to me by my Dad is a 1968 Mercedes Benz 250 W115 euro-spec. It has a straight 6 cylinders with 2 huge 4-barrel carburetors, originally a column shift but retrofitted to a floor shift after college. I have the white ivory steering wheel with white MB Tex interior. Me and my Dad bought it with a local movie actor Gabby Conception; I can still remember because when we bought it, an iconic 1977 Pontiac Firebird Trans Am was parked next to it. I was only 15 years old when my Dad bought it and I got it after 3 years when I was legal to drive. Named her Michelle. My mechanic modified the carb reversing a spring and instantly 4 barrels will open instead of 2 barrels and later another 2 barrels. It was very fast, but I asked my mechanic to return it back to stock because it was funneling gasoline like crazy. Sold it when I graduate from college. First 200km/h with this car. I have 1 side mirror only in the driver side. I placed 2 size 12 Boston Acoustics Sub-woofers with an Isobaric enclosure and Boston Acoustics Separates powered by Alpine 3549 amp, Blaupunkt head unit and a Sony Discman and cassette tape to aux with gooseneck.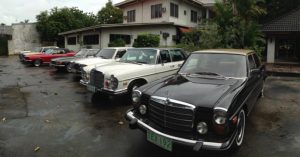 The first car that I restored is a two tone 1970 Mercedes Benz 300D US-spec. The owner is a 20-year-old Cancer survivor undergoing Chemotherapy during the build. It is a father and son project. His Dad supplies the parts. After Chemotherapy, the son visits my shop and gives me the things that I need for the build.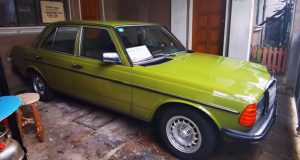 My first diesel is this 1979 Mercedes Benz W123 300D, 4 speed Automatic. I named her Kush. Green on green fabric interior. It has been 6 years since I have re-restored this. Before it was a 200G 115 engine, color champagne silver gold with blue MB Tex interior and BBS basket mesh size 15 mag wheels.
Aaron G. – Warranty Sales
1967 Chevy El Camino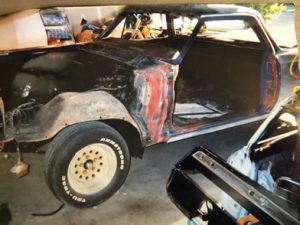 My first car was this 1967 Chevy El Camino. I outgrew my 1986 Yamaha YZ80 Dirt Bike that I raced and with the sale of that, I was able to purchase my first car out of a field for $500 when I was 15. My dad and I tore the car down to the frame and rebuilt every piece of it. The only thing that we outsourced was the interior and the final alignment. It took us about a year and a half to rebuild it and I was able to drive the car to my annual High School Car Show in my senior year. The car was my daily driver / show car and when I moved to San Diego in 2002, my El Camino came with me. I continued to improve the car with an Air Bag Suspension, bucket seats, bigger wheels and built a bigger 350 engine. While at a huge car show in Blythe, CA in 2006, I was approached by the Editor of Street Trucks Magazine who asked to shoot the car for an article.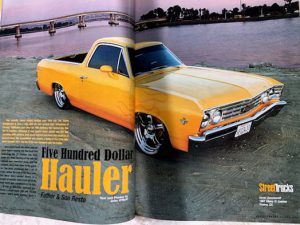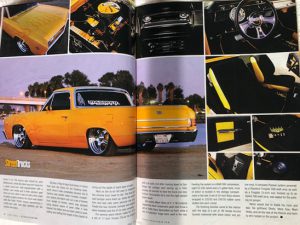 I sold the car in 2014 to scrape up some more cash for a down payment on my house. The guy who bought the car is rebuilding it to his taste and he sends me photos of it once in a while. I love seeing the car being rebuilt with someone else's vision.
Jim B. – Chief Revenue Officer
1971 VW Bus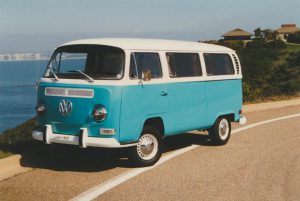 This is my first car. It's a 1971 VW Bus. My dad and I bought this together as a project car – we paid $600. It had a nice interior, but it needed pretty much everything else to be re-done. We got the engine and transmission rebuilt, body work and new paint, and some smaller stuff. My mom made the curtains. We restored it to a really nice condition. I miss this bus and regret selling it. Every time I see one like this I look hard to see if it's my old bus – I would love to have it back.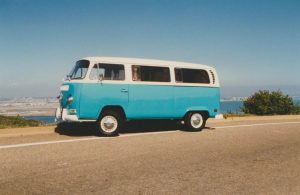 Jill E. – H.R. Director
1976 BMW 2002
My first car was a 1976 BMW 2002. Manual transmission. I got it in 1996 when I turned 16, and I think it cost around $2000, which I am sure was my life savings at the time. Oh man, this car! Here are a few of the highlights…
I bought it out of Auto Trader (anyone else remember that?), and one of my parents drove it home. It is a manual transmission, which I couldn't drive yet. My parents said they would teach me when they got home that next afternoon. Not wanting to wait, my boyfriend said he would come over and teach me. Well, we backed down my very steep driveway, and then drove about 20 yards down my very narrow and also steep street (literally right below my house at this point). We were stuck down there in the middle of the road for about an hour trying to get the car back to my house. Apparently he didn't know how to drive stick either!
It had a problem with overheating, so most of the time I drove around with the heater on full blast and the windows down.
Not sure how to explain this one in technical terms but here goes… even if you were stopped, or braking, or in neutral, the gas had to be engaged ever so slightly or else the car would stall. So the car had 3 pedals (gas, break, clutch), and at times all 3 needing to be hit at the same time. Since I only have 2 feet so there was definitely some fancy footwork going on down there.
In my hometown of Laguna Beach, the highest speed limit anywhere in town is 45 MPH, which was also about the top speed of my car. If I ever had to leave town I had to borrow my mom's car.
Because of the level of complexity in driving my manual transmission, I quickly became the best stick driver EVER! This has come in handy on more than one occasion. Occasionally I got to borrow a very fancy car from a friends parents when we had to go somewhere together than involved freeway driving. Once I got to drive a very old Toyota Land Cruiser off road a few miles down a riverbed on Santa Cruz Island. I assure you the last person that they thought would be the most qualified to drive this car in that moment was a 16 year old girl, but they quickly changed their minds.
The radio didn't really work, so I had a boom box on the floor of the passenger side that I used to listen to music.
The gas gauge didn't work either, so I had to keep track of how far I drove so I knew when I needed gas on a notepad I kept in the glove compartment.
The driver side inside door handle did not work, so to get out I had to roll down the window, reach my arm out and open the door from the outside.
Since the car was so small, it was very easy to squeeze into a small spot during the summer when beach parking is hard to find.
Speaking of small, this car was very small compared to cars these days. I am pretty sure we got 7 people in there on more than one occasion.
There was no cushion left in the driver's seat. I had to sit on a pillow to see over the steering wheel. My friends liked to joke it was because I was so short, but it was just the low seat, really!
Things occasionally broke, but nothing ever cost more than about $100 to fix. I also remember gas being about $0.99 a gallon back then… oh the good old days!
Since all of this happened almost 25 years ago, I rarely ever thing about this car unless I see one on the road. Most of the above seem like issues I could not even imagine dealing with today. Back then none of those things even phased me one bit! I was happy to have a cute and fun car that allowed me to go anywhere I wanted at any time. I got rid of this car when I left for college, and I have missed it ever since!
Tony B. – Marketing
1986 Chevy Celebrity
My first car was an '86 Chevy Celebrity station wagon. It was a hand-me-down from my mom, who bought it brand new. It was only 10 years old when I got it and had been garaged for its whole life, but it was covered in rust thanks to living in Chicago where they salt the roads in the winter. It had the venerable GM 2.8L 60-degree V6 with a 2-barrel carb making a whopping 112hp, paired with an absolutely horrible 4spd. automatic transmission. This car was certainly not up to the task of being driven by a 16 year-old gearhead like myself, who beat the ever-loving crap out of it literally everywhere I went. Every single thing on this car broke at one point or another during my 2-year ownership. The engine spun a main bearing, the transmission had to be rebuilt, the list goes on and on. My friends and I called it "The Leper", because things were always falling off of it. It was also voted "car least-likely to be stolen" from my high school parking lot, which was a huge honor. I covered it in stickers from my favorite punk and ska bands at the time, because this was the late 90's after all. We also nick-named it "The Tony Taxi", because I always drove my friends around in it, my personal record being 9 people at once. My interior was a burgundy velour, which matched the maroon exterior very nicely. Mine had the console shifter and bucket seats too! It also had these super cool wire-wheel hubcaps and rear decklid spoiler for added downforce. In the end, we sold the car for $350.
Brad P. – Marketing Director
1991 Honda Accord
My first car was a 1991 Honda Accord. It was a hand-me-down from my grandmother. She was known for speeding or as she put it, "hauling bananas!" After I got it I put in some 10 inch BlauPunkt subwoofers, and thumped the theme song from Beverly Hill Cop. I also put in a PA system that you could talk into with a microphone and it made animal sounds…. because why not?!?!
Robin R. – VP of Accounting
1969 Plymouth
I tried and looked through so many drawers and cannot find the one photo of my 1969 440 Plymouth Mopar. It had big tires in the back and little ones in the front. It was jacked up! So it tilted forward. The hood had 2 locks on it so that people could not steal the engine parts.
It was fast. It could easily get to 120. And I won many races with it. When challenged, I would drop it into first, watch the streetlight turn green, then shift gears when the tachometer hit certain rpms. Aw, those were the days.
I sold it. when gas went from 30 cents per gallon to 69 cents. It only got 7 miles per gallon. After that car I got a 1979 Ford Farmout. Nothing power in that car except it was an automatic. Still had a sporty look.