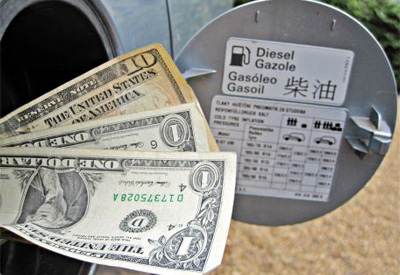 We're living in a time where gas prices appear to skyrocket, and we're left asking ourselves whether or not we should create a bomb shelter just to store gas tanks like we're preparing for an apocalyptic disaster. That or consider driving a Prius (my last resort). But don't let the hole in your wallet get you down; we've come up with some quick tips on resisting the inevitable --without the hoarding.
Pay Cash
Gas stations around the country now are discounting gas prices if you pay with cash. The reasoning behind is that merchants are forced to pay fees to credit card companies for every credit card purchase. If a customer pays with cash, the merchant can avoid this fee. The gas station can save more money even if they discount for their cash customers. Typically discounts are around $0.10 per gallon. This is a quick fix if you're trying to save a couple of bucks, without having to do much work at all.
Perks from Grocery Stores
Local grocery stores are linking with popular gas stations and passing on major perks to their regular customers. Shell gas has teamed up with Ralphs, and for every 100 points earned for shopping at the grocery store, customers enjoy an additional $0.10 off per gallon. The best part is that these perks are absolutely free – just be sure to swipe your rewards card during your grocery purchase. A similar program can be found at the PriceChopper, Kroger, Winn Dixie, Martin's, and Giant Eagle grocery chains.
Club Membership
If you like buying things in bulk, you probably have a Costco or Sam's Club membership card. These wholesale bulk stores have branded their own fuel and offered their members gas at a discounted rate. Prices are generally about $0.10 cheaper than comparable local gas stations. Just one word of advice – be prepared for long lines!
Credit Cards that Offer Cash Back
Let's say you never carry cash on you, and all you've got in your wallet is the plastic: A significant number of credit card companies are offering a percentage of cash back for any purchase. For example, Chase Freedom offers 1% cash back for all purchases, and for one quarter in the year, they offer 5% cash back for gas purchases. Shell's "Drive for Five" credit card saves you $0.05 per gallon as long as you purchase 45 gallons of Shell per month. American Express Blue Cash Everyday has no annual fee and will refund you 2% of all of your gas purchases year-round. Be on the lookout for what perks your credit card company offers year-round, or if they have special quarterly savings you need to register for.
Get a Gas App
There's an app for everything nowadays, so why wouldn't there be an app to track local gas prices? Smartphone users have a myriad of choices to choose from, so have at it. Currently the highest rated FREE gas apps available for iPhone users are: GasBuddy, Gas Guru, and Gas Cubby. GasBuddy even offers users a $250 gift card in a weekly giveaway. Now go cheat the system!
Read these Articles
In case you missed it, we wrote an article a while back on how you can get more bang for your buck in MPG: Tips for Improving Fuel Economy. We also wrote an article about on the best time to fill your tank: When Is It Best to Fill Up Your Gas Tank?
Have any more tips? Let us know and comment below.