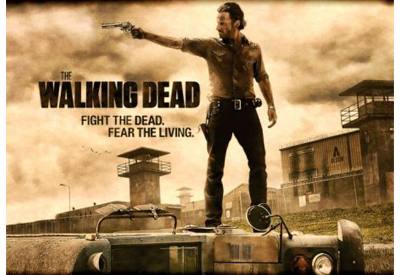 The fourth season of Walking Dead is premiering this Sunday 10/13 at 9pm PST (right after football), and I can't be more excited. I've been waiting for this day to come since the climactic showdown between Rick's group and the Governor's armed soldiers. For those who haven't watched the show, it's amazing. Zombies, action, drama and humor; who could ask for more?! Plus, it only seems fair that I reflect on the vehicles featured in Walking Dead, since we did a little tribute to Breaking Bad [Check out the blog: The Cars Of Breaking Bad] a few months ago.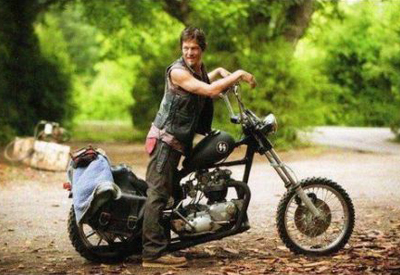 http://olddogcycles.com/wp-content/uploads/2013/05/tumblr_mf9flk4kPP1riwnj8o1_500.jpg
Triumph Bonneville
Daryl is the crossbow wielding, self-sufficient zombie slaughterer who doesn't need anyone. It only seems right that even though he's part of Rick's group of survivors, he rides a motorcycle, fit for just one. It's great on gas, and it's easy to hop onto for a quick getaway. The ride does leave you a little unprotected, but Daryl is just the type to fight off blood thirsty biters.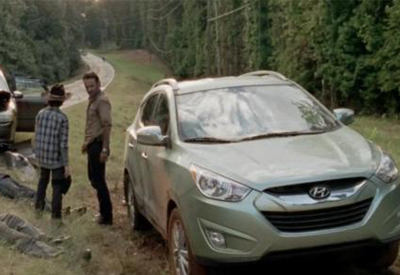 http://ow.ly/pCx0T
Hyundai Tucson
This light green Tucson has been around since the early days of Walking Dead. I'm surprised it hasn't been damaged beyond repair at this point. It also slightly reminds me of Walter White's light green Aztek, but that's beside the point. This vehicle is the life saver in so many situations, and has been the group's most reliable go-to car. No wonder Hyundai decided to build a Walking Dead-inspired zombie survival vehicle out of the new Veloster.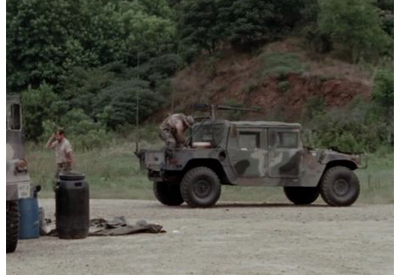 http://www.imcdb.org/i556928.jpg
AM General Humvee
The General's Woodbury survivors hijacked this standard military high mobility multipurpose wheeled vehicle from the National Guard, and for good reason. This Humvee is the perfect vehicle for direct zombie combat and will provide the ultimate protection and power against the toughest of situations. The vehicle is even fitted with a .50 caliber machine gun!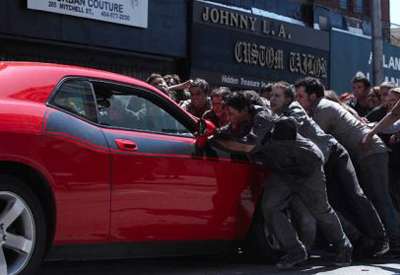 http://ow.ly/pCxz4
Dodge Challenger
Glenn hotwired this Challenger in the first season to lure a bunch of walkers from a department store, where Rick and a few others were cooped up. Although he only had the car briefly, it was a key survival tool. The Challenger also has been the fastest vehicle on the show since it first aired.  Glenn most likely ditched the ride due to its lack of fuel efficiency and ability to venture on tough terrain.
For other cars that would be PERFECT for a zombie apocalypse, read my other blog: What's The Best Car For a Zombie Apocalypse?