It started shortly after we finished our last race. After our car became a hit on the internet, Matt Groening's (the creator of The Simpsons) people contacted us and said that he loved the car and wanted to see it in person. (Read more about The Homer Car)
Finally, the day came when we took the car to the Fox Studios. The public is never allowed into the Fox Studios, and they said they have turned down other real race car drivers and their cars for PR opportunities. Going through all the procedures and guidelines they set up for our visit, it was clear that this was a rare invite. Matt and his people really went out of their way to get us there. They actually blocked off a whole block in front of the Gracie Films bungalow for us. When we pulled up in the car there were dozens of spectators and multiple camera crews waiting for us. The experience was totally surreal. Apparently they had sent out a studio wide email inviting people to see "The Homer" for real.
We met Matt Groening, James L Brooks, Al Jean, David Cohen (former Simpsons writer and creator of Futurama), and a bunch of other Simpsons staffers. Matt said it was a "dream come true" to see The Homer in the flesh. All of them were really enthusiastic about it and loved the car, despite being quite LeMons caliber when you see it up close. Unfortunately none of the voice actors were there at the time. James Brooks took a particular interest in it and was asking lots of questions about how fast the car is, what the race is, how well we did, etc., and was genuinely excited for us when we told him we finished in 5th place in our last race.
We took a ton of photos with the car and the Simpsons crew, then were interviewed by several media outlets (AP, Fox, E! and others) asking about the car, what racing we do, etc. Matt signed the rear quarter panel of our car, along with a sign board that we intend to keep mounted in the back seat of the car, and some other memorabilia for us.
I took Matt, James, Al, David, and several other staffers for rides in the car. Basically I was told not to engage in any "exhibitions of speed," so I carefully drove them around a block of the studio. But with every lap I took, security and other people cleared a safe path for me, so I upped my speed a bit and laid down a little rubber. I may have gotten a little sideways around a corner with a Fox camera man riding shotgun 🙂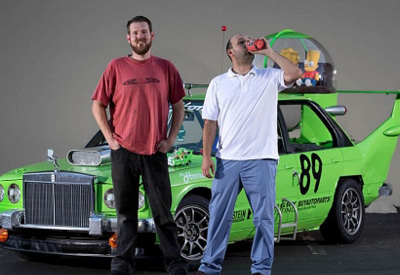 We talked a bit more with The Simpsons PR person who set this all up, and she told us that when the video of our car hit the internet, she got two emails about it - one from Matt proclaiming how cool our car was and that he wanted to see it in person, and the other from Fox's lawyers saying they intended to send us a cease and desist letter. Luckily Matt's enthusiasm won out! She also mentioned that when we decide to get rid of the car, we should give them first dibs.
It was an incredible day, and I'm still stunned that our Homer Car has received all the positive attention it has. We probably won't be racing for a while, so we're going to milk its popularity for all it's worth over the next few months 🙂
-Scott, BuyAutoParts.com's Steering Pro