Introduction:
The power steering pump, a part of your vehicle's power steering system, is the component that compresses the power steering fluid. It is basically a rotary vane pump that is powered by the engine via a belt and pulley. The construction of the pump includes a set of retractable vanes and an oval chamber.
Functionality:
When the retractable vanes rotate inside the chamber, the power steering fluid is drawn into the pump and compressed. The amount of high-pressure fluid generated by the pump is directly proportional to the speed of the engine. Hence, at high engine speeds, the pump will produce more fluid than required. To keep a check on the amount of fluid generated, a pressure-relief valve is included in the pump. The valve makes sure that the right amount of fluid is generated, even at high engine speeds.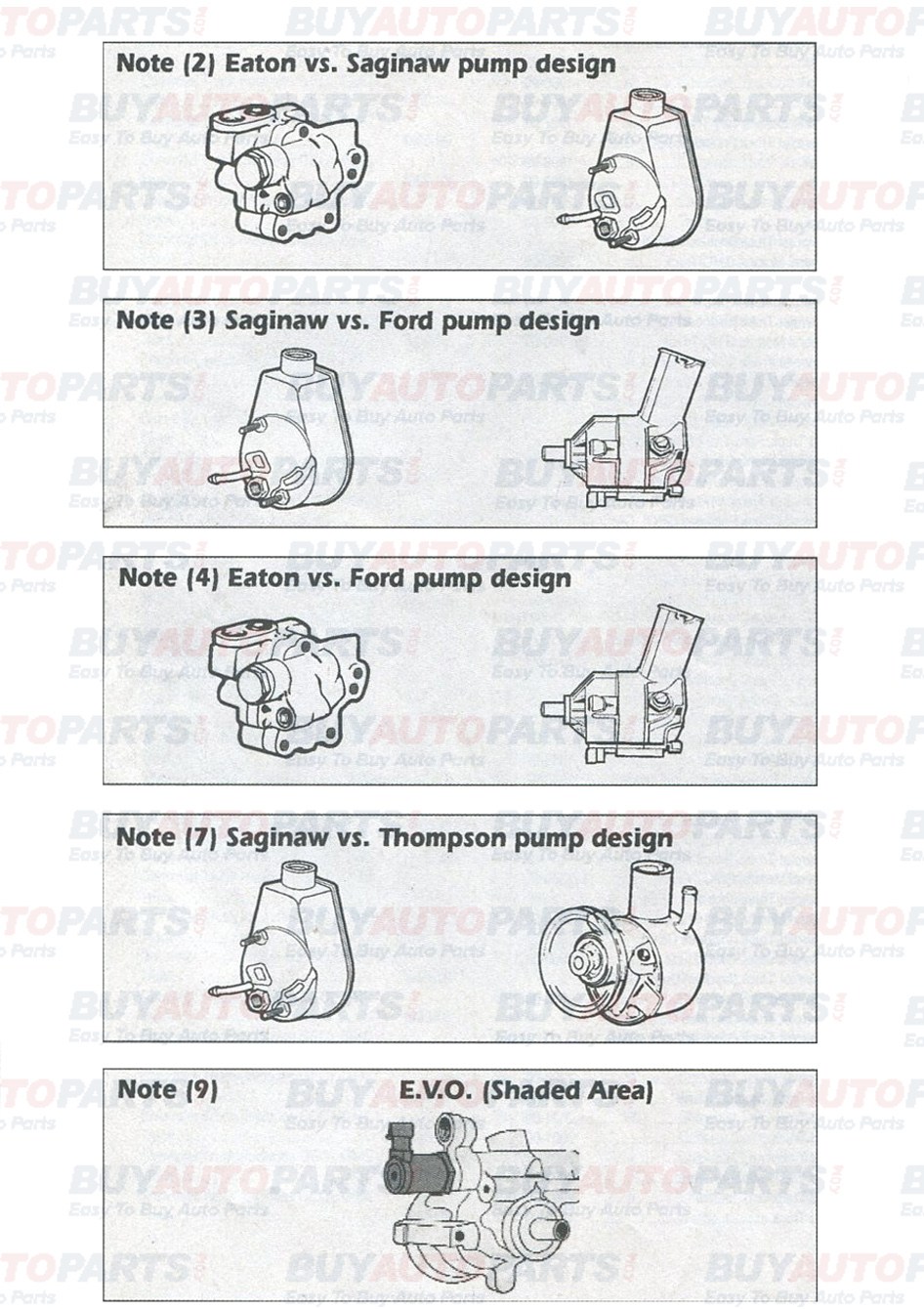 Types:
Over the years the designs of automobiles have changed almost every time a new model is released. Knowing what parts are on your vehicle is the key to ordering the correct parts for their replacement. There are 4 major types of power steering pumps that have been used and each has many variations as well:
- Eaton
- Saginaw
- Ford
- Thompson
Each of these units is designed to meet specific needs. When replacing a pump be sure to order the correct unit to meet your vehicle's exact requirements.
The image above shows the comparison of the different designs of power steering pumps.
Symptoms:
Power steering pumps may suffer from general wear like developing leaks over time or broken vanes. A squealing noise while driving at low speeds or while rounding a turn especially in tight corners, is a common symptom of a defective steering pump. A stiff steering while driving in cold weather conditions is also an indication of a faulty pump. In addition, the steering wheel will not return to its normal position when you release it. If you find any of the indications mentioned above, it could be your steering pump that is at fault.
Get High-Quality Power Steering Pumps at Buy Auto Parts!
If you are looking to buy a genuine power steering pump, Buy Auto Parts is the right place. We will get you the power steering pump once you select your automobile's right year, make and model. Coming with an industry-leading warranty at unbeatable prices, our steering pumps are meticulously tested to meet or exceed industry standards. We also offer free shipping for purchases over $99. Your order will reach you on time, as it will be shipped from one of our warehouses close to your location. If you have trouble in locating your pump, our support team is at hand to help you: call us at or leave us an email at [email protected]. You can browse through our extensive line of throughly-tested OEM replacement and aftermarket parts for every make and model.