One of the most common questions our customer service representatives get on a daily basis is, "I've returned a part, when will I see my refund?"
What most of our customers don't know is that logistically, it does take some time and major procedures must be followed before any refunds are issued. We've created a fun infographic to depict the process.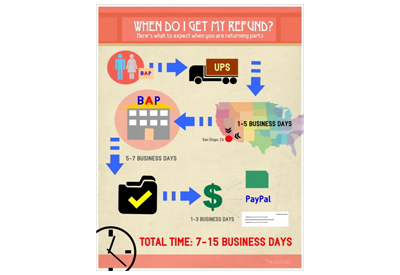 Whether you have changed your mind, or your part needs to be warrantied, be sure to talk to one of our customer service reps first. We will provide you with the proper instructions on sending parts back.
Remember, shipping the part back to us does take time. All returns will be delivered to San Diego, California, so that must be taken into account. Typically, a part shipping from Maine to California using one of our UPS return labels will take approximately 5 business days (this does not include weekends). Of course, obstacles do occur, and this time frame is just an estimation.
Arrival at Our Warehouse
Great! You've checked your tracking number, and your part has made the journey back to our warehouse. Your part, along with the hundreds of parts that we receive every day, needs to be physically checked in by one of our warehouse technicians. This means we have to individually pull a box from a large palette of boxes, open up the box, and check what part has been returned to us. You won't believe our warehouse horror stories of what some people (not you!) have sent back to us – cans, shoes, and even rocks! That is why we need to physically see the part and complete a proper inspection. We understand that the urgency of your situation and our warehouse workers are working on this as fast as they can. Typically we quote that parts are checked in within 5 to 7 business days from the date of arrival at our warehouse. We pull boxes in the order from the date of arrival to ensure fairness to all of our customers.
Checked-In Parts
When we pull your box, we inspect the part and put all notes in your customer file. If the part arrives in the condition that we expect it in, our warehouse team will notify our accounting department or the sales representative who spoke to you in regards to your return. If it's a matter of issuing a refund, our accounting department will issue it right away. If it's a matter of shipping out a replacement part for a warrantied item, one of our representatives will issue a new order to be shipped out. These orders will be shipped out within 24 hours.
Issuing a Refund
Our accounting department will send you an e-mail when the refund has been issued. All refunds will be issued back onto the same form of payment that you had initially paid with. So, if you paid with your credit card, the refund will go directly back onto that credit card. When we issue a refund, there is a 1 to 3 business day pending period depending on what bank or form of payment you had originally used to pay for the purchase. We have no control over this pending period, when we issue the refund it is out of our hands. Please contact your card provider if you have any questions about the pending period.
So, with this all taken into account, it can take anywhere from 7 to 15 business days for a refund to be back in your hands. Please understand that everything is just an estimation, and we are working as fast as we can to get your refund back to you.