How to Repair Control Arms
The Control Arms repair "How To" section of our site is here to help when you need that little bit of extra knowledge to get your project up and running. From the list below select the video or article that is related to info for the product line desired.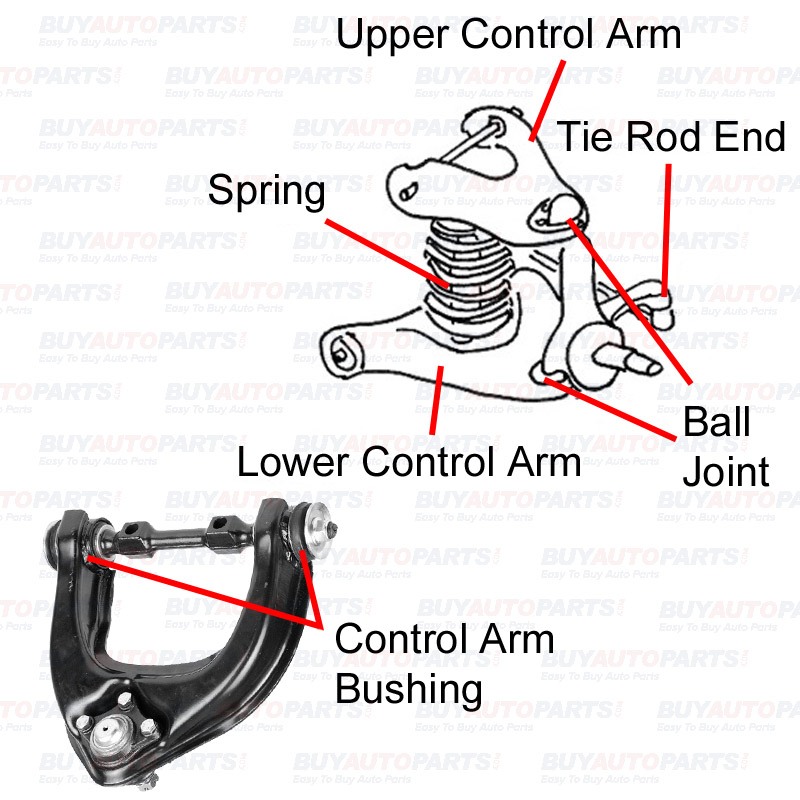 The automobile's control arm or wishbone is a nearly flat and roughly triangular suspension component (or sub-frame), that pivots in two places. The broad end of the triangle attaches at the frame and pivots on a bushing. The narrow end attaches to the steering knuckle and pivots on a ball joint. The upper control arm can clearly be seen at the top portion of the suspension components. The roughly A-shaped design with the top of the A near the tire and the bottom two points connected to the frame inside the body's space. Two such devices per wheel make up a double wishbone suspension, while one control arm per wheel makes up a part, usually the lower part, of a MacPherson strut suspension or of various other configurations.
The primary function of the control arm is to attach the wheels to the frame of the vehicle. There are many other components that keep the wheels connected to your car, but the control arm adds a level of stability. When you are driving over bumps in the road, or through other rough driving conditions, the control arm allows the wheels to move up and down, while stabilizing the frame of your car. This is important because it means that the wheels absorb the bumps and move freely, so that you do not feel every single bump in the road that you drive over.
Over time, your control arms will begin to wear down. There is no way to prevent this from happening. You can increase the longevity of your control arm and suspension system with routine maintenance, but eventually you will have to replace your control arms to restore stability. When your control arms begin to wear down, there will be excessive play in your suspension. This will make controlling the car move difficult and will also reduce the dampening effect. If your car's suspension is not performing like it used to, it is a good idea to have your control arms inspected.
Purchase high-quality Control Arms at Buy Auto Parts
If you are looking to buy a genuine control arm, Buy Auto Parts is the right place. We will get you the control arm once you select your automobile's right year, make and model. Coming with an industry-leading warranty at unbeatable prices, our control arms are meticulously tested to meet or exceed industry standards. We also offer free shipping for purchases over $99. Your order will reach you on time, as it will be shipped from one of our warehouses close to your location. If you have trouble in locating your part, our support team is at hand to help you: call us at or leave us an email at [email protected]. You can browse through our extensive line of throughly-tested OEM replacement and aftermarket parts for every make and model.
If the info you need is not covered in this section feel free to send us a message in our support section.
"How To" Home | BuyAutoParts Home