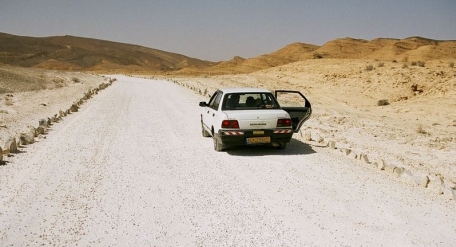 July 5, 2013 - You're driving through a desolate stretch of desert. Suddenly you're car just grinds to a halt. Do you know how to survive getting stranded in the desert?
There are many steps and precautions you should take when travelling through any kind of remote area. Here is a checklist of tips to help prepare for and survive getting stranded in the desert if your car breaks down.
Before You Set Off
1. Bring a reliable GPS unit or use your phone if it has GPS.
2. Don't forget a hard copy of your maps, in case your phone doesn't work when you need it. Desolate areas are called desolate for a reason. They are in the middle of nowhere, so odds are you will not get cell reception.
3. Fully charge your cell phone before setting off.
4. Learn about the details of the route you are taking, and pay close attention to mile markers.
5. Make sure you bring a spare tire and the necessary tools in case of a flat.
6. Pack lots of food and water for the journey.
7. Keep a few blankets in the trunk of your car. Yes, deserts are hot during the day but they can get very cold at night.
8. Put together an emergency kit with items like first aid supplies, flashlights and flares.
9. Understand the basics of car maintenance before going on your trip. Learn how to cool the engine, change the tires etc.
After You Breakdown
10. Don't panic.
11. Stick with your vehicle if you happen to breakdown, unless the area is completely uninhabited.
12. Ration your food and water. You don't want to run out quickly, if it looks like it will take some time to get help.
13. Get out of direct sunlight while waiting. Use any shade that you can get from your car.
14. Try to repair your vehicle if possible, or get help from a passing driver.
15. If it is night time, then try to flag down passing drivers with a flare.
16. Call for help with your cell phone or satellite phone.
17. Travel at night if you are forced to hike to the nearest bit of civilization. This allows you to travel for longer with less chance of heat exhaustion.
Bonus Tip: Always let someone know you are taking a trip through the desert. Give an estimate of your arrival time, so they can contact the emergency services if you are gone for too long.