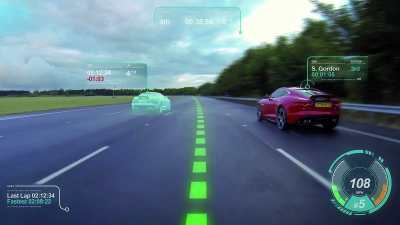 Most of us are familiar with Google Glass. They're glasses you wear which basically put a computer screen right in front of your face. You can still see through the glasses but the lenses will show you destinations, calendar appointments, allow you to take photos and so on. The glass in front of your eyes is the critical part of Google Glass as it is the display screen for most of the information being communicated.
I wonder, is there any other time in our lives besides when we are wearing glasses that we have a blank display in front of our faces? Yes, of course there is. The car windshield is a perfect display. It is an untapped resource where a variety of information can be shown.
Now, I know I am really smart guy, but I am not the first person to think up this brilliant idea. Car companies and tech startups have been toying around with different ways to best use car windshields in different ways.
Currently, some cars display the MPH and fuel data on the windshield right above the steering wheel. This allows drivers to keep their heads up while driving. Its safer then looking down to make sure they are driving within the speed limits.
Other companies have tied in GPS directions into the window screen.  The video below shows a very basic version of this. A red line shows up on the windshield showing a driver which way to go. I think this is much better and safer than having to look down at your GPS every time you think you're going to approach a turn.
This is just the beginning though. Mercedes-Benz unveiled some of the most interesting virtual windshields at the Consumer Electronics Show. During their demo they showed different holographic icons on a windshield which showed information such as, historic landmarks, what bands were playing at a nearby nightclub, restaurant reviews and much more. A driver could even make a reservation with a wave of a hand if they thought the restaurant looked appetizing.
Jaguar just released their idea for a virtual windshield. However, theirs is more focused on racing and driver training. The video below shows all the features Jaguar sees advantageous for track purposes. I for one think the ghost car feature is really cool. Who wouldn't want the opportunity to race themselves?
So, now we have people walking around with basically computer screens in front of their faces and soon we will have people driving around with the same thing. I know what most of you are thinking, "All this stuff on windshields is going to lead to a lot of distracted driving." Let's just hope that self-driving cars get completed before virtual windows do.
[Related Post: Self Driving Car]
[Related Post: Texting While Driving]
By: Yugo Pantera