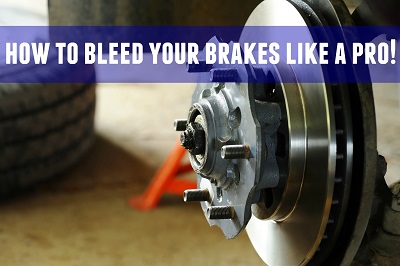 In order to ensure your brakes work properly, all air must be purged out of the system. The term for this process is "bleeding" – you're basically bleeding out all of the air. A strong, sure-footed braking response isn't the only benefit; it's also much safer, too.
According to the National Highway Traffic Safety Administration (NHTSA), a division of the U.S. Department of Transportation, only tire and wheel problems cause more accidents than brake failure. But unlike a freak tire blowout, brake problems caused by not bleeding are avoidable. Therefore, it's important to understand the detailed steps involved.
Solo Act or the Buddy System?
While you can certainly bleed brakes by yourself, it's recommended to use a friend to assist you. At the very least, if you ARE bleeding your brakes alone, you can have somebody else depress the brake pedal to save time.
It's not a difficult process, once you do it a few times. But aside from HOW to bleed your brakes, the second-most common question about this subject is WHEN to bleed your brakes. To be safe, you should bleed the brakes when any of the following 3 events occur:
1. You repair or replace the brake pads, rotors or calipers.
2. The brake fluid reservoir is low and you need to add fluid.
3. You experience unresponsive or sloshy brake response. Other issues might be present (brake line leaks, master cylinder failure, etc.), but you should bleed the brakes once the brake system has been given a thorough inspection.
You should always use OEM quality brake parts to ensure the best possible performance. When it comes to making sure your car is as safe as possible, use high quality brake components and bleed your brakes.
Professional Tips & Tricks for Bleeding Brakes
First things first – gather these five items:
· Wrench to turn bleeder nozzle
· Small rubber hose (minimum 24 inches long)
· Small container to collect brake fluid
· Brake fluid
· Partner (friend, family member, someone who owes you a favor, etc.)
Step-by-step process
1. OPTIONAL: If you haven't added or replaced brake fluid for a while, remove the brake fluid cap, remove existing brake fluid and add new fluid. (Note: for normal brake repairs and part replacements, this step isn't necessary.)
2. Top off brake fluid level in the master cylinder reservoir.
3. Pump the brake pedal at least 10 times.
4. Loosen the brake bleeder nozzle. A 5/16" wrench usually fits. Just loosen the screw – DO NOT completely open up.
5. Connect one end of your hose to the bleeder valve. Insert other end of hose into the container.
6. Add fluid to master cylinder reservoir again.
7. Put cap on master cylinder reservoir.
8. With your buddy in the car, have them slowly depress brake pedal about halfway toward the floor.
9. Turn the bleeder screw about a quarter-turn to slowly open. Watch for fluid to enter container.
10. Once fluid stops and air exits hose, close bleeder screw.
11. Repeat steps 8-10 for each wheel until only fluid exits hose.
12. Keep an eye on brake fluid reservoir; if level starts to drop, fill accordingly.
13. Once each wheel has been properly bled, ensure brake bleeder screw is tightened back to original position. Take care not to overtighten the screw; excessive force can damage the valve.
14. Ensure brake fluid reservoir cap is tightly secured after each wheel's brakes have been bled.
15. Once your car has been safely lowered, take the car for a test drive. Ensure brakes are working properly.

Bleed your brakes, and proper brake function will take care of itself. As you can see from this blog, it's one of the easier safety checks to perform. Superior safety characteristics are also directly related to what types of brake parts you purchase. BuyAutoParts.com offers a comprehensive buying guide to help you determine which components are right for your car. For questions about your car's brake parts, please call our parts pros at (888) 907-7225, or visit the BuyAutoParts.com contact page for other ways to get in touch. Thanks for reading our blog!
Written By Dara Greaney