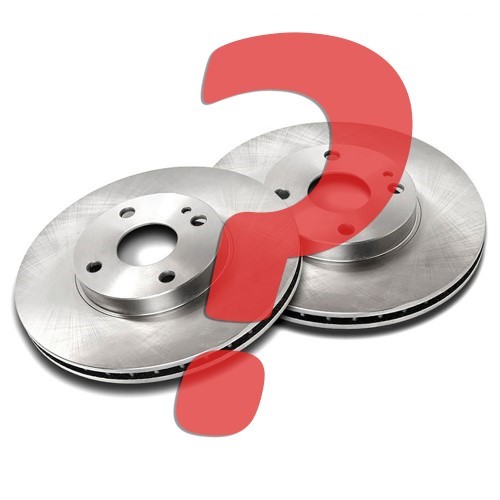 One of the most important systems on every vehicle on the road today is the brakes because going fast, or even moving at all, isn't fun or efficient if you aren't able to stop. A properly functioning brake system is vital not only to vehicle control, but also safety. It won't matter at all how well your car runs if you can't slow down enough to navigate a turn or avoid running into hazards on the road. Having a well-serviced braking system helps you control your stopping distance, but also gives invaluable peace of mind in addition to better control of the overall driving experience knowing you can brake late when needed.
In most cases, the brakes that are equipped on your vehicle from the factory are likely sufficient for your daily commute. Though we have discovered that some vehicles tend to wear through brakes more frequently than others, particularly newer crossover vehicle that use basic sedan brakes for much heavier vehicles, and large passenger cars which lack the upgraded brake package. This is definitely the case on the newer non-Brembo-equipped Chrysler and Dodge vehicles in addition to many others. But that factory option can cost as much as $4,000 or more. So, when you're looking to upgrade brake setup to handle more horsepower or improve stopping distance, you should consider a set of drilled and slotted brake rotors from BuyAutoParts.com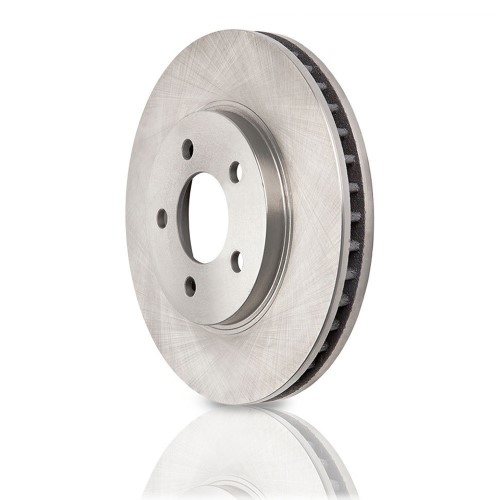 First, let's take a quick look at the standard "smooth" rotors that are equipped on most new cars. A smooth rotor offers a full-face friction surface for the brake pad to grab and act against. This creates a lot of friction, which helps to stop the car, but it also creates a lot of heat, which can prematurely damage, warp, or wear-down braking components. A smooth rotor is durable and can provide adequate braking performance for thousands of miles under normal driving conditions. They are also relatively inexpensive to manufacture, which is why they're the rotor type of choice for most vehicle manufacturers.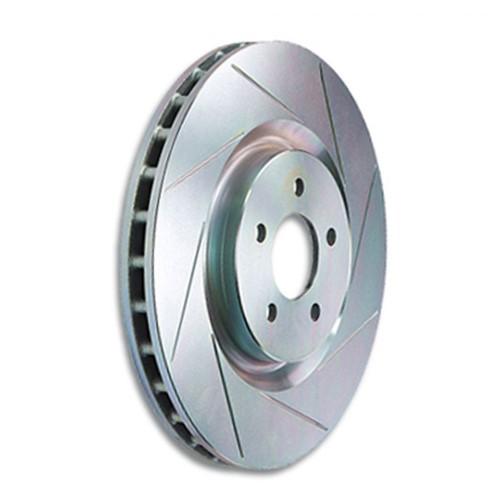 Slotted brake rotors offer a significant performance boost over a smooth brake rotors. Under heavy braking, pad wear and outgassing causes a layer of dust and gasses to build up between the pad and the rotor surface, dangerously decreasing friction and causing "brake fade." Unlike a smooth rotor, the slotted rotor has channels, or "slots" as the name implies, machined into the friction surface of the rotor. These slots allow for gas and brake dust to escape, resulting in better contact between the pad and rotor. Also, as the microscopic debris and gases are vented away from the pad, they naturally follow the path of the slot ACROSS the surface of the rotor, spreading out the heat and reducing likelihood of warpage due to overheating. The slots can also provide more initial "bite" for your brake pad and increase braking effectiveness while maintaining a smooth and responsive pedal feel.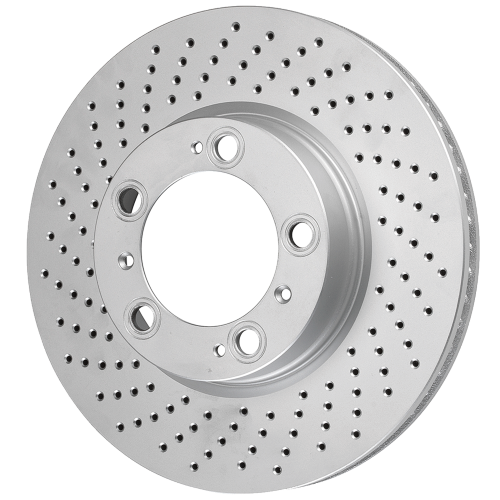 Cross-drilled rotors are often used from the factory on high-end sports cars, which is why they look fast to many of us, even when installed on a parked car. Like slotted brake discs, cross-drilled brake rotors provide an escape for the gas and dust that build up between the brake pad and disc. But the holes in the face of a cross-drilled rotor also provide a direct cooling to the surface between the pad and disc by directly linking it to the interior cooling vanes of the rotor, increasing surface area and lowering brake temperatures. Cross-drilled rotors can even increase initial brake bite in wet weather by allowing water to quickly escape the braking surface before it can affect initial braking. While it's generally true that slotted rotors are often more durable under true race conditions, for the enthusiast with spirited driving in mind, drilled rotors offer not only better brake cooling and wet-weather performance but also a rotor that looks great behind your wheels.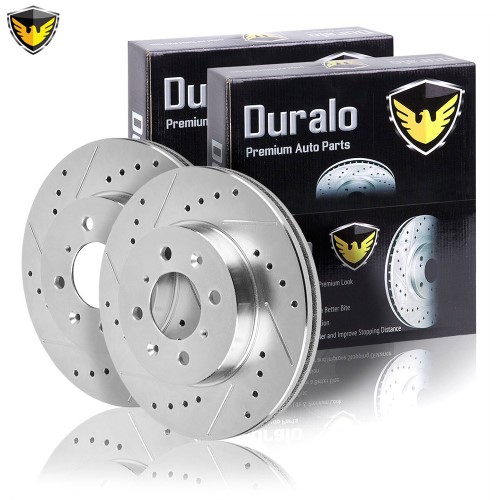 Drilled and slotted brake rotors offer the best of both worlds: Great initial bite in wet and dry conditions, superior cooling capacity, decreased brake fade, longer life, and fantastic looks. This makes drilled and slotted rotors are the choice of many performance enthusiasts, but they also work great on your daily driver for the exact same reasons, and they'll outlast any race-dedicated braking setup that is intended to be changed at frequent intervals with low mileage. But, for the average driver, you want to feel your brakes dig in right away, and stop as short as possible when the situation calls for it. But you also want faith in having more pedal travel than you need, while keeping your brakes as long as possible. For all these reasons there is nothing wrong with bringing a little race car technology to the street, even if you aren't necessarily a race car driver.