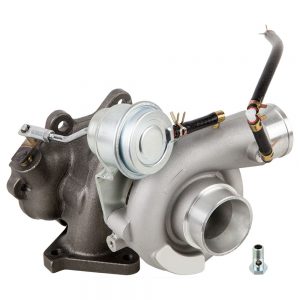 After years of only being seen in Gran Turismo on PlayStation or maybe an odd Best Motoring VHS tape, the Subaru WRX was first sold in the US in 2001 for the 2002 model year. It actually landed right around the same time the first Fast & Furious movie was in theatres, right around the peak of the sport compact craze. Car magazines loved it, insurance companies hated it, and 15 years later, good okay examples still sell for a surprisingly high amount in snowy areas like Colorado and the Pacific Northwest. A brand new WRX STI is, for the most part, mechanically identical to a 2004 model, but still sells for $40,000 to a rabid fanbase, likely because the rare unmodified examples have excellent resale value. Hagerty even put the 2004-2005 "Blob Eye" STI on their 2019 collector car list; people who wanted one of these as their first car back in the day can finally afford them.
Because of the success of the WRX and STI, it quickly became their halo product, and the center of their corporate identity. The larger Legacy and more off-roady Outback, Forester and Baja pickup truck all soon received the option of a turbocharger as well, and many of those are still in-demand by people who want WRX performance in a more grown-up, do-it-all package.
As any Subaru turbo owner discovers though, their uniqueness and performance come at the expense of fuel economy and reliability. The packaging benefits of the flat-four engine allow the engine to be mounted lower, but also make labor a little more complicated. Years of commuting mileage and perhaps some ill-advised modifications mean that turbos and head gaskets are almost considered a wear item on Subarus at this point. Some parts are somewhat interchangeable; STI turbos as an upgrade on a Forester XT, for instance, but those are not necessarily a direct-fit, bolt-in swap. The turbos themselves have enough variances to be frustrating if you accidentally get the wrong one, which is why we created this helpful buyer's guide. Locate your vehicle on the list below and click the link to get a direct-fit replacement turbocharger!
Fits 2002-2007 WRX, 2004-2006 Baja, 2004-2008 Forester XT, 2006 9-2x Aero
Fits 2004-2006 STI
Fits 2007 STI
Mitsubishi TD05H-20G (Order Here)
This is an upgrade for all 2004-2007 STI, plus anything originally equipped with the Mitsubishi TD04. The compressor housing is larger than stock so it can flow a little more air and create more power. This would be a great stock replacement on an STI, even without any supporting mods. On a car originally equipped with the TD04, you'd probably want some supporting mods like an intake, exhaust, bigger fuel injectors to keep the air/fuel ratio close to the same, and a quality tune to make it all work together reliably. Without any supporting mods, the 20G might be a little laggy on an otherwise-stock WRX or Forester XT.
For Subaru Legacy GT & Outback XT:
2005-2006 - IHI VF40 (Order Here)
2007-2009 - IHI VF46 (Order Here)
2010-2012 - IHI VF54 (Order Here)
Fits 2008-2014 WRX
Fits 2008-2015 STI
Mitsubishi TD04L-13T (Order Here)
Fits 2009-2010 Impreza 2.5GT, 2009-2013 Forester XT
Garrett/Honeywell MGT2259S (Order Here)
Fits 2014-2015 Forester XT, 2015 WRX
Once you get the correct turbo, you will also need new gaskets for it, and it's crucial to replace the banjo bolt for the turbo's oil feed line. The banjo bolt secures the oil feed line to the engine's cylinder head, and oil flows directly through it. It has a small screen inside to catch any debris, and it can easily clog up, which will starve the turbo of oil and ruin the center bearing (see Subaru Technical Service Bulletin 02-103-07). Because of how critical it is to replace, we include a brand new, genuine OEM oil line banjo bolt in the box with ever Subaru turbo we carry.
On the turbos that fit multiple applications, re-clocking may be required, but it's very easy; just loosen the clamps on the center section and turn the compressor housing of the turbo (lighter-color half) until it's in the correct position relative to the non-movable exhaust housing. You should also consider replacing, or at least thoroughly cleaning, the oil feed and return lines to ensure the new turbo receives a reliable supply of oil. We have partnered with Stigan to offer brand new oil feed lines for all Subaru vehicles, and we also offer complete kits that include the turbo, gaskets and oil lines.
If you're still not sure what exactly your vehicle needs, feel free to contact BuyAutoParts for knowledgeable assistance in getting the best turbochargers and related components for your vehicle. We carry guaranteed exact fit turbos, intercoolers, oxygen sensors and more from known brands like Mitsubishi, IHI, Garrett, BorgWarner, Stigan and more. All our parts professionals are here and ready to help!