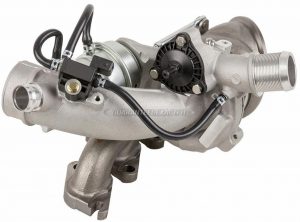 Because of today's stricter fuel economy and emissions standards, more mainstream vehicles are turbocharged. As this technology trickles down to economy cars, turbo failure becomes more common, since more vehicles are equipped with turbos and many of them are "everyday" economy and family cars which usually get driven more than the sports and luxury cars that have had them for a while. This includes the Chevrolet Cruze, Chevy Sonic, Chevy Trax and Buick Encore.
The issue with the Chevy Cruze Turbocharger (available here) is focused obviously on the optional 1.4L turbocharged engine (engine code LUJ). There is also a 1.8L non-turbo available; the 1.4L makes more power and delivered better fuel economy, but at the expense of greater complexity, and as time has proven, worse reliability. All vehicles with the 1.4T engine have these issues, but the Cruze is the best-selling vehicle with the engine, and the victim of the most instances of turbo failure.
The root cause of this issue is the turbo's bypass valve, or blow-off valve. Similar to a wastegate, this is a spring-actuated valve which releases pressure when you lift off the throttle and no longer need boost from the turbo. As time goes on, the spring inside the valve gets weaker, and gets progressively worse at closing the valve. This keeps the valve open, allowing for boost to leak out from it, which means less boost making it into the engine. You will notice the problem either from a check engine light on the dash (diagnostic code P0299), or you might notice your vehicle making less and less power over time.
Ideally, you would be able to replace just the valve on its own, since that is the main culprit, but there are two reasons why you can't. The main reason is that the bypass valve is physically built into the turbo and cannot be separated. But even if you could, that would not be the best option for long-term reliability. Just as a stuck bypass valve can let boost out, it can also let dirt and contaminants in. Many owners replacing their turbo due to the bypass valve issue have reported that the center section of the turbo is in pretty bad condition when it is removed, since dirt getting into the system is bad for the center bearings when a turbo's compressor wheel can spin at 200,000 RPM.
When it's time to replace your turbo, there's a few things you can do. Stay away from used turbos, since there's no guarantee they'll be in any better shape than the one you need to replace. Remanufactured or rebuilt turbos are available, but not recommended. These are turbochargers that have previously failed. The bypass valve spring would have been replaced, the center section cleaned up, and new seals would be installed. This does mean a replacement OEM turbo, but there's no way to ascertain the quality of the parts used for the rebuild, and even if they are OEM quality, that's not very high praise; the original turbo isn't reliable either.
GM released an updated version of this turbocharger in 2014 that also works as a retrofit for older models. Brand new quality aftermarket turbos will use this updated design and should last much longer than the original turbo at a price much lower than the dealership. You shouldn't have to take your vehicle to the dealership to get the work done either; as turbos become more common, trusted local independent mechanics have no trouble doing the labor, also at a lower rate than the dealership. We also offer turbochargers from Stigan, who offer a two year warranty, rather than than the one-year warranty more common in this industry. Stigan part number 847-1446 fits the following:
-2011-2017 Chevy Cruze 1.4T
-2012-2017 Chevy Sonic 1.4T
-2013-2020 Buick Encore
-2013-2017 Chevy Trax
-2016 Chevy Cruze Limited 1.4T
If you're still unsure about what's best for your vehicle, feel free to contact BuyAutoParts for knowledgeable assistance in getting the best replacement turbochargers and other parts for your vehicle. We carry guaranteed exact fit turbos from known brands like BorgWarner, Garrett, Holset, Stigan and more. All our parts professionals are here and ready to help!