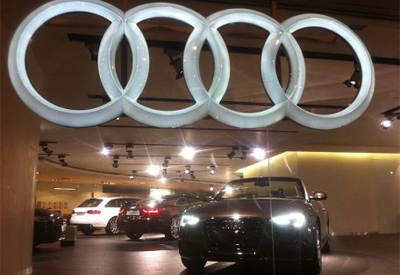 Every time a major auto show rolls around, a cool concept car makes its way around the internet. Well, the Frankfurt Motor Show produced a concept which I loved, the Audi Nanuk. The internet seems to love it too, as it is being talked about on almost every car blog around.
The Frankfurt Motor Show, also known in German as the Internationale Automobil-Ausstellung (IAA) is the world's largest motor show. The show itself occupies twelve buildings and all eyes are centered on the event every September. This year's show will run from September 10th, 2013 to September 22nd, 2013. So only the first couple of days have passed and I already have my preferred concept. (Read about the BMW i3, the electric concept car that made it to the market)
The Audi Nanuk concept is a two-door, four wheel drive 5.0 L V10 diesel engine sports car/SUV. A supercar is the best way to describe this masterpiece; it somehow manages to get 30 miles to the gallon while packing 738 pounds-feet of torque. Combine this with a specially tuned Quattro all-wheel-drive system and a 4,189-pound curb weight and your jaw will drop a little further. Audi says the supercar gets from 0 to 60 in about 3.8 seconds and has a top speed of 189.52 MPH. Remember, all this while still getting you 30 miles to the gallon. The Nanuk concept has some cool carbon ceramic brakes too, when you want to take down the speed a notch.
The critics say this concept is just an Audi version of Lamborghini's Parcour Concept, which was designed by the same Italian design group; Italdesign. Yeah, it does kind of look like it, but this is a pretty sweet Audi that looks German and has some cool German features. [Do you need Audi parts? Check out all our Audi parts HERE]
Due to copyright reasons we are not able to post any photos of the Audi Nanuk on this blog entry but you can follow this link to see images of the vehicle.
Image Source:
http://commons.wikimedia.org/wiki/File:HK_Admiralty_night_%E5%A4%8F%E6%85%A4%E9%81%93_Harcourt_Road_shop_Audi_Hong_Kong_logo_showroom_Feb-2012.jpg