How Much Does a Wheel Hub Cost?
Car repair and tune ups are always needed at some point in your car's life. With time and usage components become worn out and inefficient. The wheels are obviously one of the most heavily used parts, so maintaining a solid connection between the wheels and the car chassis is very important for a smooth ride. Wheel hub costs will vary depending on who you buy from and the brand your choose.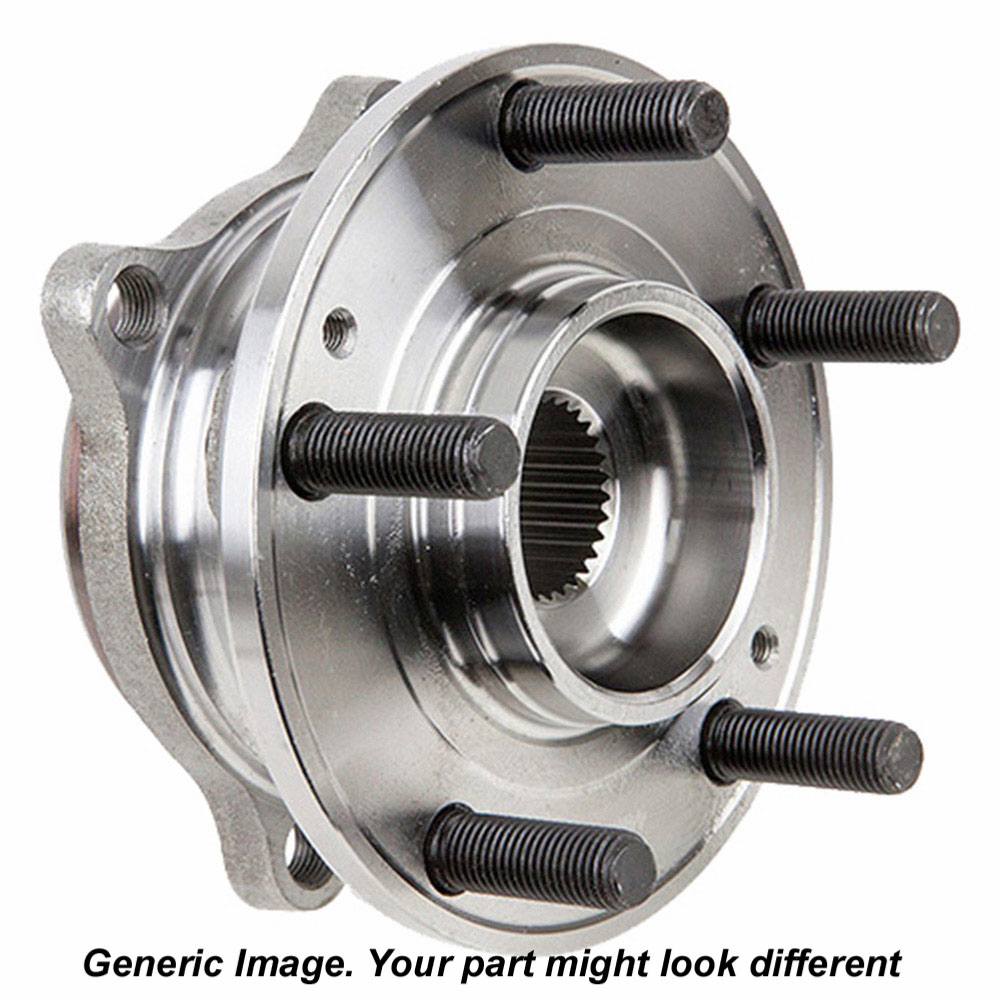 Diagnosing a Failing Wheel Hub
There are two main components that might need replacing. It could just be a worn out wheel bearing, which serves to reduce friction and support the weight of the car. If the bearings become loose and worn out, you will hear a rubbing or grinding noise. This indicates a need for repair or replacing the parts.
However, the issue could be with the entire wheel hub assembly, which joins the wheel to the vehicle. A faulty wheel hub will make a grinding sound, when driving your vehicle forwards. In many cars the hub assembly is also connected to the anti-lock braking system. So if the ABS lights turn on, this could be because of a failing wheel hub.
Labor and Part Costs
The cost of a wheel hub (assembly or bearings) can start from as low as $60 and go well over a hundred dollars. The make and model of your car, will determine the exact price. Wheel hub replacement costs can vary from car to car as well as who you buy them from.
Before replacing the wheel hub bearings make sure to double-checked if it is the front or rear bearings and whether it is on the left or right. It's easy to mix it up and accidentally replace the wrong one. You don't want to end up paying twice for a simple job.
How Much Does Labor Cost For a Wheel Hub Repair?
A wheel hub repair can vary drastically depending on your vehicle. If you have a truck odds are it will be a more involved process than a small car. If you have ABS, there are going to be more steps to go through to repair or replace your wheel hub. In addition if you need bearing to be pressed in, this will add to the time it takes and cost to the repair.
Unfortunately there is no short answer to this question unless. Between car, trucks, and vans you'll see prices variations. We'll do our best to cover a similar vehicle that way you have a good sense of how much time goes into replacing a wheel hub.
Depending on your mechanic or the dealership you go to, wheel hub replacement costs can range from $100 to $500 for labor alone. Here is a shortlist of cars you can compare yours
Vehicle
Dealership Repair Cost
DIY With BAP
Year, Make & Model
List Price
Labor Cost ($130/HR)
Total Cost
Our Price
Savings
Vehicle
OEM (Original Equipment Manufacturer) Number
List Price
Our Price
Labor Time (hrs)
Independent Shops Estimate National Avg Labor Cost ($100/HR)
Dealerships Estimate National Avg Labor Cost ($130/HR)
2004 Cheverolet Silverado
19121626
$414.16
$99.00
3
$390.00(3hrs)
$804.16
$99.00
$705.16
2000 Chevrolet Cavalier
22683260
$291.00
$123.75
1.8
$234.00(1.8hrs)
$525.00
$123.75
$401.25
2004 Range Rover
702550270
$914.31
$311.85
1.6
$208.00(1.6hrs)
$1122.31
$311.85
$810.46
2005 Nissan Pathfinder
17040EA000
$452.16
$168.30
2.9
$377.00(2.9hrs)
$829.16
$168.30
$660.86
2003 Ford Expedition
2L1Z9H307BG
$657.35
$133.65
2.4
$312.00(2.4hrs)
$969.35
$133.65
$835.70
Don't miss out on our exclusive offers
Get instant savings, exclusive deals, and limited-time promos.
Why do labor times vary so much?
Labor times vary so much because cars vary. If all cars were built exactly the same, we could give you an exact amount of time and there wouldn't be much variation between mechanics and dealerships. Unfortunately, that isn't the case. Like we explained above, there are many factors that come into play when repairing a wheel hub. Wheel hub cost will also vary depending on your year make and model.
Electronics such as ABS, how big your wheel hubs are, and how difficult they are to take off, will play a direct role in twheel hub replacement cost. They are an essential part of your car as they are what connect your wheels to the car. Like a lot of parts in your car, without them you wouldn't be able to move it.
There are many differences even between similar makes and models that could lead to variations in labor times. If the suspension design requires special equipment and more steps to get to the wheel hub, the time will start to add up
as well as the wheel hub replacement costs. If your wheel hubs need a bearing pressed in, this too will add to the labor time.
Wheel hub costs can vary greatly. Arm yourself with the most amount of information you can when going to your mechanic, you'll not only know how long it should take, but you'll have the confidence to know when you're getting the right price. These tables will give you a good idea of how much a wheel hub replacement costs.
Vehicle Classification
Model 1
Model 2
Model 3
Hatchbacks
2007 VW Golf ~ 1.2 Labor hrs
2007 Chevrolet Malibu ~ 2.8 Labor hrs
2007 Toyota Matrix ~ 2.4 labor hrs
Sedans
2007 Honda Civic ~ 1 labor hrs
2007 Dodge Charger ~ 4.6 labor hrs
2007 Mercedes Benz E320 ~ 2 labor hrs
Wagons
2007 Audi A6 ~ 1.6 labor hrs
2007 Volvo XC70 ~ 4.4 labor hrs
2007 Mazda 6 ~ 4 labor hrs
Sport Cars
2007 Nissan 350Z ~ 6.1 labor hrs
2007 Audi S4 ~ 1.6 labor hrs
2007 Chevrolet Corvette ~ 8.4 labor hrs
SUVs/Crossovers
2007 Pontiac Torrent ~ 2.4 labor hrs
2007 BMW X3 ~ 1.3 labor hrs
2007 Mercedes Benz R320 ~ 3 labor hours
Pickup Trucks
2007 Chevrolet Silverado ~ 3.1 labor hrs
2007 Dodge Ram 1500 ~ 2 labor hrs
2007 Toyota Tundra ~ 2.1 labor hrs
Range = 1.2 labor hrs to 8.4 labor hrs
How to Save Money on a Wheel Hub
You might be used to the convenience of buying replacements parts directly from the mechanic. But with the right know-how, you can save a lot of money on car parts by purchasing from online stores. Then after you buy the wheel hubs from us, take them back to your mechanic for install, and only pay them for labor.  You can save hundreds, sometimes even thousands by doing this.
Find Your Wheel Hub
To find the correct wheel hub that is guaranteed to fit your car at an unbeatable price, use the Year, Make, and Model search at the top left of this page.  If you find the wheel hub cheaper somewhere else, give one of our US based auto specialists a call and we will match that price, 1-888-907-7225. All wheel hub orders over $99 come with Free Shipping and an industry leading warranty.