Home
Call to talk to one of our Parts Specialists
Hot Savings - Cool Deals! Get Up To 40% Off Sitewide. Limited Time Deal. Act Now.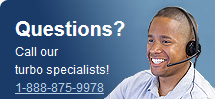 International Orders
International Customers, please review our international shipping policies for placing orders and to know more about Shipping, Payment, and Warranties.
Turbocharger
At Buy Auto Parts, we stock thousands of turbocharger parts at discounted prices, so you can quickly and easily find the turbocharger for your vehicle's make, model and year. In addition to our already low prices, we also offer free shipping on all turbochargers, and frequently offer special discounts and offers, so you'll save even more when you order turbochargers and turbo parts from us. You can also rest assured that you're getting a high quality turbocharger as all of our parts, including Original Equipment Manufacturer (OEM) and aftermarket replacement parts undergo strict quality control standards and come with our industry leading warranty.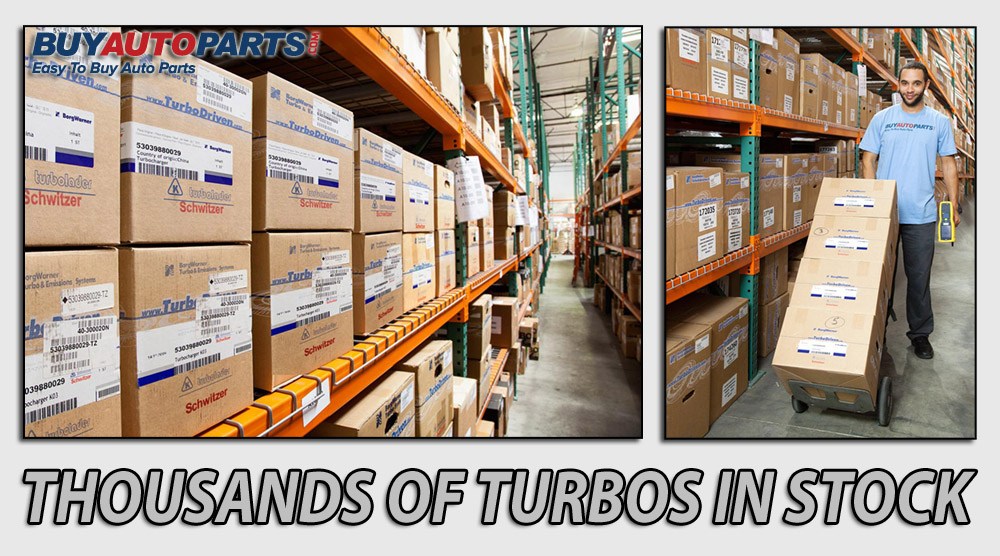 Browse our extensive selection of affordably priced turbochargers to find the right one for your vehicle. Buy Auto Parts understands that when you need replacement auto parts, you need them fast, which is why we have multiple warehouses across the country to get your vehicle parts to you as quickly as possible. If you don't see the turbocharger that you're looking for using our convenient search function, please reach out to us today by phone 888-907-7225 and one of U.S. based turbocharger experts will work with you to find the parts you need.
Turbocharger Best Sellers! Use Shop By Vehicle Above To Find Yours!
1970-2014 Specialty and Performance View All Parts Turbocharger
High Performance
1998-2003 Volkswagen Passat Turbocharger
1999-1999 Saab 9-5 Turbocharger
2003-2010 Chrysler PT Cruiser Turbocharger
1999-1999 Ford F Series Trucks Turbocharger
2007-2010 Mazda CX-7 Turbocharger
1996-2002 GMC Pick-up Truck Turbocharger
2002-2007 Subaru Impreza Turbocharger
2005-2007 Jeep Liberty Turbocharger
Turbocharger Best Sellers! Use Vehicle Selector Above To Find Yours!
At BuyAutoParts.com, we work hard to make shopping for auto parts easy for you. So, whether you're an experienced mechanic or are just started out, we're here to answer your questions and assist you in any way we can. That includes our commitment to customer education, as we're always striving to bring the latest information about auto parts and vehicle innovations to our customers along with the best prices on replacement parts.
A turbocharger, also known as a turbo, is a compressor powered by a turbine. It is built into the engine system and is powered by engine exhaust gases. Turbos convert these exhaust gases into compressed air and pushes it into the engine. This allows the engine to burn more fuel and increases its speed and efficiency. A turbocharger improves an engine's power output immensely.
If you notice a drop in the performance of your car, it may be time to check the turbocharger. Buy Auto Parts, your #1 source for premium quality car parts, sells turbocharger replacements for all makes and models. Our turbocharger units, parts, accessories and kits have been tested to meet or exceed industry standards. As all our car parts are available at wholesale prices, you will save yourself a significant amount of money by purchasing from Buy Auto Parts instead of a dealership or your mechanic.
Every turbo listed on our website comes with an industry leading warranty. Browse through our online turbocharger catalog to find exactly what you are looking for. All you have to do is enter the year, make, and model of your vehicle to view the correct turbo for your car. If you are unable to find the turbo that you need, please feel free to give us a call and we will find it for you. We pride ourselves on our outstanding American based customer service. Our customers love us, and they show it by leaving great online reviews!
Once you complete an order, the car parts will be shipped from our closest auto parts warehouse. Buy Auto Parts provides free shipping on all turbos. If you have any questions regarding our turbochargers, you can talk to one of our turbo specialists at .