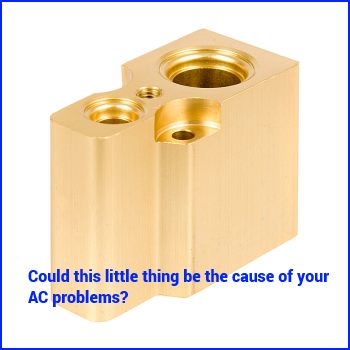 Your vehicle air conditioning system is pretty dependent on all the parts in the AC system. If something isn't working, then you can bet you are going to know it on those hot, hot summer days. Your AC expansion valve is a pretty simple part in concept, but it has a very important job when it comes to whether you get air instead of cool air.
What is it an Expansion Device?
The expansion valve is an important regulator between your AC refrigerant and your evaporator. When refrigerant is allowed to the evaporator, wahla, you get cool/cold air. So…guess what happens when the regulator doesn't work right. Yep, no cool air.
Here's a simplistic explanation for this important piece in your AC system. The expansion valve gets its cues from temperature sensor in the refrigerant lines. When the temp goes down, the valve closes stopping the refrigerant flow. Once the temperature goes back up a little bit, the sensor says open and the valve says okay; refrigerant once again flows in and cools everything back off.
Like I said, pretty simple.
But…How do You Know When an AC Expansion Valve Goes Bad?
That's a good question; there is usually some type of warning sign like the air temperature just won't get as cool as it used to. Or it may be that it won't get cool at all. If you happen to have this experience, some technicians may automatically assume it is a refrigerant issue. Not necessarily.
What Causes an AC Expansion Valve to Go Bad?
You could have plenty of refrigerant and no leak, but still no cool air. You can't really just look at it to find out because it's usually either near or on your expansion coil and that's not a simple take a peak kind of thing to do. Many well-seasoned HVAC technicians will change out your expansion valve when they need to work on your AC system. It's a lot easier to fix it proactively than reactively. Most just replace your whole AC system with parts that come in an AC kit.
- Valve stuck open or closed
- A bad part
- Clogging
Regardless of the cause, it's definitely something you want to get fixed. This is likely not something that everyone would want to tackle. It often takes special tools and refrigerant recovery equipment so it can be a pretty complex matter. Unless you are well-skilled or a HVAC trained you may want to pass this one off to a trained mechanic.
One thing is for sure, when it comes to getting your AC back in shape. Summer is just around the corner and if your AC expansion valve is misbehaving, it's going to be a scorcher.