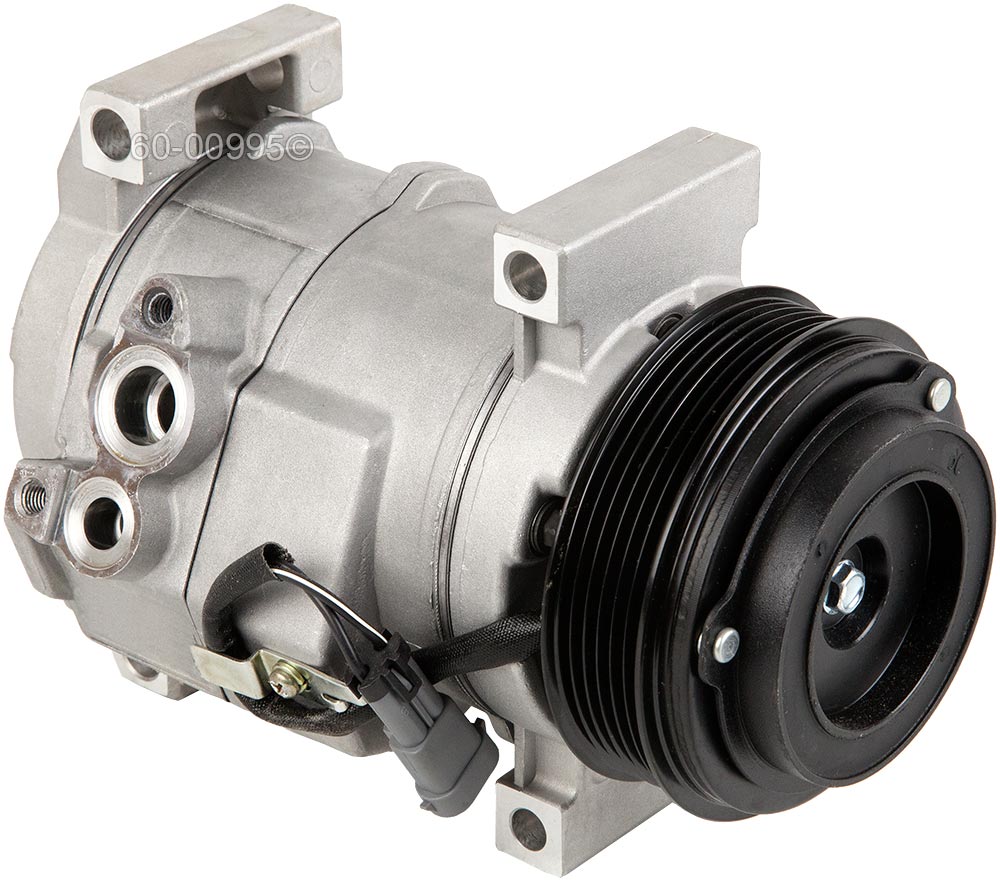 If your part of the country is hot even just a few days out of the year, you already know how important the AC system is when you're driving. Driving around town in stop-and-go traffic won't give you enough cooling breeze even with the windows down and a long commute in the heat can leave you sweaty and your clothes stained. Worse still is hot summer rain without functioning AC. In most modern cars the AC system is also employed as a dehumidifier and when it's broken you can end up with foggy windows that are not only annoying, but also incredibly dangerous when you're trying to see well enough to drive.
The AC compressor is the most important component in every AC system. The AC compressor is required to pressurize the refrigerant in the system and keep it flowing. Once it's moving it can absorb heat from the air so that the now cold air can be pumped into the cabin to keep you and your family cool
Unfortunately, in many 2003-2014 Chevy and GMC trucks and SUVs, the AC Compressor is also the component most prone to failure. Like in many vehicles, the AC compressor in Chevy and GMC truck continuously cycles on and off to maintain the desired cabin temperature. But constant, quick duty-cycles can cause quite a bit of wear each time the AC system is turned on. And because Chevy and GMC trucks and SUVs work harder than other vehicles and have large cabin volumes, we at BuyAutoParts.com see a high number of the AC compressors fail. Without AC, you'll be hot and uncomfortable and that's no way to spend time in your vehicle during the hot summer months.
Fortunately, BuyAutoParts.com has you covered with high-quality replacement AC compressors for your Chevy or GMC Truck or SUV. All you have to do is select your engine size and add it to your cart. And because a failed compressor usually doesn't happen in isolation, we also stock complete AC Compressor kits for most GM Trucks and SUVs that include everything that you should replace when servicing your old AC compressor, like a new AC drier, expansion tube, o-ring seals, and a bottle of compressor oil. That way you can completely overhaul your AC system and guarantee that it works.
If you suspect that your AC compressor has started to fail or break down there are a few warning signs that you should keep a look out for. Because the AC compressor pressurizes and distributes the refrigerant, if there are any problems with it, they will be noticeable elsewhere in the system.
Warmer Cabin Temperatures than Usual

This may seem like a no-brainer, but even though your AC system may be blowing cold air from the vents it doesn't mean that it's operating properly. If you notice that the cabin on your Chevy or GMC truck takes a while longer to cool down, or is just a bit warmer than it usually is, the AC compressor may be on its way out. Even a slight dip in compressor efficiency will hinder its ability to maintain pressure in the AC system. Without adequate pressure, the refrigerant can't absorb as much heat from the air and your cabin warms up little by little.
Decreased Fuel Economy
Every drop of gas counts in a large Chevy or GMC truck. When a compressor wears internally, it becomes harder and harder to turn and because the AC compressor is driven from an engine belt, problems with it can cause the engine to work harder and burn more fuel.
Scraping or Knocking sounds when AC is running

If you hear a loud scraping sound or knocking noise every time you switch on the AC, it's usually a sign of a bad compressor or clutch. If any of the parts inside the compressor are broken or if the compressor clutch bearings are seized, it will make quite a few loud noises as the engine turns it. Failing or seized bearings usually produces grinding, scraping or squealing sounds while failures inside the compressor usually sound like a rhythmic knocking or even banging if the damage is severe enough.
Clutch is not spinning
The AC compressor has to spin for the system to work. Any time there is a problem with the AC you should always make sure the clutch is moving. The compressor clutch allows the spinning pulley on the front of the compressor to engage and disengage the AC compressor so that it's only running when it needs to be.
If the clutch bearing or the internal components of the compressor are seized, the pulley won't be able to spin the compressor at all. If you're having problems with your AC system or if you suspect you need a new AC compressor for your 2003-2014 Chevy or GMC Truck, trust the experts at BuyAutoParts.com to get you the right parts that you need for the job so that you and your family can stay comfortable behind the wheel.