I had the chance to attend the San Diego International Auto Show this week. There was a very good turnout from both the car manufacturers and the public.  This is not suprising since 2015 was a record year for car sales.
Below are some observations on trends I saw:
1.LED Headlights 
That L-shaped run of LEDs on the headlights used to only be on the front of high-end cars. For the 2016 versions, it seems no car is without them. They call them daytime running lights, but let's be honest, they are strictly for looks.   The need for daytime running lights diminished with auto headlights.
2.Black and Brushed Aluminum Wheels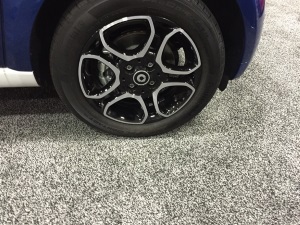 I'm pretty sure every car manufacturer at the show had a variation of these wheels. Above is one on a Smart Car. Below is one on a Ram 1500. One of the only car manufacturers who did not have a version of these from what I saw, was General Motors. You should expect these everywhere in the next few years.
3.The 2015 Ford F150 Aluminum body got everyone's attention
No one would admit it, but the success of that car has forced other truck makers to evolve quickly.   They were all pushing more fuel efficient options (save Toyota).    Nissan went slightly smaller in its new Titan and is offering a 5.0L diesel version and that's the ONLY engine option. Rumors have it that the Frontier is to be cut soon, leaving Nissan with only 1 truck. The Ram line was also heavily promoting their diesel engines. Take a look at the new Dodge Ram pictured below: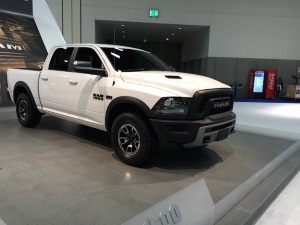 4.The Volkswagen booth had notably lower starting price points
VW seems to be looking to maintain market share after the diesel debacle with lower entry points. This is a nicely equipped Passat for under $30k. Did not see these lower options on a show floor in previous years.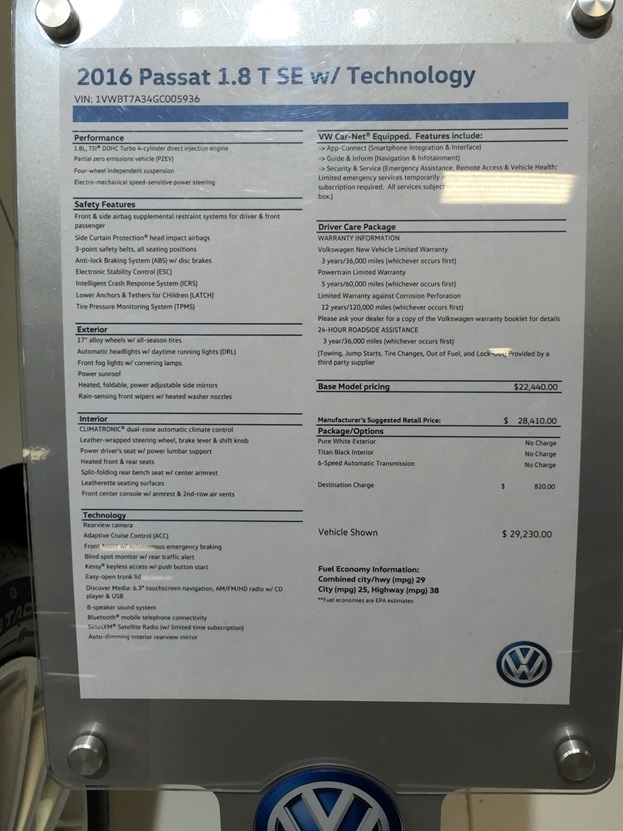 5.The BMW and Porsche hybrids look impressive
Do you want to be impressed? How about a 2016 Cayenne with a supercharged 3.0L v6 that still gets 47MPGe. The 100k sticker will scare you off, but it's good to see that sort of technology come to market. These innovations always move into mainstream vehicles and the lower price tiers over the next 3-5 years.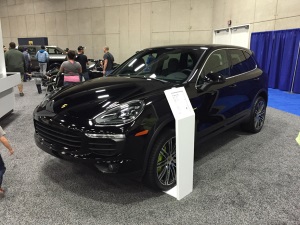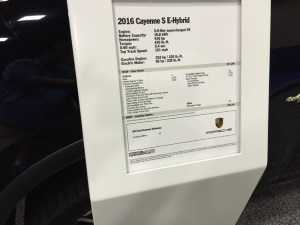 BMW brought their eDrive X5 out and it looks similarly impressive.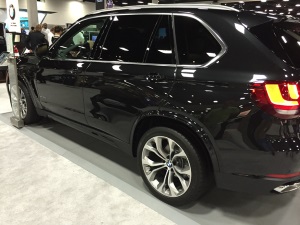 The i3 has been out for a while, but this is still an impressive offering from BMW. Tesla came out strong, but BMW and Porsche are not going away quietly. I'm seeing a lot of BMW I3's on the road these days.    The I8 is probably my favorite car currently, but they had that one locked up.  No fun.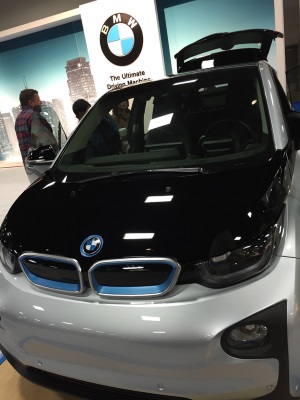 6.Nissan's new design, named 'Energetic Flow' was getting a lot of attention
The new Maxima and Murano had big crowds of people waiting to see the inside and feel out the interior comfort. I have never been a big fan of having all cars in a line look very similar, it provides no other options for the consumer.  For example, I don't care for the front of new Lexus's with their 'Spidle Grill' and I'm not the only one. I do think that Nissan's new design language will resonate well with buyers and won't put off too many the way the Lexus front end does.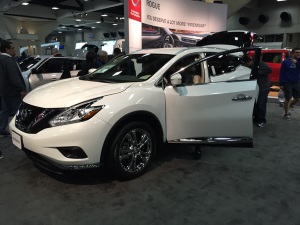 Overall, it was a fun trip to the show. The kids had a blast and I got to kick a lot of tires. I was however disappointed to see very little around advanced safety features like full sonar, auto-braking and lane departure warning. It seems the promise to bring those to the mainstream is still a few years away.
Maybe next year we'll get a few self-driving cars!
Written by: Dara Greaney