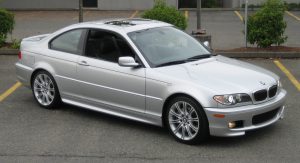 BMW is now, for better or worse, in the depths of its turbocharged, automatic-transmission, all-wheel-drive future. While these technological advancements certainly put down impressive performance numbers, they also add weight, complexity, and remove some of the fun from the driving experience that made cars like the 2002 and E30 so iconic. Today's "Ultimate Driving Machine" is either an M4 with a burble tune and a sticker of the owner's Instagram handle, or any number of SUVs.
It's hard to fault BMW for giving buyers what they want, but for the people who bought BMWs for their handling dynamics, manual transmissions and naturally-aspirated 6-cylinder engines, all they have left is the used market. When the traditional classics are too old and expensive to be practical anymore, and the new ones are too far gone from BMW's original identity, enthusiasts are turning to models from what some consider to be BMW's golden era, the late 1990s and early 2000s. Since the 3-Series has always been the spiritual core of BMW's product line, this has renewed interest in the E46.
The E46-chassis BMW 3 Series ran from model years 2000 through 2005, plus 1999 sedans and 2006 2-doors, and it really is the perfect blend of old and new. It still has a non-turbo inline-six with up to 255 horsepower, commonly available manual transmissions, hydraulic power steering for better feel and a smaller, lighter form factor, but it also has functional AC and airbags and you can still find parts for it. You can find a beater for under $3000 to drift around without remorse or turn into an SCCA Spec-E46 racecar, or an all-wheel-drive wagon to commute in year-round. It also has a massive aftermarket to make it exactly what you want, and a passionate fanbase with tons of technical know-how.
Like any 15-20 year old German car though, maintenance will be a little more involved than a Honda. Plastic cooling components are fragile, but there are multiple companies that make replacements from stronger materials. The multilink suspension has more bushings that wear out, and you can either replace those with polyurethane if you don't care as much about a smooth ride, or order one of our complete control arm kits that includes a new set of suspension links, with bushings already pressed-in to make a DIY driveway install that much easier.
Because of our specialty in steering and the ongoing popularity of these cars, we see a lot of inquiries for E46 steering parts, and a couple design revisions made by BMW can make it a little complicated to find the exact right item. When you include the M3, there are three different steering rack options, and SIX different power steering pumps, all depending on your specific engine and production date, which is why we have made this guide to help you find the parts that match your specific vehicle.
While the M3 uses it's own steering rack, there are still two different options for the non-M 3 series; one made by TRW, and one made by ZF. You can look for any manufacturer tags on your original rack and pinion assembly, or we can look up any OEM part numbers you locate. They both bolt in the same, but the TRW rack is 3.25 turns, lock-to-lock, and the ZF has a quicker 3.0 LTL ratio. If you're unable to inspect your original steering rack, you can just order the ZF part; it is more common, it will bolt in and work as a replacement for the TRW, and the quicker steering ratio will work as an upgrade, providing faster steering response. We also have a brand-new aftermarket version of the ZF rack and pinion that doesn't require any core deposit or return.
When it comes to finding a new steering pump for an E36, there are certain models and model years that will require you to know your vehicle's exact production date. You can find this on a vehicle information label on your driver's doorjam, along with other details like your VIN and the recommended tire pressure settings. We can also look up any OEM part numbers off your original steering pump to further ensure a match.
Steering is where our company started over 30 years ago, and its still the core of our business today. For knowledgeable assistance from the market leader in steering parts, send us an email and we can help you get the best deal on the best parts from known brands like ZF, TRW, Duralo, Borgeson, Maval and more. Every steering gearbox and rack & pinion on our site is backed by a three year, unlimited mileage warranty, and even a lifetime warranty on Duralo and Borgeson parts! Everything else on our site is a minimum of one year, with extended warranty and expedited shipping options available at checkout. Buy with confidence from the company that's been doing this longer than anyone else!