How To Buy Wheel Hubs
---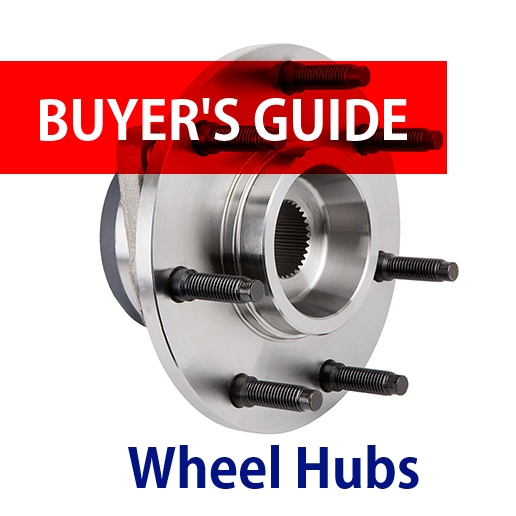 When any part in your car begins to fail, it can be stressful to try to find the right parts to fix it. The auto part purchasing experience should be painless, so we have come up with this guide on how to buy wheel hubs, to help make your purchasing experience a little easier. With this Wheel Hubs Buyer's Guide, we will answer whatever questions you may have on how to buy wheel hubs, how it functions, and how to differentiate between the options we carry.
What is a Wheel Hub?
Let's start with the basics. A wheel hub is the axle and bearing mechanism around which the wheel revolves. It is the mounting assembly for the wheel of a vehicle and houses the wheel bearings. Some vehicles will also have the speed sensor attached to the wheel hub assembly, which will be attached with an electrical connector. A full wheel hub assembly in most cases will include the wheel hub unit, the bearings, seals and sensors. Without the wheel hub, your vehicle will not turn as freely as it should, and handling would be extremely difficult. You can find more information here: What Is A Wheel Hub?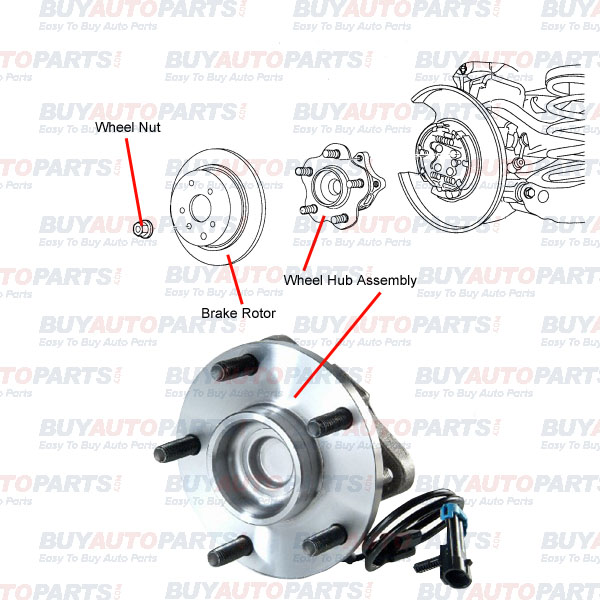 Symptoms of a Failing Wheel Bearing

Wheel Vibration/Wobble

Most of the time when there's wheel vibration or wobble, it is associated to a damaged or worn tires or suspension. When it is related to the wheel hub, this indicates the loss of clamp or the wheel hub has a bearing with severe mechanical damage. This can also occur when lug nuts are not properly torqued into place.

Snapping, Clicking or Popping

Noise coming from the wheel hub is never a good thing. The noise can be related to excessive bearing end play, and can be heard typically when making sharp turns.

Abnormal Pull when Brakes are Applied

Abnormal pull normally indicates a defective caliper or worn brakes or warped rotors, but severe bearing looseness can also cause excessive runout. Runout will cause the brakes to pulsate or pull.

Finding Your Wheel Hub's OEM Part Number

If you cannot find your wheel hub assembly in our system by searching your vehicle's year, make and model, the best way to find the part for your car is by searching by the Original Equipment Manufacturer (OEM) part number. The OEM part number can be found directly on the part itself, usually on a sticker. Also, if you call a dealership with your Vehicle Identification Number (VIN), they have the ability to look up and provide you with the OEM part number. If you need any further assistance with how to buy a wheel hub for your vehicle, please give one of our hub specialists a call at 1-888-907-7225.

How Many Studs Do You Have?

 

A common question that we ask for certain wheel hubs is, "How many studs does your current wheel hub assembly have?" Some vehicles vary, even though they are the same model and year of manufacturing. Simply count the number of studs, which are the threaded fasteners that hold on the wheels to the wheel hubs, to find out how many your vehicle has.

If this is unclear, feel free to give one of our wheel hub specialists a call at 1-888-907-7225 and we will be happy to assist you with finding the correct wheel hub for your car.

Find out about BuyAutoParts.com's shipping and warranty policies.

Frequently Asked Questions

What does it mean when I am asked if I have 2 Wheel or 4 Wheel ABS?

"ABS" stands for Anti-lock Braking System, which will prevent the wheels from skidding while you slow down or brake. This will allow the vehicle to stop faster and maintain steering while you stop. To determine if your vehicle has 2 wheel or 4 wheel ABS, check your wheel hubs for an electrical sensor or wiring. 2 wheel ABS will only have electrical connections on one axle, while 4 wheel ABS will have it on both front and rear axles.

What does a wheel hub assembly include?

The wheel hub assembly will include the hub itself and bearings.

How much does a wheel hub assembly cost?

One wheel hub assembly can cost anywhere between $80 to $250 depending on the vehicle application, brand and condition. You will get the best bang out of your buck if you get your wheel hub assemblies in pairs. Check to see if we have a wheel hub assmebly pair available for your car.

How long does it take to install a wheel hub assembly? How much will labor cost?

The installation of each hub is relatively quick, and should only take an experienced mechanic about 30 to 45 minutes. Labor costs vary from mechanic to mechanic, so please check the hourly labor rate of the mechanic you plan on using prior to work getting completed.

Can I do the installation of a wheel hub myself?

If you like to call yourself handy, and know your way around a car, then replacing a wheel hub will be a fairly simple job. Please check this page for step by step instructions on how to replace a wheel hub: Wheel Hub Unit Install.

Installation Videos

Wheel Hub Replacement

How To Remove a Rusted Wheel Hub

2 Wheel or 4 Wheel ABS Explained