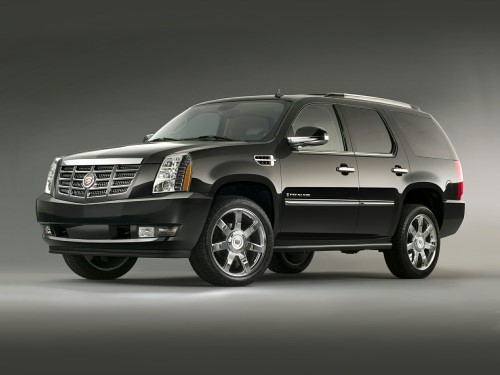 On many of GM's larger trucks there was an optional Z55 suspension package available. Autoride is GM's trademark name for their automatic load-leveling suspension and computer controlled shock system. The Autoride system provides for a great ride, but when the system fails it can leave a big hole in your pocketbook. BuyAutoParts.com offers brand-new passive replacement shock absorbers for Z55 equipped GM trucks that will maintain ride quality and handling at a much lower cost.
The factory Z55 Autoride package is a fully automatic ride control system that continually adjusts the damping level of each of the four corners of the vehicle to provide superior ride quality and vehicle handling. It was equipped as a standard feature on the GMC Yukon Denali and Yukon XL Denali trim levels and is available as an option on the Chevrolet Suburban, Tahoe, Avalanche, and other GM trucks manufactured between 2000 and 2014. On the more upmarket Cadillac Escalade, and Escalade EXT SUVs, the system retained the Z55 option code, but differed in the name and was instead listed as "The Road Sensing Suspension.
Along with dynamic damping modes, the Z55 Autoride system also has automatic load control via an air suspension system to help keep the vehicle level and maintain ride quality when the truck is fully loaded with cargo or passengers. Because the Z55 Autoride system is a hybrid of a dynamic hydraulic and an air suspension, it unfortunately is very vulnerable to deterioration due to age. Over time, the hydraulic seals weaken causing a loss of hydraulic pressure and a total loss of damping at each corner causing a bouncy and rough ride. When the air-adjustable part of the shock fails, your truck will often sag at one end or even at just one corner. The reduced ground clearance and vehicle imbalance that results will make your truck unstable and unsafe to drive. New suspension components help ensure your vehicle's best handling, braking and acceleration.

Shock Set #75-82291 2K for 2000-2014 GM Trucks
The Z55 Autoride replacement shocks for 2000-2014 GM Trucks available from BuyAutoParts.com are passively dampened shocks that are designed to restore the ride quality and handling of the original units at a much lower cost than dealer prices. These shocks deactivate the electronic damping control of the original unit but maintain the active leveling system to aid in towing and hauling. They also include a built-in plug to deactivate the dashboard warning light.
If you own a GMC Yukon Denali, Chevrolet Suburban, Tahoe, Avalanche, or Cadillac Escalade equipped with the Z55 Autoride suspension and you suspect it is time to replace your struts, BuyAutoParts.com can spare you from dealing with high dealer prices. We have written a how-to guide on all the different replacement options available here, and you can also contact us for knowledgeable assistance getting anything else you'd need for any car!