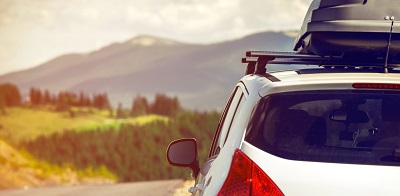 Your plans are in place. You're all packed and ready to go. Vacation or some other fun destination is almost here – you just have to get there. Everybody's anxious to leave. You're ready. Everyone else is ready. But is your car ready?
Before embarking on that epic roadtrip, there are a few vehicle fluids you should check first. Actually, you should check these fluids on a regular basis, unless you already perform regular maintenance (or have someone else handle upkeep duties) on your car.
Here are five essential fluids to check before you hit the road:
Motor oil
We've listed this first simply because it's the most important. If you were to check just one fluid before leaving, it would have to be the oil. Pull out your oil dipstick and wipe with a clean cloth. Reinsert the dipstick and check the level. If it's between the low and high marks, you're good to go. If not, add the necessary amount. During your trip, it's a good idea to keep an idea on the low oil pressure light. If it happens to come on during driving, pull off the road and check your level. Always keep a quart or two of oil in your trunk, just in case you need to add some. If you fail to check your oil regularly and pressure gets too low, your engine will let you know.
Brake fluid
During your roadtrip, your car will travel hundreds of miles. And you'll have to brake hundreds (possibly thousands) of times. If your brake fluid is low, your braking system might not have enough hydraulic power to engage the calipers, which in turn impacts pad-to-rotor contact. Check the brake fluid master cylinder – there are usually level indicators on the outside. It's also recommended to "bleed" the system to eliminate any air pockets in your brake lines.
Coolant
Nothing stops a roadtrip faster than an overheated engine. Improper coolant levels are a major culprit in this regard. There are two ways to check your coolant level. The first method is directly in the radiator. Once your car's engine has cooled off (a few hours from the last time it was running), pop the radiator cap. You should see fluid level near the top. If not, slowly add coolant until it tops off. The second way is through your car's coolant overflow tank. This plastic reservoir is situated near the radiator, with a hose running connecting the two components. The overflow tank should be between the "minimum" and "maximum" levels.
Transmission fluid
This one gets overlooked, but it shouldn't. Responsible for keeping your car's transmission shifting smoothly, transmission fluid is checked very similar to the engine oil – with a dipstick. The difference is, you should check the transmission fluid with the engine running. Ensure the fluid isn't too dirty, and make sure it doesn't have a slightly "burned" odor. If anything looks suspicious, it may be time to replace your fluid.
Power steering fluid
In the good ol' days, you really didn't have to worry about this. Not many cars had power steering. Today, pretty much every car on the road has it. And when it goes, you'll know immediately. Nobody wants to spend their roadtrip muscling through each turn, straining with a superhuman grip just to make a simple left turn. So check the power steering fluid reservoir before you leave. Your car's power steering system is "closed" (similar to the brake system), so low levels probably indicate a leak. Have it checked immediately.
With this handful of fluids to check, you'll be able to embark on your roadtrip with confidence. And if you end up needing to make repairs to your car, you know where to find the best selection of competitively priced car parts—right here at BuyAutoParts.com.
Written by Dara Greaney