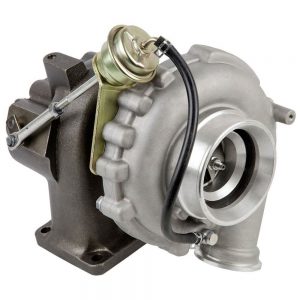 At one point, turbochargers were a cool new unexplored technology. Putting a turbo onto an early Porsche 911 turned your dentist's car into an infamous snap-oversteer death machine. Mitsubishi was so proud of the Starion ESI-R that they covered the interior in now-fantastically-dated TURBO logos. The Ford Mustang SVO dropped the iconic "five liter" V8 (302ci is actually closer to 4.9L, but the branding wasn't as good) and replaced it with a 2.3L four-cylinder from the Pinto, with a Garrett turbo added on, and it was actually faster. This was just foreshadowing the 2015 Mustang EcoBoost, which makes more power than a V8-powered 2010 Mustang GT.
Decades later, the technology has matured enough to find its way from sports cars and diesel trucks to any compact sedan or family SUV. When Chevy introduced the compact Cruze sedan in 2011, the optional 1.4L turbocharged engine made about the same power as the base non-turbo 1.8, but the improvement was in torque and MPG. The V8 in the Ford F-150 pickup has been all but replaced by a twin-turbo V6. As this technology finds its way into more mainstream vehicles that see more miles, and maybe more indifferent maintenance routines, turbo failures are becoming a more common repair. But just because it's a relatively new technology doesn't mean it has to be complicated.
This guide is meant to be somewhat general and apply to all vehicles. You may be able to find a helpful tutorial on YouTube that's more relevant to your specific car, that might have insight on how to remove that hard-to-reach bolt or where exactly the vacuum lines are supposed to connect. But while each car is a little different, the core concepts translate to nearly every turbocharged vehicle.
Disconnect battery and drain the oil
Disconnecting the battery is just a safety issue, although if your turbo has an electronic actuator or bypass valve, it'll be helpful for the computer to reset with the new part connected. An oil change is recommended because the oil return line that drains into the pan could otherwise make a mess when you disconnect it.
Remove the intake piping and clean out any residual oil that may have leaked from your old turbo's center section
Cleaning the intake on your diesel vehicle is critical to prevent an issue known as "runaway diesel". While gas vehicles have a throttle body to limit air going into the engine, diesels do not. If you start your diesel engine and the air going into the engine is contaminated with used oil, your engine will burn oil as if it's fuel and you won't be able to turn the engine off without a way to cut off the engine's air supply. It's less important for gas vehicles, but residual oil can still cause smoke from the exhaust which can damage your oxygen sensors and catalytic converter, and any metallic debris from your old turbo can damage the new one or your engine's cylinder head.
Disconnect and clean/replace oil lines
Inadequate oiling is the leading cause of turbo failures. If you get lax with your oil changes or use the wrong viscosity, the oil lines can become clogged with sludge or baked-in carbon, and that can starve the center bearing of your turbo. You can clean your oil lines with a combination of carburetor cleaner and compressed air, but it's even better (and not too expensive either) to at least replace the oil feed line, if not the return line as well.
Unplug any vacuum lines and electrical connectors
Use tape to label everything and take a picture of your turbo setup before disassembly to make it easier to hook everything back up when you're putting the car back together!
Unbolt and remove old turbo from exhaust manifold and downpipe.
This is usually the hardest part of the job. Some of these bolts are hard to reach, and after years of heat cycling, they could be pretty hard to break free, or fragile enough to break off if you aren't careful. If your new turbo has an integrated exhaust manifold, you'll probably need new exhaust studs because the originals are a one-time-use item.
Clean all mating surfaces and remove leftover gasket material to ensure a clean seal for the new part
This is an easy place to cut some corners, but a boost or exhaust leak will cause drivability issues so it's easier to do it right the first time.
Add a few drops of oil to the line ports of the new turbo and spin the turbine wheel to ensure the new turbo bearing is primed and lubricated before vehicle startup
This is important to make sure the center bearing of your new turbocharger is fully coated in oil before the first startup. This bearing spins at thousands of RPM, even at startup. For extra safety in this department, after everything is put back together, pull the EFI relay and turn the key a few times to turn the engine over without starting it and activate the mechanical oil pump for a couple rotations.
Apply new gaskets and attach exhaust side of the turbo to the manifold and downpipe
Installation is the reverse of removal! Check your factory service manual to see if there are exact torque specifications required.
Re-clock compressor side of turbo as needed
This is generally required for turbos that fit multiple vehicle applications. Once the exhaust side of the turbo is fully bolted into place, loosen the band or snap ring that holds the turbo's compressor housing to the center section and rotate it until the compressor outlet is facing the correct direction to connect to the charge pipe. Most turbos can be re-clocked this way, although there are some where the compressor housing is held on by multiple bolts.
Reconnect all oil lines, vacuum lines, electrical connectors and intake piping. Reconnect the battery, start up the car, and adjust the wastegate actuator as needed to match factory spec
Again, these instructions are meant to apply to any turbocharged vehicle, so doing research on your specific car is never a bad idea to prevent any surprises while your car is disassembled. If it seems like a lot to DIY, there's no shame in taking your vehicle to a trusted mechanic for the extra peace of mind. If you're still unsure about what's best for your vehicle, feel free to contact BuyAutoParts for knowledgeable assistance in getting the best replacement turbochargers and other parts for your vehicle. We carry guaranteed exact fit turbos from known brands like BorgWarner, Garrett, Holset, Stigan and more. All our parts professionals are here and ready to help!
These instructions are intended to apply to a wide range of vehicles, and we strongly advise doing research on your specific vehicle before attempting any work. BuyAutoParts is not responsible for any damage caused by improper installation procedure.