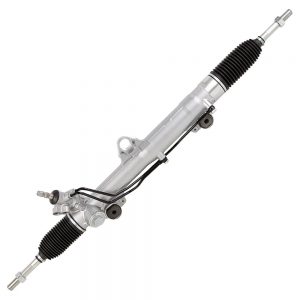 While we pride ourselves on our extensive catalog and ability to source some hard-to-find components for older vehicles, some vehicles are so obscure that finding a reliable source for parts can be challenging. With a particular focus on turbos, superchargers and steering components, we try to find as many good, rebuildable cores as we can, but when that's not possible, we always have the option to rebuild your original item. In addition to getting an item that performs like new, you also have the knowledge that the item will fit (because it's already been on the vehicle for thousands of miles), and if you have an antique or collectable vehicle, it helps maintain the factory originality as well.
While we have possibly the largest available catalog of turbochargers from multiple brands like BorgWarner, Holset, IHI, Stigan and more, some of these can still be difficult to source. One recent example we handled was a specific one-year-only turbocharger for a 1995 Isuzu NPR box truck. This truck had a unique turbo required for a California emissions package that was long-since out of production. When we rebuild a turbo, we replace the center bearings and seals, clean and inspect both the exhaust and compressor housings, balance the turbo and perform a leak test. If we can source a new center cartridge, we'll often use that complete assembly, and match it up to the hot and cold side housings of the core, provided they are still structurally sound with no cracks. To top it off, we will replace the vacuum actuator if it's available; if it isn't, we will clean, re-adjust and test the existing one. For this NPR turbo, we were able to match the exhaust and compressor housings from the customer's original turbocharger to a new center section from a slightly different Garrett turbo, thus ensuring that all wear items are replaced, while still bolting in just like OEM.
We also carry superchargers, which are even less common than turbochargers. When OEM suppliers like Eaton discontinue a particular model, rebuilding is the only way to keep some of these vehicles on the road. That was the case for an Eaton M112 we recently rebuilt for a customer with a 2002 Ford F-150 SVT Lightning. If you can find a new-old-stock supercharger for one of these trucks, it's likely going to be several thousand dollars; we are able to rebuild your original supercharger for much less. Much like turbochargers, the entire assembly is cleaned and inspected, and all bearings and seals are replaced. We also machine the rotors to ensure smooth airflow and replace the oil on models that don't just use engine oil to lubricate.
Rebuilding steering components is where our business started 30 years ago, and it's something we still take pride in today. All steering gearboxes and rack & pinion assemblies receive the same treatment of new seals, bearings (if applicable), a thorough cleaning and inspection, and port threads for the power steering lines are inspected and chased to ensure a reliable seal. Aluminum rack and pinion bodies receive a steel sleeve to ensure structural rigidity, and get all new rubber boots, clamps and subframe mounting bushings. Inner tie rod ends and internal shafts & gears are inspected, cleaned, and either machined or replaced as needed. One recent example of this was for a customer with a Ferrari Mondial who wanted to keep their vehicle 100% factory original. While the Mondial hasn't quite had its collector-car moment yet, its contemporaries like the 308, 512bb and Testarossa most certainly have, so the customer was smart to protect their investment and the future resale value of this future classic.
Because of the steps we take and our experience in the game, you can trust remanufactured items from BuyAutoParts. All our items are remanufactured in the United States and backed by the same warranty as a brand-new part. If we don't have the correct part listed on our site, contact BuyAutoParts and we can either locate the item for you, or rebuild the item currently on your vehicle. Our parts professionals are here and ready to help!