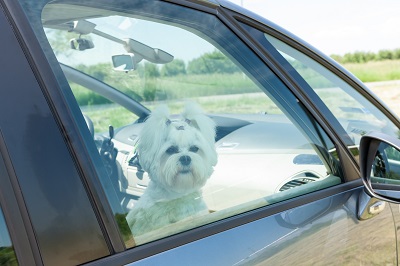 During the summer, it's difficult to see stories in the news about children being left in hot cars. Another frequent and similarly distressing event is when dogs are likewise abandoned. How long does a dog have to live in sweltering car with the windows rolled up and no fresh air to breathe? And what legal ramifications, if any, are currently on the books? Let's take a look at the issue.
Less Hope with Each Passing Second
Veterinarians and other animal experts aren't sure exactly how long a dog can survive in rapidly escalating temperatures. A lot depends on the outside air temperature, humidity levels and the dog's breed. In Georgia earlier this year, a police dog was left in the back of a patrol car for seven hours. The dog was already dead by the time authorities realized the dog's whereabouts.
According to research from PETA (People for the Ethical Treatment of Animals), a dog can die of heatstroke in just 15 minutes. And even if the temperature is in the mid-70s, the temperature inside a car can reach 120 degrees within minutes.
What should passers-by do if they witness a dog obviously struggling inside an unattended parked vehicle on a hot day? The debate isn't as cut and dry as you think. For one, there's no certainty as to how the dog would react, if freed. For example, a Chihuahua might behave much differently (and less violently, perhaps) than a German Shepherd or Rottweiler.
Secondly, there's the property question. A dog appearing to be on its last breath may actually have been left alone for two minutes, with the owner on their way back to the car. Should a passer-by break a window with good intentions, fines or lawsuits could happen.
Legal Action: Worthwhile Deterrent or Adding Insult to Injury?
Lawmakers are actively devising ways to both deter dogs being abandoned in hot cars and to punish willing or unwilling perpetrators. In 2013, the North Carolina House of Representatives passed a bill to allow law enforcement officers the ability to rescue dogs and other animals in hot cars. That's just one of many cases where states have decided to take the matter into their own hands.
Related Article: Tips on taking a road trip with your dog
According to Michigan State University's College of Law, there are currently 16 states with laws on the books to prevent leaving dogs and other animals unattended in parked vehicles. Expect that number to double in the next 10 years or so. Even Texas, with no such laws, convicted a man nearly 30 years ago for leaving a dog in a car while he watched a movie. If Texas can set such a legal precedence, other states will eventually draft and pass laws to prevent dogs left in hot cars.
Related Article: What to do if you are in a car accident?
If your state or jurisdiction doesn't have laws to prevent abandoned animals in parked vehicles and you think they should, petition your representatives today. What would you do if you saw a dog, trapped in a parked car? Leave us your thoughts in the comments below!
Written by Dara Greaney