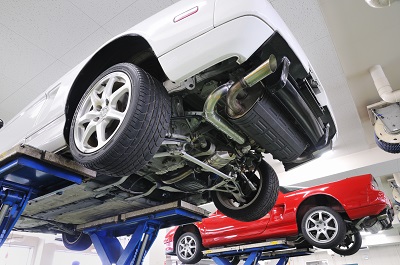 Do you think you know everything about shocks and struts? If you answer "no," you're not alone. These parts rate as some of the most often-misunderstood car components on the market. And it's not just the average person who doesn't grasp shocks and struts. There have been many cases where professional mechanics and car repair specialists have detected a shock or strut problem, only to discover later that another culprit is responsible.
Given these gaps in knowledge, it's inevitable that common misconceptions and myths would exist with shocks and struts. In order to help clear the air a bit, we've put together a list of 10 myths about shocks and struts. Like most things that aren't widely understood – for instance, the Ebola virus and Sasquatch – a little bit of knowledge helps to bring hazy details into focus.
And unlike Sasquatch, shocks and struts actually exist, so the myths surrounding these car components are much less confusing than some hairy, bipedal, ape-like creature supposedly roaming around the woods.
Here we go – 10 myths about shocks and struts:
Shocks & struts are scary-expensive. This myth is actually half-true. They CAN be pricy, but that's usually because you haven't searched and sourced OEM-quality, less-expensive alternatives. One source we're familiar with – and you probably are, too – is BuyAutoParts.com.
Removing springs from the shock body is impossible, unless you're an ex-mechanic. Well, it's not entirely impossible. This difficult task is usually left to the experts, but there are tools available to rent that can help extricate the springs.
Shocks and struts aren't essential safety components. Technically, by the letter of the law, that's actually true. Many state auto inspection programs do not require a full test of a car's shocks and struts. However, faulty shocks and struts can impact the safety of your car, and also start a "domino effect" that leads to other problems.
They're ONLY for bumps, potholes and other uneven surfaces. Not true. Shocks and struts help keep your car stable and sure-footed, even during so-called "normal" driving conditions.
Problems can't be self-diagnosed. If you know what you're looking for, it's pretty easy to detect problems. Just look for leaks, loose or missing parts (nuts, bolts, etc.) and other obvious defects.
They're always replaced in pairs. That's usually the case, but not always. If one side has experienced a terrific impact and breaks, it can be replaced without touching the other side, assuming the opposite shock and strut assembly is relatively unscathed. It is more likely that you will need to repair in pairs, and we generally recommend doing so to save on labor and parts as well as maintaining a balanced ride.
They need to be replaced after 30,000 miles. Unless you're driving like Jeff Gordon or Jimmie Johnson, your shocks and struts should last between 50,000 to 75,000 miles. Some high-quality shocks and struts can last over 100,000 miles!
It's OK to ignore suspension problems for a little bit. Excessive bouncing, impaired steering and other signs should be addressed immediately.
All parts are pretty much the same. Make sure you have the OEM part number (or at least your car's VIN) when finding replacement parts. Exact compatibility matters, especially when you're getting new shocks and struts.
I need to get the "Heavy Duty" shocks. While the name sounds like it'll handle anything, that's not really true. And if you're driving a regular car, regular shocks will work 99% of the time. Remember (see above), if you're going by OEM part numbers, your shocks and struts will work just fine – even if they're not "Heavy Duty."
Now that a few myths have been debunked, shocks and struts will be less of a mystery. If you're in the market for top-quality, affordable shocks and struts, Buy Auto Parts has everything you need. You can call our shocks and struts specialists at (888) 907-7225.
Written by Dara Greaney