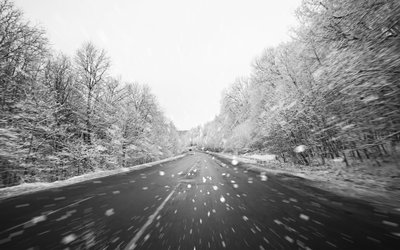 Have you winterized your car? Snow tires, fresh oil change, fluid refills, battery checks – they're all important, no doubt about it. But have you really winterized your car? To put it another way, have you winterized your trunk and glove box?
No, we're not talking about a trunk key deicer, a holiday-themed glovebox cover or all-weather mats for your trunk floor. To get ready for winter, you have to make sure your trunk and glovebox are stocked with a few essentials. From emergency preparedness to nice-to-have items, this blog will look at 20 different things you should never leave home without.
Winter's tool on the roads is nearly immeasurable. From a quarter-million annual crashes to hundreds of millions of dollars in lost productivity, Jack Frost is nothing to sneeze at. He's relentless, which means you have to be prepared for everything – and everywhere, including your trunk and glovebox.
The Junk in Your Trunk – Making Your Cargo Count
You might already have some of the following items in your car year round. However, if you ensure all 20 of these things are on hand when you're behind the wheel, you'll not only enjoy extra peace of mind, but you'll also thank yourself in case of an emergency.
Essential Trunk and Glovebox Cargo:
Gloves, blankets and winter apparel
Road flares or emergency flashers
Cat litter or sand (traction aid on icy roads, ditches, etc.)
First aid kit
Extra engine fluids, including oil, antifreeze, power steering fluid, brake fluid and windshield washer fluid
At least two ice scrapers (just in case you lose or break one)
Shovel (assist you or fellow driver dig out of snowy conditions)
Battery jumper cables
Flashlight
Spare tire (including jack, lug nut wrench and everything necessary to change a tire)
Basic tools (socket wrench set, screwdrivers, hammer, etc.)
Emergency tool (combination seat belt cutter and glass breaker is preferred)
Water
Battery powered radio
Broom (great for removing roof snow)
Extra cell phone charger or adapter
Tire pump
Map (yes, people can still use old fashioned, fold-up paper maps)
Sturdy rope or tow chain
Matches or lighter
This isn't the most exhaustive list you'll find, but it'll handle most of those winter driving annoyances, along with a major emergency or two. If you happen to use any of your trunk / glovebox cargo, please be sure to restock.
And that's it – 20 items for whatever winter throws your way. Hopefully you won't have to use any of them, but it's helpful to have them along for the ride, just in case!
BuyAutoParts.com can help you winterize the rest of your car. Whether it's an OEM part replacement or minor engine tune up, we have the parts you want at the best prices you'll find anywhere. To speak with one of our auto parts consultants, please call us at (888) 907-7225. Thanks for reading our blog – and if you have any other essential winter items, we'd love to hear about them. Drop us a line with some feedback!
Written By Dara Greaney