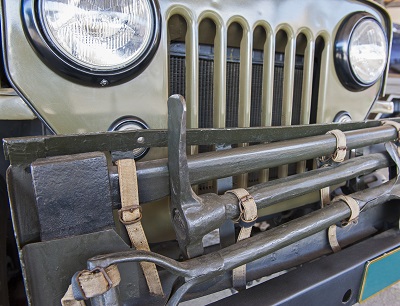 When things get too hot in your car's engine, it may be time to replace the radiator. The key factor here is your car's temperature gauge. When it only registers a quarter to halfway up the dial, you're OK. If the needle starts to creep up past the halfway indicator and approaches three-quarters, the sudden spike in temperature is usually due to two components: the thermostat or the radiator.
One sure-fire sign of a bad radiator: the unmistakable odor of burning coolant on the engine block, usually followed by significant fluid loss from the underside of your automobile. When this happens, you'll notice an instant increase on the temperature indicator. The pungent odor, steam and noticeable temperature elevation mean that your radiator is bad. Pull safely off the road. If you're far enough from home, you may require a tow.
For the purposes of this piece, we'll look at the specific step-by-step procedure for removing your car's radiator. Just like other car projects, each automobile has its own unique connections, part placement, part size and other individual characteristics. Regardless of your specific radiator, the following steps are essential for safely & effectively removing your radiator:
1. Wait until your car is cooled off. There's always the temptation – especially for the real go-getters out there – to immediately fix the problem. However, removing a radiator with still-hot engine fluids is a recipe for disaster. Give your car at least a few hours to completely cool down before starting the project.
2. Inspect all radiator connections. This includes hoses, hose connections, clips and relevant hardware. Get an overall picture of what exactly needs to come off before the radiator can be removed.
3. Once the engine has completely cooled off, drain the radiator fluid. Most radiators have a simple drain plug. Make sure you have a large drain pan under the outlet.
4. Save the coolant from the drain pan. You can filter and reuse the fluid once you're ready to install the new radiator.
5. Remove the overflow tank. This is usually connected to the radiator with a small tube.
6. Unplug the electrical connection to the cooling fan. Similar to a headlight blub, just press the tab or clip that secures the connection, wiggle it off, and you're good to go.
7. Remove the upper radiator hose. You'll need pliers to loosen the metal clamp.
8. Remove the lower radiator hose. This is ALWAYS harder to access than the upper hose; you may have to jack your car up to find the lower radiator hose clamp.
9. If necessary, remove cooling lines from the automatic transmission.
10. Remove radiator mounting bracket.
And that's it – 10 simple steps. Of course, it's easier said than done. We recommend having a well-stocked tool box nearby and, if possible, a buddy to help out – especially if you plan to remove the old radiator AND install a new one.
BuyAutoParts.com, the online leader in quality & affordable auto components, has a large assortment of radiators for many different makes and models.
Replacing your car's radiator is fairly straightforward. With this blog's how-to information and your car's repair manual, it's worth considering going the DIY route. If you have any questions about a particular radiator or related engine coolant components, dial (888) 907-7225 to speak directly with a BAP radiator specialist. We'll help you select and order an OEM-quality replacement for a great price. And best of all, you'll save big-time in costly mechanic labor costs – not to mention the sense of accomplishment of doing it yourself!
Written by Dara Greaney