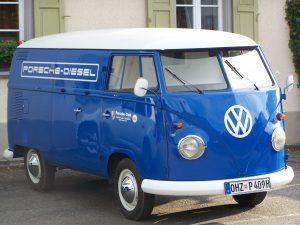 It's hard to determine what the heyday of the van truly was. A 1960's VW Microbus full of hippies? A 1970's "Heavy Chevy" with a wizard mural airbrushed on the side blasting an 8-track tape of Rush's 2112? Or was it Chrysler essentially inventing the modern minivan in 1984, becoming the standard-issue family transport for the next 20 years? Vans have a special place in automotive history, but not so much recently. The default family car these days is now more likely to be a crossover SUV, trading practicality for an attempt at style that's frequently unfulfilled. Families with multiple kids don't want a minivan because it's "uncool", then go buy a three-row CUV that has less space than a comparable minivan and costs more money because of a rugged appearance the vehicle can't back up on. Have you ever seen a Honda Pilot or Toyota Highlander in a Target parking lot and thought "wow, that's SO cool, I bet the owner goes rock-crawling in that every weekend"? Of course you haven't, but that image has sold millions of these compromised-utility-vehicles, turning them into the very thing they were supposed to improve upon.
While families have mostly abandoned vans, hobbyists have made the move back into them. Searching for #vanlife on social media will pull up any number of curated and filtered photos making it look incredibly appealing to pack all your belongings into a Sprinter Van the size of a studio apartment to live anywhere and everywhere. Rolling Heavy Magazine and the Portland-based "Rolling Death Van Club" celebrate the fat tires and side-pipes of 1970's boogie vans. While they don't sell it in the USA, Lexus now offers a van they bill as the ultimate in chauffeured transportation. A Volkswagen Vanagon Westfalia Synchro (VW speak for "4WD Camper") has become a $50,000 or more BringaTrailer.com purchase, and certain configurations of the VW Type 2 will bring six figures at the most prestigious auctions. Volkswagen keeps hinting at the idea of a new electric Microbus, though they've been talking about that for like 20 years and the only result we've seen so far is the forgotten Routan, which despite being a Dodge Caravan under the skin, continues the proud VW tradition of random electronic failures.
Professionals have also started abandoning full-size pickups in favor of vans. While some trades still need their ever-increasing towing capacity and cargo space, a 400 horsepower $40,000 F-150 is a bit overkill for, say, a locksmith or exterminator. More and more people buying pickup trucks as their main vehicle has driven an arms race in features and capability, causing prices to skyrocket and leaving behind a large chunk of the market. Companies that used to buy a base-model Ford Ranger for around the cost of a Honda Civic are now realizing that those simple, durable, affordable work trucks don't really exist anymore.
While full-size vans have always been around, there's now a whole new market of compact cargo vans (don't call them minivans!) like the Ford Transit Connect, Ram ProMaster City and Nissan NV200. These vans are all priced similar to lower-spec "compact" pickups like the Toyota Tacoma, GMC Canyon or Nissan Frontier, but offer more lockable storage, a smaller footprint that's easier to park in cities, better ride and handling on account of their unibody construction, and lower running costs due to their passenger-car underpinnings. For instance, the Chevrolet City Express uses a 185/60/15 tire size; much smaller and cheaper to replace than the larger 265/70/16 on a base-model Chevy Colorado you'd get for similar money at the same dealership.
One potential argument for a pickup over a van is durability. Because pickups use a stronger body-on-frame construction and larger tires with more sidewall, surely they'd be better at soaking up those city miles than a van based on a compact Ford Focus or Nissan Sentra, right? While that might hold up in theory, it's the same kind of overkill that's reduced professional sales of the Silverado and Ram class of pickups, and that idea was also disproven when the Toyota Prius replaced the Ford Crown Victoria as the taxi cab of choice in New York City, and by extension, the rest of America. If a humble Prius or Camry can handle half a million miles of NYC potholes, then any of these vans is more than capable enough for an IT services company to carry cables and server consoles around the suburbs.
Just like any other vehicle seeing heavy use though, things are going to break eventually, and the fact that these vans share so many parts with the passenger cars they're based on keeps repair costs low, and also means that parts are more readily available and more likely to be in stock, meaning you can get back to work faster. Seeing an uptick in demand for these parts, we've beefed-up our catalog to carry a wider array of parts for these vehicles, and keep more of them in stock, with expedited shipping options available to minimize your downtime. For knowledgeable assistance getting replacement parts for your work vehicle or anything else, contact BuyAutoParts!