Get the parts you need today. Pay later with

. Learn more

REPAIR
MANIFOLD PRESSURE SENSOR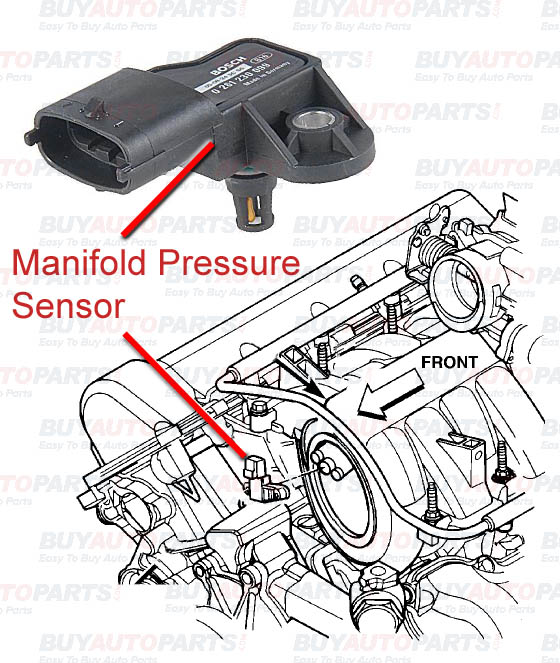 How To Repair Manifold Pressure Sensor
The manifold pressure sensor, also known as the manifold absolute pressure (MAP) sensor, senses the air pressure in the engine's intake manifold. These sensors came into use mainly on OBDII engines and are used to calculate the difference between the manifold pressure and the ambient air pressure. With respect to the reading from the MAP sensor, the Engine Control Unit (ECU) regulates the fuel sent to the engine and its ignition timing, for obtaining optimal efficiency.
A defective MAP sensor will let the engine run lean/rich, thereby causing increased emissions. It will also induce engine problems such as idling and surging. As the engine malfunctions, the vehicle will run with poor mileage and efficiency. The MAP sensor may also report incorrect readings due to a bad fuel pump or EGR valve. A bad EGR valve allows less air to flow through the manifold while a damaged fuel pump sends less fuel to the manifold.
Choose your vehicle's right year, make and model and find your matching parts!
Buy Auto Parts is the best place online to get replacement manifold pressure sensors that come with a warranty at unbeatable prices. We stock a wide range of OEM replacement and aftermarket parts for every make and model. To find the right manifold pressure sensor for your car, simply tell us your car's year, make and model. Your order will be shipped from the warehouse closest to your location. We offer free shipping for purchases over $99. Our products have been throughly tested to meet or exceed industry standards. You can reach us on our support line at or leave us an email at [email protected], if you need help in choosing the part. Please feel free to leave us an online review. We value your feedback!
If the info you need is not covered in this section feel free to send us a message in our support section.
"How To" Home | BuyAutoParts Home