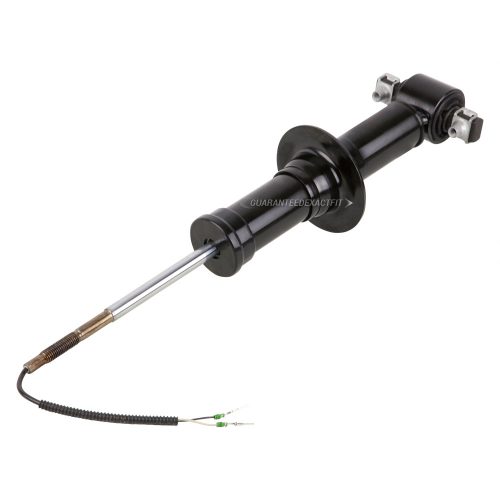 Magnetic Ride Control, trademarked and frequently referred to as MagneRide, is an electronic suspension system developed by Delphi. It was first available on the 2002 Cadillac Seville STS, and soon made its way to other General Motors vehicles, making its mainstream debut on 2015 and newer Chevy and GMC full-size pickups and SUVs. The system is very well-reviewed, so much so that Ferrari licensed the technology from GM for many of their supercars, including the multi-million-dollar LaFerrari.
Unlike other adjustable or active suspension options, the beauty of MagneRide is that there are very few moving parts. Air suspension had rubber springs that can dry and crack with age and stress, and adjustable dampers have small valves inside that can wear out after thousands of miles of constant movement. The shock absorber is a standard monotube damper body, but the fluid inside has iron filings in it. There are two electromagnets on each shock; one at each end. When they are activated, the fluid becomes thicker, which makes the shocks stiffer for less body roll and sharper handling response. Turn the electromagnet off, the fluid thins back out, and the ride becomes smoother. The electromagnets themselves are controlled by a central computer that reads speed, steering angle and many other parameters to predict the exact stiffness required.
While MagneRide shocks are generally more reliable than other types of variable dampers, they are still considered a wear item, just like regular gas or oil shocks. Right now, BWI and Delphi, the OEM suppliers, are still the only companies that make replacement MagneRide shocks. As more and more common vehicles come equipped with the option, it's only a matter of time before quality aftermarket replacements are available. However, we can still get genuine OEM Magnetic Ride Control shocks, exactly the same item you'd get from a dealership, for less than they charge.
If you're still unsure what your best option is for replacing your shocks and struts, feel free to contact BuyAutoParts for assistance getting the best replacement suspension components. We carry OEM brands like Delphi, Bilstein, Arnott, Duralo and more. All our parts professionals are knowledgeable and ready to help!