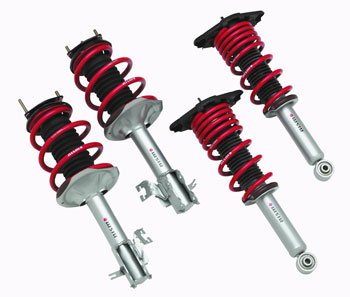 While they mostly do the same job and the words are often used interchangeably, shocks and struts refer to two vastly different suspension designs. You cannot use a shock absorber in the place of a strut, and vice versa. This can naturally lead to some confusion when trying to order the correct parts for your car, especially since many cars use struts for the front and shocks for the rear.
Shocks and struts serve the same primary purpose: to counteract the motion of the spring. While the spring is there to take the initial force of a bump in the road, the shock dampens that motion in order to keep the vehicle in control. This is why, perhaps in a more technical context, shocks and struts are commonly referred to as "dampers". The difference lies in the structure of your vehicle's suspension.
In a setup that uses traditional shock absorbers, the vehicle is primarily held up by the springs, and the shocks are located nearby. Since the springs bear the weight of the vehicle, you can technically drive a vehicle with no shocks whatsoever, though doing so is dangerous and ill-advised. Shock absorbers can be used with coil, leaf, air springs or torsion bars. Shock absorbers are easier to install because of their location on the vehicle's suspension system, and usually cheaper to produce and buy because the design of the individual part is simpler.
On a MacPherson strut-type suspension, the strut contains the mounting points for a coil spring and a dampening element, which has the same internals as a standard gas-filled shock absorber. The strut, with a coil spring wrapped around it, is a structural component of the car that holds it up. On the front wheels, the strut is also part of the steering system, since on most vehicles, it attaches to the hub carrier or steering knuckle, and some alignment settings are adjusted directly on the strut. The advantages to this design are mainly packaging concerns. Since the strut fits inside of the coil spring, the combination takes up less room under the vehicle, especially since the vehicle has coil or air springs instead of unwieldy leaf springs or torsion bars. This design also makes initial assembly of the vehicle easier, since the spring, strut, hub and brakes can all be attached to the vehicle on the production line as one unit.
The biggest downside to having struts on your vehicle comes when it is time to replace them. To replace a strut on its own, you need to remove the complete strut and spring assembly from your vehicle, then disassemble it so you can swap your original spring and mount to the new strut. The coil springs on your vehicle need to carry a vehicle that weighs thousands of pounds, so it stands to reason that they are under a lot of pressure. Normally you can use a tool that compresses the spring to keep it from releasing tension and shooting out when the complete strut assembly is disassembled, but if this is done incorrectly, serious injury could occur. For this reason, BuyAutoParts offers a complete "quick strut" assembly for many popular vehicles that use a strut-type suspension. This is a complete strut that includes the spring and upper mount pre-installed. Not only is this safer, it makes installation easier, which also means lower labor costs if you're having a mechanic perform the work for you.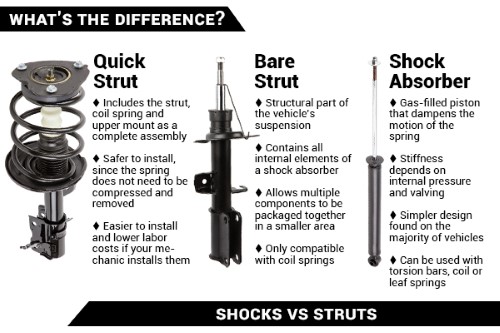 It's important to pay attention to your vehicle to know when it's time to service your shocks or struts. Most vehicles won't give any direct notification, like a check engine light for suspension work. You may notice a clunking or knocking noise from under the vehicle, especially over bumps or rougher roads. Another cause of strut failure is impact damage from hitting an obstacle or bump at high speed, or leaking oil. If you ignore these signs, your vehicle may ride worse, your tires could wear unevenly or at a faster rate, and your vehicle simply will not be as safe. When it's time to replace your dampers, it's important to use top quality parts with excellent reviews, which will likely be a lower cost over the life of your vehicle.
If you're still unsure about what's best for your vehicle, feel free to contact BuyAutoParts for knowledgeable assistance in getting the best suspension for your vehicle. We carry guaranteed exact fit shock absorbers, struts, complete strut assemblies, coilovers and more from major brands like KYB, Sachs, Bilstein, Arnott, Monroe, Gabriel and Duralo. All our parts professionals are here and ready to help!