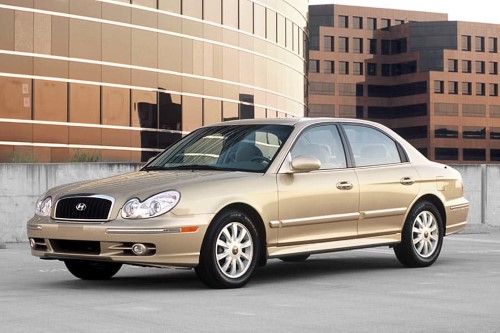 Even though it's getting time for summer to change to autumn, a properly working air conditioning system is very important for your driving comfort while commuting or on a road trip. Beyond keeping the cabin cool on a hot day, modern air conditioning systems also work to help defrost your windows and dehumidify the interior of your car to keep the windows clear. But if the air-conditioning in your 1999-2006 Hyundai Sonata, Santa Fe, or Kia Optima is broken it can be one of the most expensive things for a service garage to repair. You can often save your pocketbook some damage by knowing what the common problems are before you attempt to fix it yourself.
The air conditioning system in your 1999-2006 Hyundai Sonata, Santa Fe, or Kia Optima uses several components in concert to create the cool air that is blown into your vehicles cabin. The heart of this air conditioner is the compressor which pumps compressed refrigerant through the system. But it's also the source of most of the problems when things go wrong.
The compressor is driven by a pulley that is spun by an accessory belt that transfers power from the engine's crankshaft. When the air conditioning system is turned on, an electromagnetic clutch behind the pully engages it with the compressor shaft which causes the refrigerant to be pumped through the system. Often, after years of operation and tens of thousands of miles, the bearings in the pulley can start to wear which creates incredible amounts of heat. High temperatures usually aren't a problem for electronics in the engine bay, but the extreme heat from grinding bearings can cause the electromagnetic clutch to fail or even cause the accessory belt to melt so that the system can't engage when needed. This problem can usually be diagnosed by a grinding or hissing noise from the engine bay even when the air conditioning is switched off.
Similarly, AC compressor lubricating oil can cause the clutch to slip and not engage properly when it leaks out from the compressor. This is usually an intermittent problem and you may not even notice it, but you might feel a little warm as the compressor won't be pumping with the same efficiency. The problems get much worse when the oil is completely drained and your Hyundai or Kia AC compressor is left without internal lubrication. The fast moving parts inside will grind against one another and wear, causing further damage inside the compressor itself and sending a slurry of metal shavings and other debris throughout the narrow passages in the rest of the system, costing you hundreds or thousands of dollars more.
Before the air conditioning on your high-mileage 1999-2006 Hyundai Sonata, Santa Fe, or Kia Optima self-destructs this fall, leaving you with foggy windows, replace the compressor and clutch assembly with a brand new Hyundai Sonata, Santa Fe, and Kia Optima AC compressor from BuyAutoParts.com. It's rarely possible for a compressor to be rebuilt by the average home mechanic without special tools and equipment. Especially if it's suffered internal damage or overheated bearings. Our New OEM AC Compressors for Hyundai and Kia cars come with a preinstalled clutch and pulley for easy installation and at a price that is even lower than getting your old unit professionally rebuilt.
And if the air conditioning in your Hyundai Sonata, Santa Fe, or Kia Optima hasn't worked for a while, you'll need to do a complete overhaul with one of our Hyundai and Kia AC compressor and components kits that includes everything you need. The best part is that you won't have to worry about ordering any parts or forgetting something when placing your order, we made sure that it's all in the box! And remember all of our parts are guaranteed to be an exact fit for your vehicle and all of our New OEM AC compressors for the Hyundai Sonata, Santa Fe, and Kia Optima come with a 12 Month Unlimited Mileage Warranty so you can purchase with peace of mind.