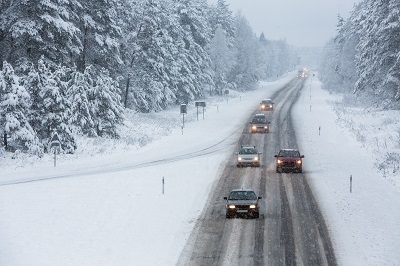 Here's a seasonal saying you don't hear too often, but is still 100% accurate: winter is hell on your automobile. And that might be putting it mildly, because winter weather (for a large chunk of the country) is anything but mild.
According to the U.S. Department of Commerce, ice and snow-related accidents are responsible for 70% of all road fatalities. How about this alarming statistic: the National Highway Traffic Safety Administration (NTSA) did a recent study and concluded that drivers are more than one-third (36%) more likely to be involved in an accident in January than June.
To prep your car for winter, you must fight a battle on two fronts: getting your car in the best possible driving condition, and also ensuring that the winter climate doesn't take too much of a toll on your car. So, think of proper winter prep in terms of driving and defending – driving in less than ideal conditions, and defending against harsh weather as best you can.
Navigating the Winter Wonderland
Getting serious about winter driving starts with the engine bay. Winter's considerable challenges are next to impossible without a properly maintained engine, topped-off fluid reservoirs and fully charged accessories. Batteries are notorious for not starting in the winter; if you're not a regular driver in the colder months, you should at least start and run your automobile every 2-3 days. This regular practice benefits the battery, but it's also crucial to keep other components running smoothly.
Here are some other issues you should address to help your car drive strong all winter long:
1. Perform a battery load test before winter. If necessary, get a new battery prior to September or October.
2. Clean your battery terminals. Water and baking soda work great against the white powdery residue, and a quick sandpaper cleaning establishes optimum contact.
3. Get your car's oil and oil filter changed before winter.
4. Make sure your antifreeze is filled. The overflow tank should be between the MIN and MAX lines.
5. Check the power steering fluid and brake fluid. Top off each reservoir as needed. Many people rightly check the oil more often during winter, but the power steering and brake fluids need attention, too.
6. Fill your windshield fluid reservoir with a winter-rated liquid.
7. Ensure your serpentine belt, air filter, radiator hoses and other components are working properly before winter.
8. Replace windshield wipers if necessary.
9. Lubricate all door seals (including door trunk) with a silicone-based spray to prevent sticking and freezing.
10. If you live in an area with heavy snowfall periods, it is recommended to install snow tires. For other regions with moderate snow, all-season tires are fine – assuming they still have deep treads.
Ice, Snow & Salt – Winter's Corrosive Combination
Here's the conundrum with icy roads in the wintertime: in order to create safe driving conditions, tons of salt must be dumped on the roads. But that same road salt is extremely corrosive to your car's body, particularly the underside.
To limit the damage that road salt causes, the #1 thing you can do is regularly wash the underside of your car. A drive-thru car wash that sprays the underside works just as fine. A weekly wash will add months (if not years) of life to your car's body.
Another wintry headache encountered by many drivers is ice buildup on the tires, wheel wells and other areas on automobiles. If you live in a climate with temperatures well below freezing for days on end, it's a good idea to break up the ice accumulation that forms on the lower portion of your car. Pay close attention to the wheels; many of today's cars have an "open" alloy-style wheel design. While that's great for restricting heat during the summer, it can backfire during the winter. The last thing you want is excessive snow and ice interfering with the calipers, rotors and brake pads from doing their collective job.
One More Note: Don't Forget to Stuff Your Trunk
Should you end up stranded roadside in the winter, make sure your trunk is stuffed with the following essentials:
•Warm blankets and gloves
•Shovels (to dig out of snowbanks, drifts, etc. if necessary)
•Road flares
•Sand or cat litter (helps tires to gain traction in ditches and other slippery spots)
•First aid kit
•Extra washer fluid, oil, and antifreeze
•Extra ice scrapers
Despite your best efforts and the most obsessed-over preparation plan, never assume you won't be stranded. Many people have done all the electro-mechanical arrangements, only to skip the emergency planning. Always be prepared – especially for the worst possible scenario. A trunk full of the aforementioned items will assist in this regard.
Winter driving has its own perils, but year-round diving – regardless of the season – can break down your car's components & parts. In order to keep your automobile running the way it was designed to operate, it helps to have a reliable, reputable OEM-quality parts supplier. BuyAutoParts.com offers the best parts at the lowest possible prices.
Whether you're preparing your car for winter, getting ready for a long road trip or simply performing routine maintenance & part replacements, our selection, service and online resources (informative videos and articles, Buyer's Guides and more) make BuyAutoParts.com your go-to car part source. For more information, call a BuyAutoParts.com parts consultant today at (888) 907-7225.
Written by Dara Greaney