The refrigerant and oil in an AC system are vital for its proper functioning. It is advised to check for the proper level of the refrigerant or oil as suggested by the manufacturer. The refrigerant forms the base of the air conditioning system. The varying pressure of the refrigerant from one component to the other is what causes the effective cooling of the passenger compartment. The oil used in the system lubricates the AC components, allowing them to run smoothly and preventing them from premature wear. During the process of passing the refrigerant under high and low pressures, the components get heated. The lubricant oil cools down the AC components and allows them to function properly.
Contamination:
The refrigerant and oil circulate through the refrigeration loop during compressor operation. Over time, it will get contaminated with rust due to moisture, desiccant or metal particles from a failed compressor. These impurities will travel with the refrigerant oil mixture and settle throughout the system.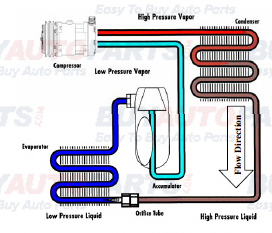 If a new compressor is placed in a dirty refrigerant system, the new compressor will suck in loose contamination particles and eventually fail quickly. Inspect the oil and expansion devices for signs of grit or foreign particles. If foreign particles are present, it is imperative that the system is fluid flushed.
Clean Orifice Tube

Dirty Orifice Tube

The picture above shows a clean and dirty orifice tube. The system with a dirty orifice tube must be flushed before a new compressor can be installed. If not, damages like a blocked discharge valve, as shown in the image below, will occur.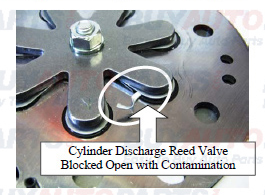 When flushing a system, never flush the compressors, expansion valves, orifice tubes, receiver driers or accumulators. These components should be replaced with new parts.
System Evacuation:
System Evacuation is the process where moisture and air are removed from the system. It is usually carried out before charging the system with refrigerant or while replacing AC parts. A thorough evacuation is necessary as any moisture or air in the refrigerant or the AC system will reduce the overall efficiency and it could be detrimental to the entire AC system. It is important to note that water boils at specific temperatures and pressures according to the following table:
Water Boils under a Vacuum
System Vacuum
Inches Hg
Boiling Point
Degrees Fahrenheit
24.04
140
25.39
130
26.45
120
27.32
110
27.99
100
28.50
90
28.89
80
29.18
70
29.40
60
29.66
50
29.71
40
29.76
30
29.82
20
29.86
10
29.87
5
Warning: Vacuum pumps with contaminated oil will not be capable of reaching the vacuum level necessary to boil water. It is critical to maintain all equipment per the manufacturer's recommendation. Failure to do so can result in newly repaired systems leaving the shop with moisture contamination.
Place an order for AC parts at Buy Auto Parts!
Buy Auto Parts carries a wide range of parts for every car make and model. We have genuine OEM replacements and premium aftermarket parts. All our car parts are completely tested and are offered with a warranty. You can look for the parts that fit your vehicle, by choosing the right year, make and model of your car on our online catalog. At Buy Auto Parts, you will find top-quality AC parts at unbeatable prices. You will also receive free shipping for orders more than $99. For any inquiries about our car parts, call our toll-free support line or email us at [email protected].