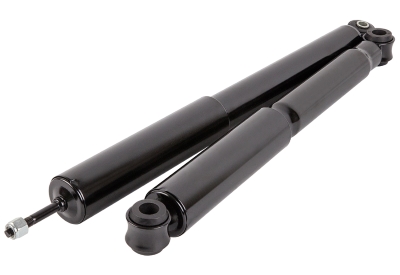 There are thousands of shock absorbers being offered by many different companies today. This article will go over the best shock absorber tips to get the most bang for your buck. It can be confusing with the many different options available. The way the shocks are designed will lead to a difference in ride and handling of a vehicle. These tips will help you wade through the options and help you find the best shock absorbers without breaking the bank.
Why change your shock absorbers?
Knowing when to replace your shocks can be a task in itself but is a necessity to keep your car handling effectively and safely. If your vehicle's ride quality has decreased, it could be a sign of back shocks. You can check your symptoms by following our guide to know when to replace your shocks and struts. Changing your shock absorbers will lead to a ride that is more comfortable, consistent, and reliable.
Deciding what type of shock you want
Do you want to replace your shocks that will match the OEM ride and quality? Do you want to upgrade to a sport shock that will increase handling and responsiveness? There are many different types of shock absorbers within these categories such as standard, gas, heavy duty, or air. The best shock absorber will depend on what kind of driving you do and what kind of ride you prefer.
OEM or Aftermarket
Deciding between OEM shock absorbers or aftermarket might raise a few concerns, but it's a simple task. You can't go wrong with buying OEM shock absorbers, but you have to ask yourself if they are worth the price. Aftermarket shock absorbers can often match or exceed the performance of OEM shocks. Brands like KYB, Duralo, and our Buyautoparts.com shock absorbers give you some of the best bang for your buck. They match or exceed OEM performance while being cheaper than most OEM shock absorbers. They offer consumer protection as they all come with warranties to give you peace of mind.
What to look for
Finding the best shock absorber that offers great qualities and won't break the bank can be difficult, but it's much easier if you know what to look for. After you have limited your options and are set on a certain type of shocks, you'll want to start looking into the details of each product. Make sure the shocks you are buying have these some of qualities.
  -  Chrome plated piston
  -  High quality paint to resist rust and corrosion
  -  Polished shafts
  -  Matches or exceeds OEM performance
  -  1 year warranty or better
All of these will help you to determine if you are buying the best shock absorber your money can get. You don't have to spend a lot of money when replacing your shocks, but you also don't want to buy the cheapest option without looking into the details first.
How to buy shocks
Our shocks and strut buyer's guide describes the process of buying shocks from Buyautoparts.com. Once you have narrowed down your selection and have found the best shock absorber for you, you can choose from our wide variety of shock absorbers. We have both OEM and aftermarket selections to with many different applications to choose from.
Written by: Dara Greaney