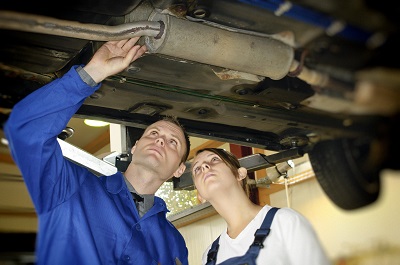 The muffler – it's the last component of your exhaust system, yet first in the hearts of many "mod crazy" car enthusiasts. Always heard before seen (unless your muffler truly is whisper-quiet), the typical muffler does its job quietly and, quite literally, under the radar. So far under the radar, it's barely above the road.
This unsung hero – remember, it's not supposed to sing – is along for the ride for one reason: to keep your car's under-body audio hush-hush. It also has a huge responsibility. The muffler is the ultimate final filter. How important is the muffler? Well, consider its position in the grand scheme of things. It's the last component before all of your car's "input" becomes "output."
Everything coming into your muffler: a highly concentrated compound of fuel, fumes and other funky substances, all processed, refined, filtered, mixed up and churned out by a comprehensive (and, at times, confusing) cast of manifolds, fixtures, hoses, cylinders, catalytic converters and other parts.
And on the other side of your muffler: Mother Nature.
The muffler is one of the most changed, tweaked, modified, relocated, redesigned, rigged, repaired and ready-for-anything components. Experts enjoy engineering the muffler's design, and even amateurs aren't afraid of playing around with the muffler's position and performance. Muffler modifications don't involve just sound; there are certain changes that can actually increase your car's horsepower and engine efficiency, just by altering a few choice characteristics!
They're available in a near-endless variety of pitches, frequencies and tones. That suped-up Civic down the street can probably be heard from half a mile away. Then there's grandma's Buick, with a muffler designed to stomp out the faintest trace of any unpleasant noise. And we're not even discussing motorcycles; some Harleys and similar cycles seem to lack anything resembling a muffler.
But what does the muffler actually do? And aside from its function, just how crucial is the muffler to your car's performance?
Function
Put in the simplest terms, a muffler cancels exhaust noise. The muffler is one of the few car components that, when it fails, you immediately know the problem. The muffler's interior is an intricate web of tubes and perforated metal – it actually looks sort of simple, to an outsider. However, there is some serious acoustic engineering going on in the typical muffler. The genius of the muffler's design is that it actually takes the engine sound waves and reflects (and deflects) them off of each other to eliminate noise.
The noise itself involves air pressure. The thrust produced by your engine's exhaust are tightly-packed pressure waves that are emitted through high and low pressure characteristics. The sound waves make it through your car's exhaust quicker than the actual gas and fumes.
The speed and frequency of these pulses are what you actually hear when your car is running. Higher frequency waves produce a more acute audio sensation, while lower frequencies are harder to detect. Rest assured, minus a muffler, your automobile will produce bold & brash rumbling sound waves that you'll not only hear, but people down the street will as well!
Sounds like a pretty tough problem – there are sound waves and high frequencies and gases and all sorts of elements making their way toward the muffler. How does the muffler "muffle" sound? By pitting sound waves against each other. In unison, multiple sound waves increase the overall noise. However, a muffler's interior – through that maze of perforated metal we discussed earlier – produces new sound waves to offset the existing waves. This phenomenon is often called "out of phase" – that is to say, the system's sound waves are total opposite. When this happens, sound cancels itself out.
When sound enters the muffler, it's channeled into the resonator. This chamber begins the "bounce-off" process to start eliminating sound waves. Designed to work best with maximum sound, the resonator still does a good job at taking what it's given and deflecting sound waves appropriately. The resonator is the "meat and potatoes" of your muffler; in fact, whenever the resonator experiences failure in any way, that's the main source of most muffler problems.
In addition to the resonator, the muffler's shell also aids in squashing and suppressing sound. The muffler's body is comprised of a thin metal layer inside and outside, with a wider metal layer in between. If your muffler was just one metal chamber, all those interior tubes (including the resonator) could do the best possible job, but it still wouldn't matter – the exhaust noise would still be significant. Another tiny little detail (well, actually thousands of tiny details) are the holes in the interior pipes running in and out of the main interior chamber. Acting as a pressure relief valve, these perforations both deaden the overall sound and also produce noise-cancelling waves, albeit on a much smaller scale than the resonator.
Fundamental Importance
A good measure of a car component's value is the "absence factor." Pick any part, and take it away from your car. For example, imagine your car without the passenger's side mirror. Without it, you could still drive, although it probably wouldn't be as safe. So this part is important, yet certainly not essential to driving. Now, let's take the muffler. Remove the muffler from the underside, and you're left with a rambling, rumbling, very noisy car indeed. Will your car still run? Absolutely – in fact, many race cars are manufactured to run without a muffler.
But would your car be worth driving? For one, the noise is a distraction to other drivers. For another, no muffler means more noxious fumes. Not entirely bad, as your catalytic converter usually catches all the bad stuff. The fact still remains: your muffler is an important element in your car's overall performance.
Installing a new muffler can be done in a few hours; all you need are the right tools, a little bit of extra time and the right part. That's where BuyAutoParts.com can help. Our inventory includes some of the best mufflers and associated components you'll find on the internet, or anywhere else. We have performance mufflers, complete exhaust systems, cat back performance exhaust parts and much more. To speak with a BAP muffler specialist, please call (888) 907-7225. Or, you can chat real-time with our customer service team, get a quote and much more on our contact page.
We hope this article eliminated a lot of the noise and confusion about what mufflers are, and how they impact your exhaust system. Thanks for stopping by. When you're ready to take on that muffler replacement project, BAP is here for you.
Written by Dara Greaney