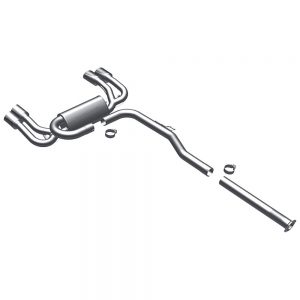 A new exhaust is a very common first modification for many car owners. While modern cars won't see as much of a power increase from just the exhaust on its own, its still possible to improve the sound the car makes, and that's a big part of the experience for a lot of people. But exhaust is also an easy way to make your daily driver excessively loud and annoying, which is why it's important to pick a quality part instead of just welding on eBay's cheapest mufflers and hoping for the best. Your muffler delete or straight-pipe might sound cool on your favorite back road or leaving cars and coffee, but will get old quick on your morning commute, and will almost certainly make your neighbors hate you.
You can still buy universal-fit mufflers that can be welded on to any car, but the most common exhaust upgrade is a complete cat-back exhaust kit. Unlike aftermarket mufflers, these are designed and tuned for the specific vehicle they fit, and the bolt-on installation means most DIY mechanics can do it in their driveway in an afternoon. As the name implies, this is a complete exhaust system that includes all the pipes, resonators and mufflers past the catalytic converters. This means that all factory emissions equipment remains intact and 100% functional, making them 50-state smog legal (smog legal at least; check your local laws regarding noise pollution). For certain performance applications with a stronger aftermarket (Mustang, WRX, stuff on that level of popularity), you may also find an axle-back exhaust kit. An axle-back exhaust retains your factory midpipes but includes mufflers that are tuned to sound good for your specific vehicle, fit the existing bumper cutouts, and still bolt-in easy.
Once you decide on the type of exhaust kit you want to find, the next step is comparing your options. There's a lot of exhaust companies out there, and they'll all look and sound at least a little different. Some of the bigger name brands will have sound clips on their website, and you may be able to find YouTube clips as well. Things to look for are a good noise on-throttle at higher RPM, that quiets down when you're driving in a more relaxed manner; this way your car can still act civilized when it needs to. If you do a lot of freeway driving, pay attention to any drone between 2000 and 3000 RPM, because that will get old extremely fast.
BuyAutoParts carries exhaust parts and systems from known and respected aftermarket brands like Flowmaster, MBRP, Banks Power, aFe, Gibson, Corsa and more, but the one we end up recommending the most is MagnaFlow. Headquartered in Southern California, they offer some of the highest-quality exhaust components around. They use stainless steel construction to prevent rust in areas that salt the roads, and all their products are backed by a limited lifetime warranty. They also offer multiple options for finish; regular stainless, black or chrome for lifted trucks where you see more of the exhaust, or carbon-fiber tips to better fit in with the styling of modern European cars.
Need help finding the right exhaust for your car or truck? Contact BuyAutoParts for knowledgeable assistance in getting the right parts for any vehicle; our US-based customer service team would certainly enjoy helping you find something fun in between all the orders for steering racks or AC compressors. We carry the full catalog from nearly every manufacturer that specializes in exhaust, with a price-match guarantee, fast & free shipping and an unbeatable warranty!