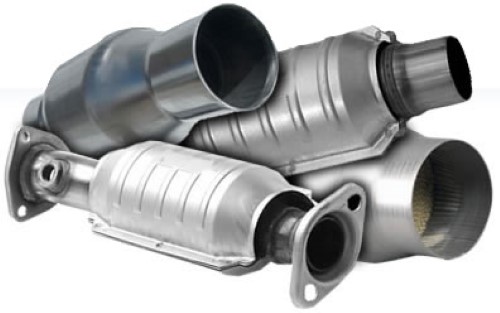 The catalytic converter is a very important emissions control component installed in your vehicle's exhaust system. The unit works by passing exhaust gasses through a fine grid of catalyzing material to create a chemical reaction that reduces harmful emissions. Through this process, toxic gasses like nitrogen oxides, carbon monoxide, and any unburnt hydrocarbons are converted to nitrogen, oxygen, carbon dioxide, and water.
Catalytic converters, usually referred to as simply "a cat," were first mandated by law in the mid-1970s to reduce pollution and keep the air that we all breath cleaner. Since then in many places around the country, an annual emissions inspection is required to renew your vehicles registration. If your vehicle has recently failed its annual emissions check or if your car's onboard diagnostics has indicated a problem with the catalyst, there's a very good chance you might have to replace the catalytic converter unit.
Choosing the right replacement catalytic converter can be difficult as the correct on for your vehicle can vary based on where you live. To make it easier, we have put together a simple guide to choosing the right replacement cat for your vehicle.
Select the Year, Make, and Model of Your Vehicle
The easiest way to begin your search is to narrow the scope of products to just those that fit your vehicle's year, make, and model on the BuyAutoParts.com website.
Identify Your Car's Emissions Level
On nearly every car manufactured since 1996, there is a sticker called a Vehicle Emissions Control Information Tag usually located in the engine bay on the strut tower, radiator support, or on the underside of the hood. This label will tell you whether your vehicle is certified for federal EPA emissions, California (CARB) emissions, or both (50 state).
Identify the Correct Converter Grade
For OBDII vehicles, there are two grades of catalytic converters based on the emissions certification of your vehicle.
Federal EPA Tier 0 and Tier 1 Certifications: For vehicles with this certification you'll need to select the Standard or Heavy Metal (HM) Grade.
California (CARB) TLEV, LEV, ULEV, SULEV, or Federal EPA NLEV emissions: Any vehicle with one of these certifications will require a cat certified to be OEM Grade. As of 2009, this also includes vehicles in the state of New York.
Select the Installation Configuration
Many catalytic converters can be purchased in Direct-Fit configuration that are designed to bolt in to the stock exhaust system without any modification. This is the perfect option for the do-it-yourselfer who needs to complete the replacement without welding or specialty shop tools.
The alternative is a Universal-Fit configuration which often requires custom fabrication, including welding, to install into your vehicle. If your vehicle has a custom or aftermarket exhaust, or if you need a cost-effective option for replacement, and have the tools and know how to cut and weld the exhaust to fit, a Universal-Fit cat may be the right option for you.
Don't Forget the Oxygen Sensor
While a catalytic converter doesn't need much else to do its job properly, the oxygen or O2 sensor installs into the cat and allows your vehicles engine management to read the exhaust gasses and accurately adjust the air/fuel mixture for clean emissions. Often when the cat fails, these sensors are a contributing cause, or next to fail. Many times, the sensors are even seized into an old and rusty cat and can't be transferred from the old unit to the new one.
Choosing the correct part can be confusing, so if you need any help of have any questions about replacing your Catalytic Converter and oxygen sensor, you can easily get in touch with one of our BuyAutoParts.com experts. We've been trained to get you the correct guaranteed exact fit part every time. Just drop us an email, give us a call at 1-888-907-7225, or use the convenient Live Chat feature on our home page!